Drew Barrymore, Reese Witherspoon and Cameron Diaz Go Carb Crazy in Culinary School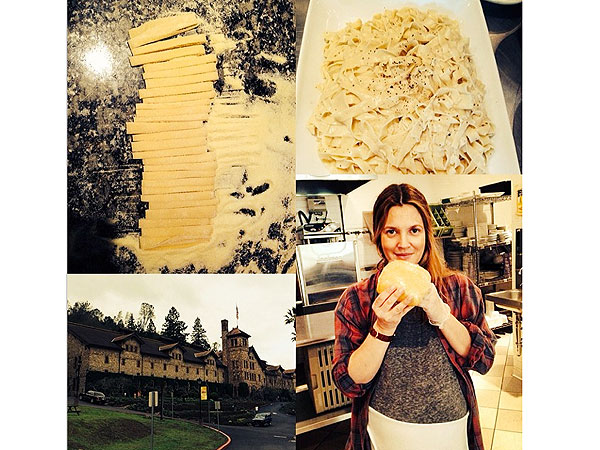 Courtesy Drew Barrymore
First Oscars, then orecchiette?

Drew Barrymore has been busy in the kitchen, whipping up dishes like spaghetti and meatballs for her growing family. But after Sunday's Academy Awards, she and a few pals — including Reese Witherspoon and Cameron Diaz — hightailed it out of L.A. and took their culinary skills to the next level at an intensive two-day pasta course at The Culinary Institute of America in Napa Valley, Calif.
"Going to culinary school in napa ! #freshpasta#learning #eating," Barrymore posted on Instagram with a photo of yummy noodles in the making.
The star cooks were joined in the kitchen by a few friends like Hollywood stylist Leslie Fremar (who dressed Witherspoon for the Oscars) and celebrity makeup artists Lona Vigi and Gucci Westman — the latter of whom shared a photo of what looks like a hefty syllabus for "The Cooking of Italy".
Beyond their newfound pasta skills, we also spy the group looking ever-so-professional in chic chef hats. "@drewbarrymore [making] the pasta FRESH!!!" Diaz wrote on Instagram, while Westman announced: "Let's cook! #girlsweekemd #napa." Meanwhile, Fremar shared the finished menu's highlights like delicious fresh gnochetti with peas and panchetta.
The end result (beyond what we can imagine was the most fun dinner party ever): A photo to rival Ellen's Oscar selfie, which Westman shared on Instagram. (And to make matters even more epic, does CIA bear a slight resemblance to Hogwarts?)
Now that's a great idea: A girls getaway in the kitchen. But even if you can't escape to wine country, gather your crew for an at-home bootcamp and make the CIA's star-worthy Fresh Egg Pasta from the organization's recent cookbook, Cooking at Home with the Culinary Institute of America.
Fresh Egg Pasta
1 lb. all-purpose flour, plus more as needed
Pinch salt
4 eggs
1-2 tbsp. water, plus more as needed
2 tbsp. vegetable oil or olive oil (optional)
1. In a large bowl, combine flour and salt and make a well in the center. Place the eggs, water and oil, if using, in the center of the well.
2. Using a fork, gradually pull the dry ingredients into the egg mixture in the center of the well and stir until a loose mass forms. As the dough is mixed, adjust the consistency with additional flour or water as needed. The dough should be tacky but minimally moist.
3. Turn the dough out onto a floured work surface and knead until smooth and elastic, 4-5 minutes. Gather and smooth the dough into a ball, cover lightly with plastic wrap and let the dough relax at room temperature for at least 1 hour.
4. Roll out the dough into thin sheets and cut into the desired shape by hand or using a pasta machine. Cook the pasta immediately, or cover and refrigerate for up to 2 days.
—Brooke Showell