Steal the Latest Tinseltown Trend: Culinary School Vacations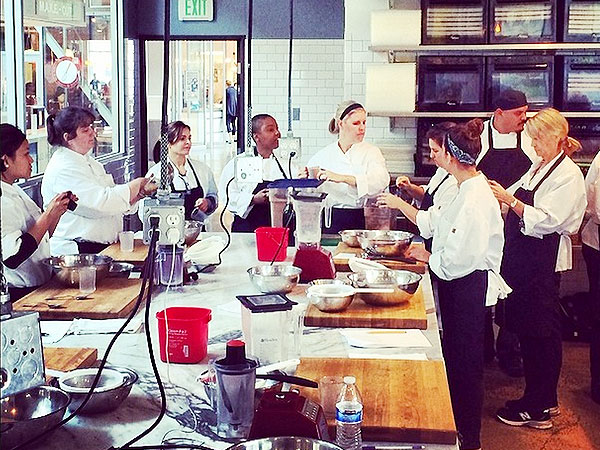 Courtesy Matthew Kenny/Instagram
It's a tradition in the making. Drew Barrymore, Reese Witherspoon, Cameron Diaz recently holed up at a Napa culinary school to learn the art of pasta-making. It turns out this is a yearly event for the actresses, who previously palled around at a bikini bootcamp in Mexico in 2013.

Did someone say girls' trip? Borrow their great idea and gather your friends for a foodie bootcamp. Below are a few picks for gourmet getaways.
Pizza-Making at Verace Pizza Napoletana
The Food Network's Katie Lee recently perfected her pizza skills at L.A.'s Verace Pizza Napoletana, an intensive three-day course taught by Neapolitan pizzaiolis on how to make an authentic homemade pie with fresh ricotta and mozzarella (including the correct technique for drizzling olive oil — who knew?). "But by the end of my three days, they had set me straight and I was on my way to being a pizzaiola," Lee wrote about her pizza bootcamp.
Culinary Bootcamp at The Biltmore Hotel
Miami's Biltmore Hotel has its own bootcamp-style culinary school, focused on techniques like knife skills, broiling and roasting. The three-day course promises to get you up to speed on the fundamentals and build appreciation for flavor combos while making and eating roasted Cuban pork tenderloin, chicken curry stew and coconut rice.
Matthew Kenney Raw Cuisine
If raw foods are more your cup of kale, this leading raw food chef offers weekend intensives at his Santa Monica, Calif. studio. Get the scoop on whole, organic, unprocessed, plant-based dishes using the likes of grains, fruit, sprouts and leafy greens. There are even raw chocolate desserts!
Chef Joe Randall's Taste of Savannah
Welcome to a three-day culinary vacation filled with authentic Southern fare. Your weekend kicks off with a Friday night lesson on how to cook a classic Savannah dinner, then continues with a Saturday picnic lesson — learn how to master an easy do-ahead menu of portable foods. Sunday means Low Country brunch, at which point you'll have to roll home.
The Cooking School at Blair House Inn
Instructors send you out to pick and collect the herbs you'll later use at this cooking getaway in Wimberley, Texas, where you'll master Texas Hill Country cuisine by prepping two breakfasts, two lunches and two dinners over three days. Their goal: to make you a more confident cook by teaching you how to shop, prepare and present. Leave with a recipe book so you can impress your friends back home with your newfound skills.
League of Kitchens
These intensive five-and-a-half hour N.Y.C. workshops put you straight into the home kitchen of chefs native to Korea, India, Lebanon, Greece and more. There, you'll be immersed in that country's cuisine — from mastering unfamiliar spices to learning about longstanding dining traditions — as you chop, slice, dice, sautee and more. Finish with a meal around a kitchen table; when you leave, you'll feel like family.