You Asked, We Deliver: Ali Larter's Lemon-Lavender Cake Recipe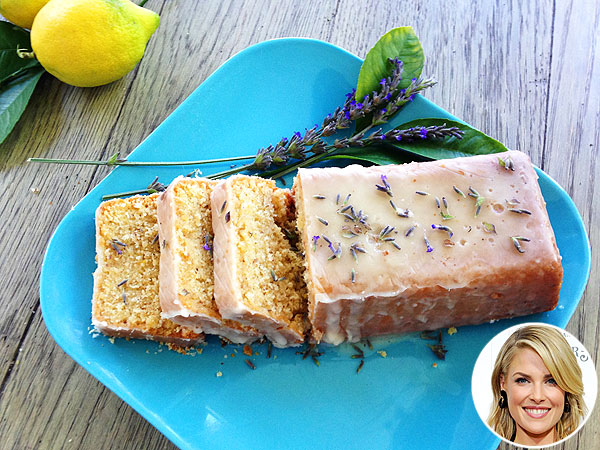 Courtesy Ali Larter; Inset: John Sciulli/Getty
"Meyer lemon cake with lavender sugar. Want this recipe?" reads the caption on Ali Larter's latest drool-worthy Instagram.

The resounding response from her fans: Yes, please! (Also one "Heck yeah!!! Looks amazeballs!!") And after admiring the beautiful glaze flecked with real lavender, we had to agree. Someone teach us how to make this, stat!
Luckily, the actress was willing to share her inspiration and her recipe. "Meyer lemons are a more floral, less acidic sister to the more commercial lemon – perfect for squeezing into baked treats to add a special note," she tells PEOPLE.
Larter also has presentation advice if you're toting this to a spring or summer gathering: "Wrap your loaf in burlap and tie with twine … [the look] will have the party talking — and wanting more!
The star, who has a Meyer lemon tree in her backyard, recommends doubling the recipe. "I took the first loaf of the season to a party last weekend, and let's just say parents were fighting their children for the last crumbs!" she says. Double it is!
Meyer Lemon Cake
Makes 1 loaf
1½ cups flour
1 tsp. baking powder
1 tsp. flaked sea salt
½ cup buttermilk
½ cup freshly squeezed Meyer lemon juice (plus zest of 1 lemon)
½ tsp. vanilla paste or extract
8 tbsp. unsalted butter, softened
11/3 cups lavender sugar (recipe on Larter's blog)
3 large eggs
½ cup almond meal
Glaze
1⅓ cups powdered sugar
3 tbsp. lemon juice
1. Heat oven to 350°. With non-stick spray, coat a loaf pan measuring 8 1/2″ x 4 1/2″ x 2 3/4."
2. In a bowl, mix together flour, baking powder, and sea salt. In another bowl, mix together buttermilk, lemon juice, zest and vanilla. Set both mixtures aside.
3. In a bowl with an electric mixer, cream butter and lavender sugar until fluffy, about 3 minutes. Add the eggs, one at a time, beating until combined. Add half the flour mixture, alternating with the buttermilk mixture. Beat until consistent.
4. Fold in the almond meal. Pour batter into loaf pan and bake, 55-60 minutes.
5. While cake is baking, prepare the glaze: In a large bowl, whisk together confectioners sugar and lemon juice until sugar is dissolved.
6. Remove the lemon cake when a knife inserted in the center comes out clean. Let sit in pan for 10 minutes, then turn out onto plate. Drizzle glaze over cake until coated. Sprinkle with lavender, if desired.