Recipe Redo: Cat Cora's Poached Pears Get Cocktail-ed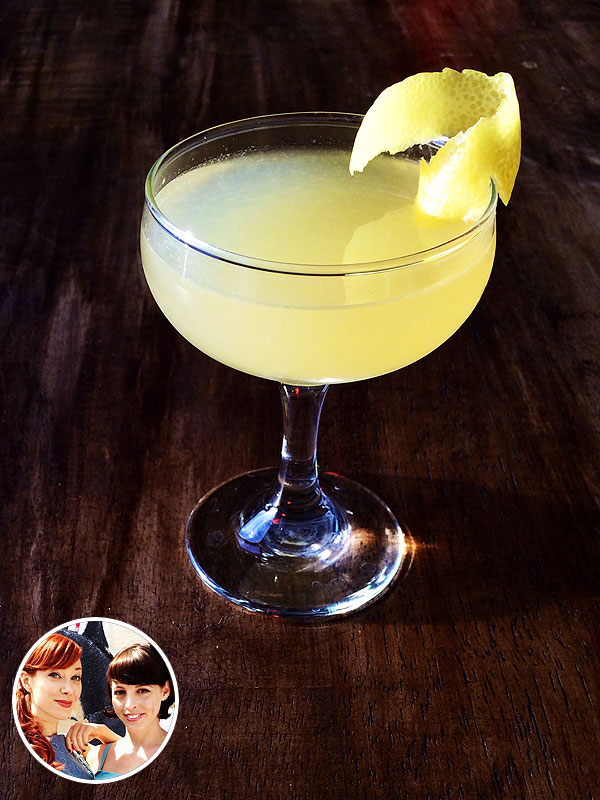 Courtesy Alie & Georgia
Alie Ward and Georgia Hardstark, a.k.a. Alie & Georgia, host Cooking Channel food-travel series Tripping Out with Alie & Georgia. Visit PEOPLE.com every Thursday for their playful spins on celebrity recipes, cocktails, entertaining ideas—and, of course, lots of laughs!

You've heard of cat ladies, right? Well, we're Cat ladies.
As in Cat Cora.
We just adore the plucky, kickass Iron Chef America alum and Around the World in 80 Plates co-host. And because imitation is the highest form of flattery, we took her vanilla-y, spicy, tart Prosecco Poached Pears and cocktailed it. Because cocktail is now, yes, a verb.
But rather than cooked pears, we used fresh Bosc pears and fresh ginger and muddled the tarnation out of them. (Perfect catharsis for the end of a long day.) To capture the vanilla notes in her dish, we used a vanilla vodka as well as a great spiced vanilla-citrus Spanish liqueur called Licor 43.
We added some lemon juice for tartness, a dash of spiced bitters for balance, a splash of Cat's prosecco and a lemon rind for color and fragrance. Pears, meet vodka. Cocktail, meet our face.
Vanilla Pearsecco
Makes 1
⅛ Bosc pear
1 ginger coin (½-inch thick)
2 oz. vanilla vodka
1 oz. Licor 43
¾ oz. fresh lemon juice
Dash aromatic bitters (we like Bitter Truth's)
Splash Prosecco
Lemon rind, for garnish
1. Roughly chop pear and ginger coin and place in empty cocktail shaker. Muddle until well mashed.
2. Add vodka, Licor 43, freshly squeezed lemon juice, bitters and ice. Shake vigorously and double strain (through the shaker and a mesh sieve) into a coupe glass.
3. Top with a splash of prosecco and garnish with a lemon rind.
4. Write us a thank you note.
We hope you enjoy and we also hope that one day we can toast to Cat in pear-son. (Oh come on! We couldn't resist.)
Shamelessly yours,
Alie & Georgia