It's Easy Baking Green: Make Kermit Cookies With Miss Piggy and the Swedish Chef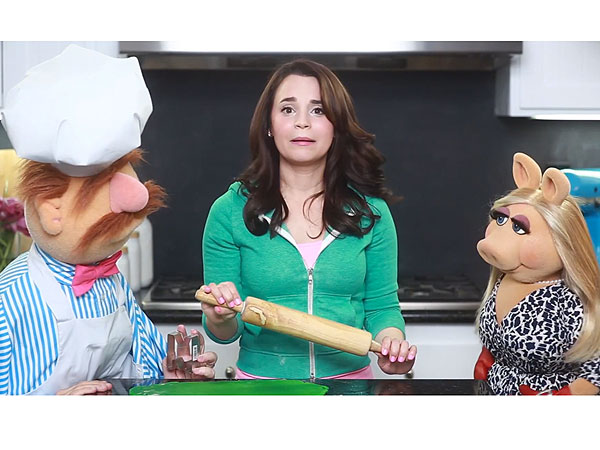 Miss Piggy, we love the leopard dress, but are gloves and jewels really appropriate kitchen attire?

In honor of their new movie Muppets Most Wanted, opening March 21, the lovable lady pig and the Swedish Chef joined Rosanna Pansino, host of popular YouTube baking show Nerdy Nummies, to make sugar cookies in Kermit's likeness.
Turns out the evening wear didn't matter: In true form, Miss Piggy watched as Pansino and her Muppet pal did all the work. (Shielding herself with a big piece of plastic from the Swedish Chef's sloppy flour pouring probably shouldn't count as "helping.")
When Pansino started rolling out the emerald-colored dough, Miss Piggy covered her eyes. "I cannot look. It's like my Kermie got into an accident crossing the street!"
"It does sort of look like a squished frog, doesn't it?" agreed the host.
After using a cookie cutter to shape the batter into letter Ms (for "Muppet," of course!), Pansino popped the cookies in the oven. Good news: They only take 5 minutes to bake. Then, the fun part: decorating the treats with frosting and sprinkles to look like Kermit's signature frog collar. The ever-resourceful Miss Piggy suggested, "Decorate them in my mouth!"
Want to guess who grabbed the first cookie?
Watch the cooking demo video below, then make your own cookies following their easy recipe.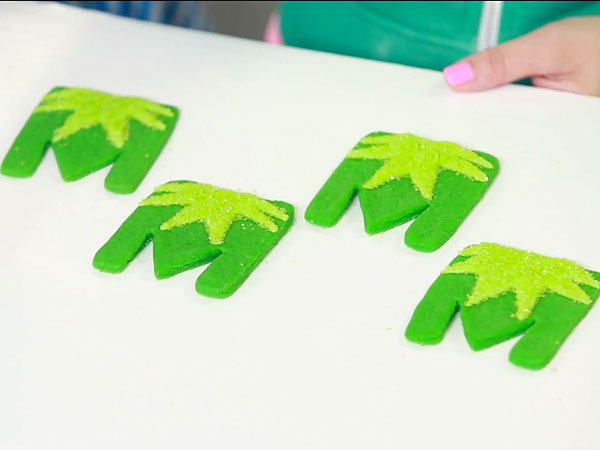 Muppet Sugar Cookies
3 cups flour
½ tsp. salt
½ tsp. baking powder
1 cup (2 sticks) unsalted butter
1⅓ cups sugar
2 eggs
2 tsp. vanilla extract
A few drops green food coloring
Green frosting
Green sprinkles
1. Preheat oven to 350F. In a large bowl, whisk together flour, salt and baking powder. Set aside.
2. Using a hand or stand mixer, beat butter until creamy, about 1 minute. Add sugar and beat until light and fluffy; add eggs and beat until well mixed.
3. Add vanilla and food coloring, then add flour mixture. Roll out dough. Cut into cookies with an M cookie cutter.
4. Place on ungreased cookie sheet and bake for 5 minutes.
5. To decorate: Using a pastry bag, create Kermit's 6-point collar outline with frosting, then fill in outline with more frosting. Top with sprinkles.
—Nancy Mattia