Recipe Redo (Guilt-Free): Mark Wahlberg's Spiked Funky Monkey Shake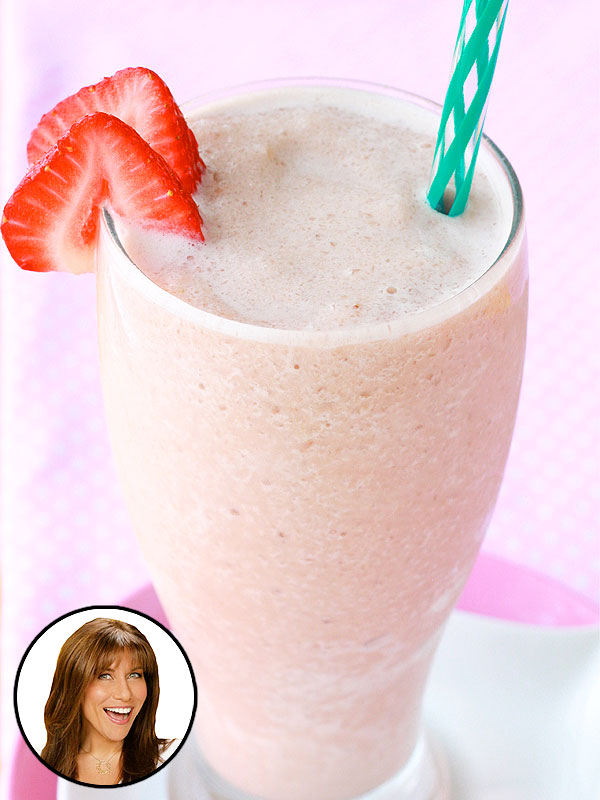 Courtesy Hungry Girl
Lisa Lillien is the author of the popular Hungry Girl website and email newsletter, featuring smart, funny advice on guilt-free eating. She is also the author of eight Hungry Girl cookbooks, five of which debuted at number one on the New York Times Best Sellers list. Read her PEOPLE.com blog every Monday for slimmed-down celebrity recipes and more.

It's hard to pin down the right title for Mark Wahlberg: He's an Academy Award-nominated actor, Emmy-winning producer and star of his family's new A&E reality series, Wahlburgers, about the burger restaurant they own. But who fondly remembers his days as '90s rap star Marky Mark, performing with the Funky Bunch? I DO!
Here's a quick fact about me, while you cue up "Good Vibrations:" I used to work for a teen magazine called Tutti Frutti back in the day. As a result, I spent a lot of time around the New Kids on the Block and Donnie Wahlberg's little brother, Mark.
These days, it appears that Wahlberg's funkiness extends to his burger joint and the spiked milkshakes they serve. Vodka and ice cream whirred up in a blender must taste amazing … but the calorie count is likely a bit steep.
You really have to be careful when it comes to pairing high-calorie items like ice cream with booze — because once you have a little vodka in you, you're more likely to tack on some fat-filled appetizers to your order. My slimmed-down shake is just the thing you need.
Hey, Mark — say hi to your mom for me… and your brother, too!
'Til next time… Chew the right thing!
Spiked Bananarama Shake
Makes 1
2 tsp. sugar-free French vanilla powdered creamer
1 no-calorie sweetener packet
⅓ cup banana coins, frozen
¼ cup light strawberry ice cream
¼ cup light vanilla soymilk
1½ oz. vanilla vodka
2 tsp. light chocolate syrup
1½ cups crushed ice (or 8-12 ice cubes)
Strawberry slices, optional garnish
1. In a tall glass, combine creamer with sweetener. Add 1 tbsp. hot water and stir to dissolve.
2. Transfer mixture to a blender. Add all remaining ingredients and blend at high speed until smooth. Garnish with strawberry, if desired.
One shake (entire recipe): 252 calories, 3.5g fat, 80mg sodium, 28.5g carbs, 2g fiber, 17g sugars, 3g protein