Ring in the Spring with a Capital Cherry Blossom Cocktail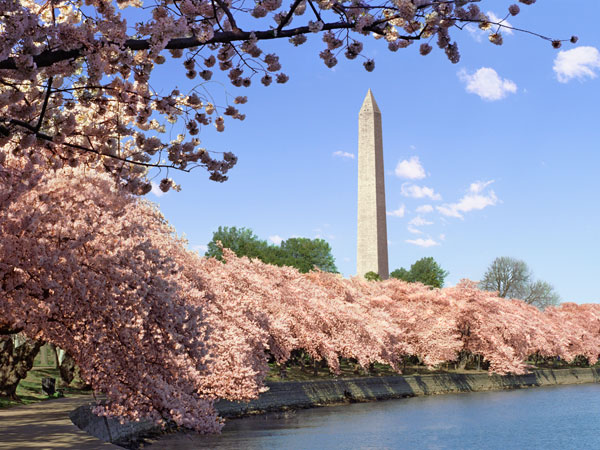 Getty
As Washington, D.C., residents shovel away the record-breaking seven inches of snow that fell this past weekend, they can comfort themselves with the following news: The capital's annual Cherry Blossom Festival starts this Thursday, March 20 (and Spring starts on Friday!).

We've got a food-centric rundown of what to do if you're heading for D.C. for some tree peeping, as well as a glamorous cherry-blossom cocktail recipe that's perfect for toasting spring's beginning from any location.
STOP AND SEE THE FLOWERS
Most people head to the Tidal Basin near the Jefferson Memorial, which is iconic, popular and—you guessed it—jam-packed with people. (If you go, take public transit since it will be impossible to park.) Or for a more chill pace, try Georgetown's Dumbarton Oaks Research Library: This historic mansion-turned-museum has a 10-acre formal garden that's filled with cherry trees.
LEARN SOME STUFF
Beyond simply seeing and Instagramming those famous trees, visitors can attend dozens of different events around the D.C. area, many with food or drink spin. There's a Japanese tea workshop at the Colvin Run Mill, where you can taste a blend made from cherry blossoms; a splurgy sake tasting at the Carnegie Library; and Sakura Matsuri, a Japanese-style street festival that will feature live theater and marital arts performances, two beer gardens, and snacks like sushi, rice bowls, and yakitori.
EAT SOME CHERRIES
At his Jaleo tapas restaurants in D.C., Maryland and Virginia, chef José Andrés is planning to serve some tasty-sounding dishes in honor of the cherry blossoms. He's pairing pork belly confit with cherry sauce and wine-soaked goat cheese with cherry marmalade, as well as offering a chilled red berry soup on the dessert menu.
MAKE A TOAST
Daikaya, a well-loved spot known for their Sapporo-style ramen, will be pouring three different cocktails inspired by the trees. We snagged the recipe for The Gift, a pale pink beauty that has a preserved edible cherry blossom (sourced right from Japan!) floating inside. The drink is made with vermouth, white ale and shochu, which is a distilled spirit that's known for having a low alcohol content and complex flavor that varies depending on what it's made with (often barley or rice). Owner Daisuke Utagawa helped us tweak the recipe so it's simple to make at home. As a garnish, he suggests using edible flowers for a similar look.
Now that you've got your Spring drink sorted out, all you have to do is wait for the temps to rise and the trees to bloom. Sun dance, anyone?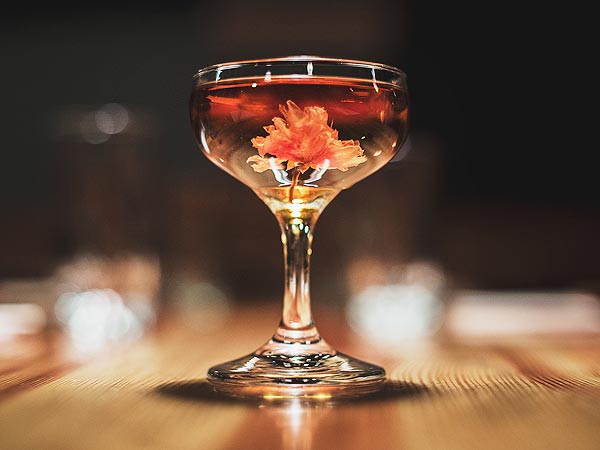 Brian Oh
The Gift (Cherry-Blossom Cocktail)
Serves 1
1½ oz. sake or barley shochu
1½ oz. sweet vermouth
.125 oz. distilled white ale (like Kiuchi no Shizuku)
3 dashes (or 9 drops) of orange bitters
Edible flower, optional garnish
Combine the first four ingredients and pour into a coupe glass; garnish with an edible flower.
—Lexi Dwyer