Make Rachael Ray's SXSW Whiskey Chicken and Cracked-Mustard Franks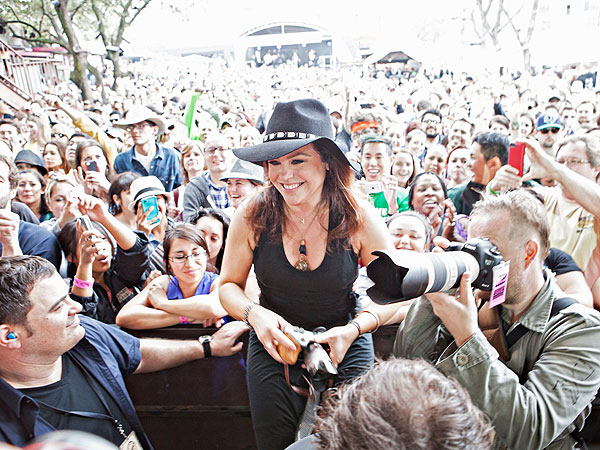 Brian Lahiere
A performance by Debbie Harry and chicken drumsticks in whiskey sauce were just two tasty items featured at Rachael Ray's 7th annual Feedback party at the SXSW music festival in Austin, Texas on Saturday.

The day-long music and food celebration — which Ray opened up to the public at no charge — blended indie rock, hip hop and finger-licking-good fare at Stubb's BBQ in Austin.
Even on-and-off rain didn't dampen the spirits — or diminish the appetites! — of throngs of festival-goers who lined up hours before the doors opened to see CeeLo Green, Blondie, Green Day alterimage Foxboro Hot Tub ("you crushed it," Ray later Tweeted), Blink 182's Travis Barker performing with Yelawolf, plus plenty of up-and-comers like The Wildfeathers and Allen Stone perform. Even Ray's lawyer-husband John Cusimano got in on the act, hitting the stage for a set with his band, The Cringe.
It wouldn't be a Rachael Ray party without plenty of good food. Guests and celebrities chowed down on brisket sliders, hot dogs with spicy relish and grilled eggplant and tomato sliders.
In case you didn't make it out for the big bash, get a taste of the party by making two of her favorite recipes of the day.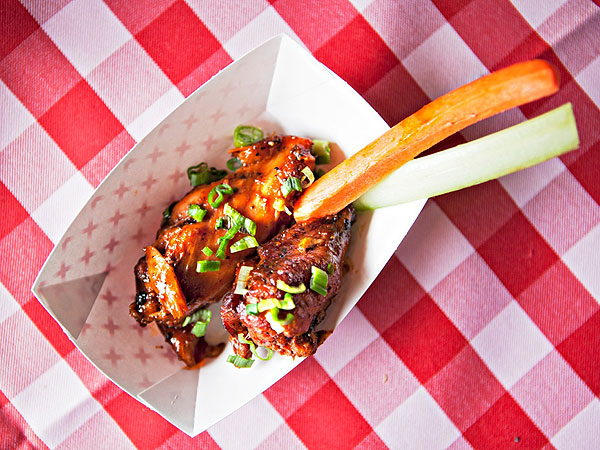 Brian Lahiere
Whiskey Chicken Drummers
Serves 4

For the marinade:

2 shots Worcestershire sauce
2 shots whiskey or bourbon
2 shots hot sauce
2 shots cider vinegar
24 chicken leg drummers (about 3 pounds)
Salt and pepper
For the sauce:
3 tbsp. butter
2 cloves garlic, minced
2 shots whiskey
¼ cup Worcestershire sauce (optional)
⅓ cup cayenne pepper hot sauce (such as Frank's® RedHot®)
1 tsp. coarse black pepper
For serving:
Chopped or sliced scallions
Carrot and celery sticks
1. Mix the marinade ingredients in a large resealable plastic bag. Season the drummers with salt and pepper and add them to the marinade. Refrigerate for 3 hours, then bring to room temperature.
2. Pre-heat the smoker/oven to 300ºF.
3. Arrange a wire rack over a baking sheet. Arrange the drummers on the rack and slow-cook for about an hour and 15 minutes.
4. For the sauce, melt the butter in a pan over medium heat. Add the garlic, swirl for 2 minutes, then add the whiskey, Worcestershire (if using), hot sauce and pepper. Drop the heat to low and simmer to thicken, about 10-15 minutes.
5. Toss the drummers with sauce and top with the scallions. Serve with carrot and celery sticks alongside.
Cracked Dijon Mustard Frankfurter with Kimchi Chow Chow Relish
Serves 4
1½ cups rice wine vinegar
1-2 tbsp. Sriracha hot sauce
1 tsp. celery seed
1 tbsp. yellow mustard seed
1 tbsp. Chinese mustard or Dijon
½ cup water
½ cup sugar
2 tsp. salt
1 small head or ½ large head Napa cabbage or green cabbage, thinly sliced
½ small to medium red onion, very thinly sliced
2 large cloves garlic, very thinly sliced
1 cup fresh corn kernels
4 mustard frankfurters (like Park's Finest Cracked Dijon)
4 good-quality hot dog buns
1. Pre-heat the grill or grill pan according to frankfurter package instructions.
2. Bring the vinegar, hot sauce, celery seed, mustard seed, Chinese mustard, water, sugar and salt to a boil.
3. Add the cabbage, onion, garlic and corn; bring back to a boil, then turn off the heat.
4. Once it cools slightly, pour the mixture into a large bowl and let cool in the fridge. The relish can be stored in the fridge for up to two weeks in a sealed container. (This recipe makes about 2-3 cups relish.)
5. Place the frankfurters on the grill and cook, according to the package instructions. When done, place frankfurters on the buns. Top with the kimchi chow chow relish and serve.
—Nancy Mattia