Bottle Up Spring: How to Make Mason Jar Salads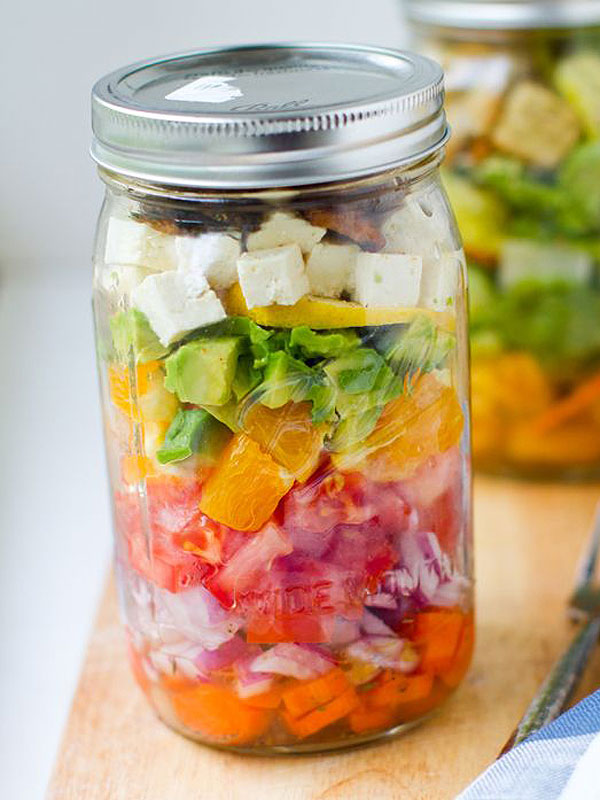 Courtesy Pinterest
After a long winter of too much grilled cheese, creamy soup and hot chocolate, we're ready to go green — with vegetables, that is.

Our Pinspiration: the dozens of luscious mason jar salads taking over our social media feeds.
Remember the McSalad Shaker that flopped at McDonald's in the early 2000s? Consider these layered lunches the modern-day version of that, except this top is way more secure than the lid of a plastic frappuccino cup, preventing pesky splatter incidents when you shake in the dressing.
And while colorful fruits and veggies layered in a glass container are obviously gorgeous (and a transparent reminder to eat our veggies!), the mason jar salad doesn't rely only rely on its looks: Its portability is great for healthy eaters on the go. You can also throw in whatever ingredients you want, but there's only one "rule" to follow: Add the heaviest ingredients first and the lightest last (so the delicate vegetables don't get smashed).
Here are three of our favorite salads to use as a guide.We've also added matching dressings from MyRecipes.com, starting with a strawberry vinaigrette that pais perfectly with an citrus-studded salad like the colorful one above.
Make, take and shake — here's to your healthiest spring yet!
8 oz. frozen or fresh strawberries
¼ cup extra virgin olive oil
¼ cup white or regular balsamic vinegar
2 tbsp. freshly squeezed orange juice
1 tbsp. honey
¼ tsp. fresh rosemary leaves, chopped
¼ tsp. kosher salt
⅛ tsp. freshly cracked pepper
Layer all ingredients into the blender in the order listed. Puree for a minute or two, until dressing is smooth and thickened.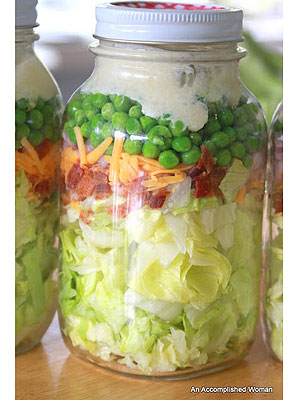 Courtesy Pinterest
Blue cheese dressing is bacon's soulmate; try this recipe on a Cobb salad variation like this jar of iceberg lettuce, bacon bits, cheddar and peas. Sub in low-fat buttermilk, mayo and/or sour cream if you're looking for a lighter bite.
½ cup buttermilk
¼ cup mayonnaise
¼ cup sour cream
1 tbsp. white wine vinegar
¼ cup crumbled blue cheese
Salt and pepper
In a small bowl, whisk buttermilk, mayonnaise, sour cream and vinegar until well combined. Add cheese and stir, mashing with a spoon, until incorporated. Season with salt and pepper. Cover and chill. Whisk just before using.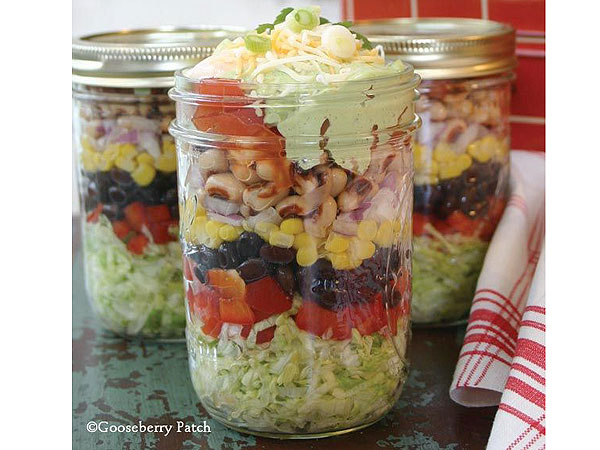 Courtesy Pinterest
This Southwestern salad layers lettuce, tomatoes, black beans, corn, black-eyes peas and a dollop of cumin sour cream, which we'd skip in favor of lime-cumin dressing.
¼ cup fresh lime juice
1 tbsp. canola oil
1 tbsp. honey
½ tsp. kosher salt
½ tsp. ground cumin
⅛ tsp. coarsely ground black pepper
Combine all ingredients in a small bowl, stirring with a whisk.
—Marissa Conrad