Alex Guarnaschelli: Lessons from France — and a Simple Recipe to Make Right Now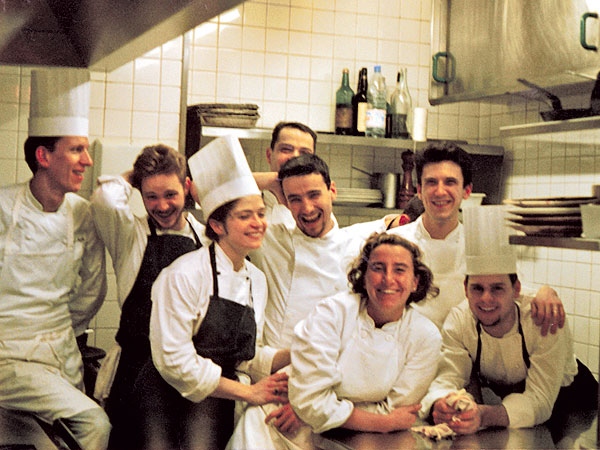 Courtesy Alex Guarnaschelli
Alex Guarnaschelli is an Iron Chef, Food Network celebrity chef and the executive chef at New York City's Butter restaurants. Read her PEOPLE.com blog every Tuesday to get her professional cooking tips, family-favorite recipes and personal stories of working in front of the camera and behind the kitchen doors. Follow her on Twitter at @guarnaschelli.

I lived in France for a number of years and — after my time at La Varenne Cooking School in Burgundy, where the photo above was taken — spent the majority of the time cooking at a restaurant in Paris. Subway, baguette with butter, work, subway. Repeat. It was incredible. All that cooking, all that repetition of the same gestures and recipes, taught me a lot about cooking.
The other side of those years is the eating. Eating something at the right moment can be even more inspiring for a cook than cooking a good dish of food! One of the 23 experiences I've had that made me want to become a chef was simpler than I ever imagined.
I had heard of this restaurant in Nice, France, from a colleague who told me that many great chefs, the likes of Alain Ducasse, had been seen crouching on its not-so-comfy stools and eating lunch. The restaurant had no phone and no chairs. There was no linen or decoration. You were just greeted at the door by an older, kindly woman who graciously and quietly seated you at any open place. There was often a wait for a seat. People sat with other people they didn't know just to share in the experience of food that simply culled the local ingredients and plated them up so simply and deliciously.
The kitchen at this restaurant was completely open, as if you were in a home kitchen watching them cook you food on the spot. The kindly woman's other half could be seen, just a few hundred feet from the front door, bent over the oven basting rabbits or stirring gently braising vegetables. His movements, like hers, were thoughtful, careful and without pretention.
When I visited, I watched him turn from the stove to a table facing me and dropped piping hot noodles into a clear glass bowl of vibrant herb pesto. He tossed the pasta over and over, watching it get really green. He was clearly enjoying the aroma of the pasta, mixing its starchiness with the grassy sweetness of the pesto.
When you make something piping hot and stand directly over it in a hot kitchen, there is such an intimate moment between you and food where two flavors meet and decide to make sense. It's the "nose bath" moment in cooking. It can almost be more satisfying than eating!
Next, he grated some cheese over the bowl and his cohort, as if she sensed just the moment, swooped to gather it up and placed that bowl in front of us at the table.
The pasta was piping hot. Hotter than the food I've served or eaten in most restaurants. And the smell of the herb pesto (made from three or four ingredients) was so strong. The pasta was chewy and generously salted. Quite honestly, my stomach growls slightly as I type and recall this experience. Good simple cooking is, in fact, what my lifelong pursuit may be.
A five-ingredient dish. Eaten about 15 years ago. It will inspire me today as I head to work in search of that connection with making a good, simple meal, like my baked potato salad with pesto.
Alex Guarnaschelli's Baked Potato Salad
2 pounds Idaho potatoes (about 3 large), scrubbed
1 small bunch flat-leaf parsley (about ½ ounce), with about 1 inch of stems still attached, roughly chopped
1 small bunch basil (about ½ ounce), with about 1 inch of stems still attached, roughly chopped
Kosher salt and white pepper
3 tbsp. extra-virgin olive oil
2 tbsp. red wine vinegar
1 shallot, sliced into thin rounds
1 tbsp. Dijon mustard
2 tsp. chopped capers, plus 1 tsp. of their brine
4 cornichons (tiny French pickles), quartered lengthwise and sliced into ¼-inch pieces, plus 1 tbsp. of their brine
⅓ cup extra-virgin olive oil
1. Preheat oven to 400 degrees.
2. Arrange the potatoes in a single layer on a baking sheet. Bake until the potatoes are tender and yielding when pierced in the thickest part with the tip of a knife, about 1 hour.
3. Meanwhile, in a food processor or blender, combine the parsley and basil. Season with salt and pepper, add 2 tbsp. water, and blend. With the machine running, pour the olive oil through the top of the food processor in a slow, steady stream. The texture should be a little rustic and chunky. Taste for seasoning.
4. In a bowl large enough to hold the potatoes, whisk together the vinegar, shallots, mustard, capers and brine, and cornichons and brine with 1 tbsp. water. Whisk in the olive oil. Taste for seasoning.
5. Once the potatoes are cool enough to handle, peel half of them. (Some potato skin adds a nice flavor to the salad.) Put the potatoes in the large bowl with the mustard dressing, lightly crush them with the tines of a fork, season lightly with salt and pepper and toss in dressing. Drizzle with the parsley-basil pesto and stir to blend. Serve warm or at room temperature.