Pressing Matters! 6 Surprising Waffle Maker Recipes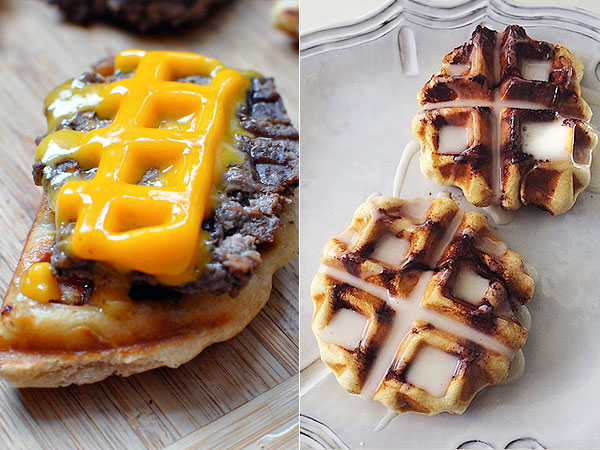 Daniel Shumski; Courtesy Kendall Jenner
STAYING ON THE GRID
Cinnamon rolls — in a waffle maker? Kendall Jenner sent more than half a million Instagrammers into a tizzy with this shot of waffled cinnamon rolls, and for good reason. Built-in pockets for that gooey icing: genius.

Then we started wondering: What other treats besides waffles can you cook in a waffle maker? As Daniel Shumski of Waffleizer — a blog dedicated to this very question — tells PEOPLE, "Cooking in the waffle iron is really transformative when you get a little creative. You put these familiar ingredients in there and out comes something utterly original. And delicious."
A waffle maker works well for dough-based dishes (we're looking at you, cookies and pizza) because it applies consistent heat to both sides, giving food a texture that's simultaneously crispy and airy. See for yourself with these six waffle maker recipes from crafty food bloggers.
We're so impressed, we think manufacturers need to change the appliance's name. So-much-more-than-a-waffle maker? Everything-it-touches-is-delicious maker? One thing is certain: Your waffle maker deserves a real estate upgrade to a primo countertop position.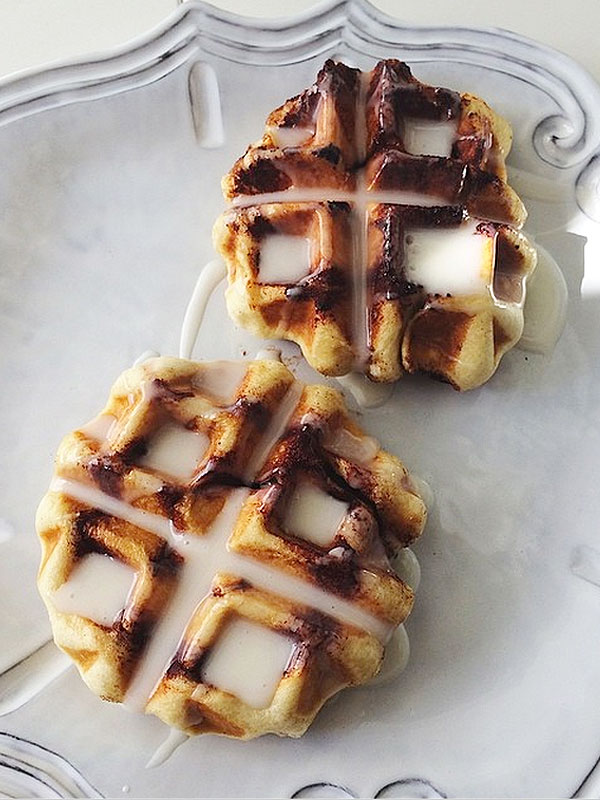 Courtesy Kendall Jenner
WAFFLED CINNAMON ROLLS
She might be launching careers as both a model and fashion designer, but Kendall Jenner still likes to putter around the kitchen. Her waffled cinnamon rolls are an ideal snack for a girl on the go: They're foolproof to make and take only three minutes to cook.
Henrietta Newman of A Hen's Nest blogged about this idea even before Kendall did, and posted a helpful tutorial with photos. "Just be sure you have someone to share them with, or you'll eat the whole plate," she wrote on her blog.
Get the Recipe: Waffled Cinnamon Rolls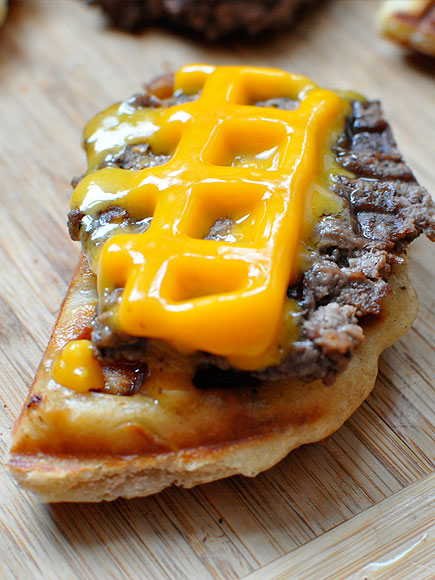 Daniel Shumski
WAFFLEBURGER
Waffleizer's Shumski, author of the upcoming cookbook Will It Waffle?, created a cheeseburger with a homemade buttermilk bun that gets cooked in the waffle maker before the meat. Shumski tells PEOPLE, "What's amazing about the waffleburger is that its components are instantly recognizable. People love both things—waffles and burgers—separately. When you do a mashup, it's sort of like, "Wow! Where have you been all my life?"
Get the Recipe: Waffleburger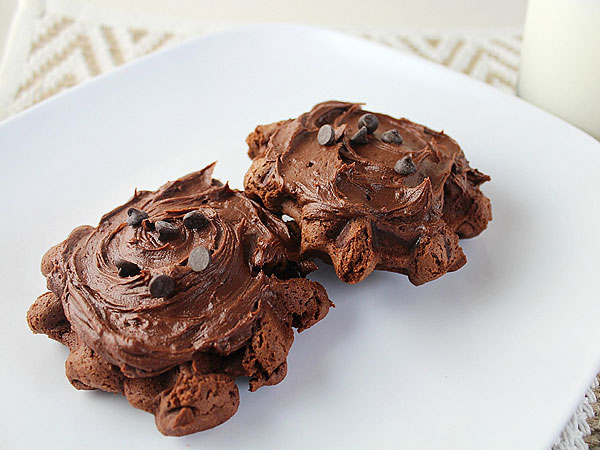 Jen Nikolaus
CHOCOLATE WAFFLE COOKIES
Blogger Jen Nikolaus of Yummy Healthy Easy got this recipe for moist, rich cookies from her mother-in-law, Nola, while she was visiting. "I would say that these are one of my family's favorite cookie recipes and they're probably the easiest too, since they use just six easy ingredients," she tells PEOPLE. Another bonus: Since the recipe only makes 10 cookies, you can share it with a few family members or friends but you won't be left with a pile of cookies to snack on all night. (Not that we would ever do that!)
Get the Recipe: Chocolate Waffle Cookies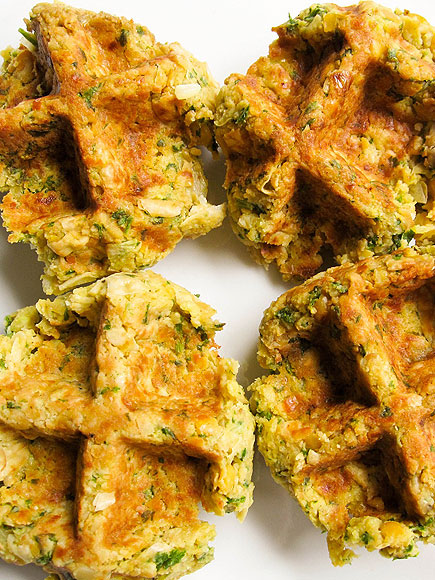 Megan Newton
WAFFLED FALAFEL
Repeat after us: Waffled falafel. It just has such a ring to it. Megan Newton of blog Food & Whine was inspired by Waffleizer to create this recipe when her younger brother came over dinner. She'd originally planned to use a storebought falafel mix, but opted to make her own when her grocer was out of the boxed stuff. Though her kids were a little disappointed when they realized they weren't having waffles for dinner, they gave the finished dish their approval. "This is the only way we eat falafel in our house now. The kids love the fun waffle shape, and they're perfect for packing in lunches. They freeze well too, so you can have waffled falafels whenever you'd like," she tells PEOPLE.
Get the Recipe: Waffled Falafel with Tzatziki and Lemon Rice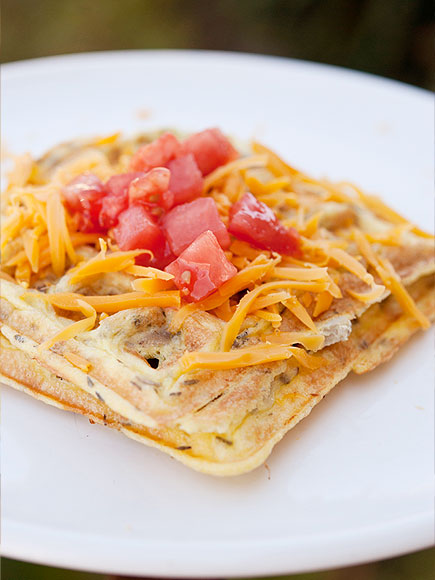 Tiffany McCauley of TheGraciousPantry.com
WAFFLE OMELET
Tiffany McCauley of The Gracious Pantry created this simple egg dish, which has only 118 calories per serving, as a high-protein option for busy mornings. "These waffle omelets are perfect for making ahead, freezing and popping in the toaster for a quick, easy and healthy breakfast," she tells PEOPLE. And of course, they'd also pair well with traditional waffles on a lazy Sunday brunchday.
Get the Recipe: Clean-Eating Waffle Maker Omelet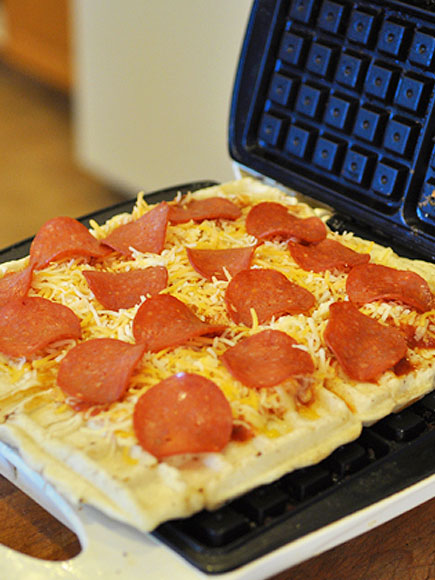 Jill Nystul
WAFFLED PIZZA
Jill Nystul of One Good Thing created a waffle maker pizza recipe that requires a bit of finagling, but the results are worth it. She precooks the pizza dough on both sides before adding the cheese, pepperoni and tomato sauce. Then, to keep her waffle maker from becoming a sticky mess, she cooks the pizza with the lid open until the cheese bubbles and melts. On her blog, Nystul called the pizza a "stunning success" that she nibbled on all evening.
Get the Recipe: Waffled Pizza
—Lexi Dwyer