Haute Potato! Make the Spicy Dish from H&M's Fashion Bash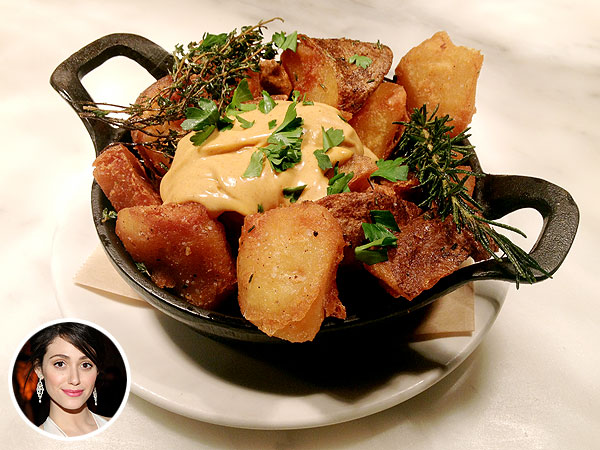 Courtesy Eveleigh
Fashion, meet food!

Celebs including Emmy Rossum, Amber Valetta and Kate Mara gathered at rustic farm-to-table restaurant Eveleigh in West Hollywood for a fete celebrating H&M's launch of its third Conscious Exclusive collection, hitting stores April 10.
The limited-edition collection pulls some of its inspiration from flamenco, which Eveleigh executive chef Jordan Toft echoed in Spanish-influenced dishes like ceviche and patatas bravas, a heap of fried potatoes in spicy sauce that you'll find at every tapas restaurant in Spain.
Toft's version gets its heat from cayenne mayo (easier to make than you think!), while the potatoes pop with parsley, thyme and rosemary. The recipe is perfect for your next spring fling — no matter what you end up wearing.
Patatas Bravas
Serves 4
1 tsp. cayenne
1 tsp. smoked paprika
½ cup mayo
1 lemon, for juice
Salt, to taste
6 Russet potatoes
3 sprigs parsley
Pepper, to taste
2 sprigs thyme
2 sprigs rosemary
1. In a small bowl, mix cayenne and smoked paprika. Slowly add water until mix becomes a paste.
2. Add mayo and mix thoroughly. Squeeze in a few drops of lemon juice and a pinch of salt. Mix well.
3. Cut potatoes in half lengthwise, then cut each half into 4 rough triangles. Place the potatoes in a large pot and cover with water. Add salt and bring to a boil.
4. Cook until potatoes are tender all the way through but still hold their shape. Strain potatoes and let cool in the refrigerator.
5. Once potatoes are completely cooled, fry in a deep-fryer or in a pot of oil that has been heated until bubbling. Do not crowd the fryer; you can do handfuls at a time. Once potatoes are golden brown and crispy, place them in a mixing bowl.
6. Roughly chop the parsley leaves. Toss the potatoes with salt, pepper and half of the chopped parsley.
7. Deep-fry the sprigs of rosemary and thyme by carefully and quickly dipping into the fryer or pot of hot oil.
8. Garnish potatoes with chili mayo, fried rosemary and thyme, and remaining chopped parsley. Serve immediately.
—Brooke Showell