See Baseball's Craziest, Over-the-Top Stadium Snacks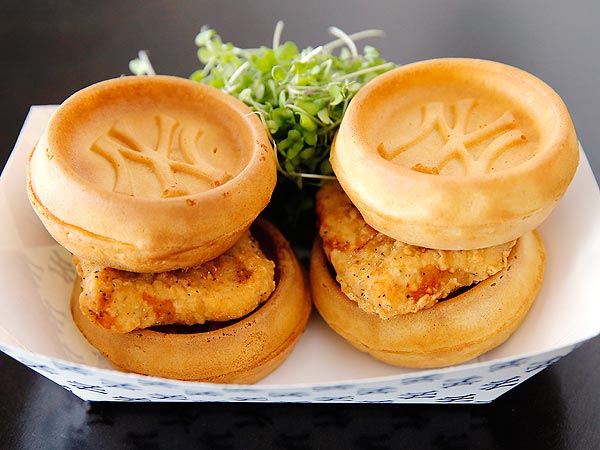 Courtesy New York Yankees
Buy me some peanuts and Cracker Jacks? Looks like the lyrics to "Take Me Out to the Ballgame" may need a refresh.

This season, you'll find everything from fried chicken and waffles to a 3-pound hot dog at baseball stadiums across the country, where concession stands are one-upping each other with massive fried, stuffed and smothered grub.
In honor of Opening Day on Monday, check out six of the wildest stadium snacks available now. There's no crying in baseball, but there may be cramps.
Chicken and Waffles Cart at Yankee Stadium, New York Yankees
Brunch, meet baseball? Yankee Stadium introduces what seem to be a riff on McDonald's McGriddles: fried chicken sandwiched between two (Yankees-branded) waffles. Although compared to other cities' offerings this looks downright delicate, so those who bleed blue may have to order in multiples — or upgrade in size to the stadium's new "Nacho Helmet:" 12 ounces of nacho chips with a choice of toppings. Because, baseball.
D-Bat Dog at Chase Field, Arizona Diamondbacks
Taking "go big or go home" to heart, the team's latest menu item, the D-Bat Dog, is an 18-inch corndog stuffed with cheddar cheese, jalapenos, and bacon — complete with a side of fries. Price tag: $25. The food coma: Priceless.
Want one? pic.twitter.com/gswqXFSmq2

— Arizona Diamondbacks (@Dbacks) March 18, 2014
The Beast at Miller Park, Milwaukee Brewers Only in Milwaukee will you find a monster aptly named The Beast. A light snack, if you will: a grilled bratwurst sliced in half and stuffed with a grilled hot dog, both wrapped in bacon and topped with sauerkraut and grilled onions on a pretzel roll.
"The Beast" Hot Dog/Brat/Bacon/Pretzel Bun available only at The Plaza Grill at Miller Park: http://t.co/OqtlrwzZ2D pic.twitter.com/0VbPfkYkCr — Milwaukee Brewers (@Brewers) May 17, 2013
Crab Mac & Cheese Hot Dog at Oriole Park at Camden Yards, Baltimore Orioles Baltimore's famous fresh lump crabs must go into shell shock atop a Stuggy's hot dog loaded with macaroni and cheese and topped with a peppering of Old Bay.
Boomstick at Rangers Ballpark, Texas Rangers It's named after the bat used by Texas Rangers player Nelson Cruz, but the real hit will be in your belly after downing a 2-foot all-beef hot dog on an extra-large potato bun smothered in chili, nacho cheese, jalapenos and caramelized onions. It weighs 3 pounds, and will set you back $26.
Banana Split Sundae Helmet at U.S. Cellular Field, Chicago White Sox The Sox are sweet on what they call an "eye-popping" three-pound banana split featuring four scoops of vanilla, chocolate and strawberry ice cream. But why stop there? It's drizzled with caramel, strawberry sauce and chocolate syrup then topped with whipped cream and cherries. Because you're never fully dressed without multiple toppings.
White Sox to sell a 12-scoop, banana split in a full-size batting helmet for $17 pic.twitter.com/8VxocsFDDe

— darren rovell (@darrenrovell) March 26, 2014
—Brooke Showell