Recipe Redo (Guilt-Free!): Trisha Yearwood's Chicken Pizza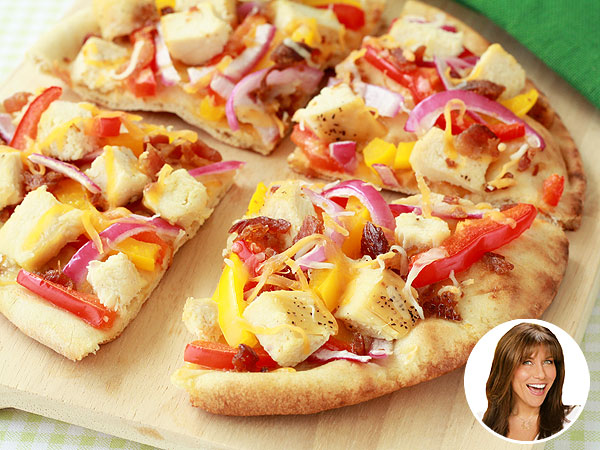 Courtesy Hungry Girl
Lisa Lillien is the author of the popular Hungry Girl website and email newsletter, featuring smart, funny advice on guilt-free eating. She is also the author of eight Hungry Girl cookbooks, five of which debuted at number one on the New York Times Best Sellers list. Read her PEOPLE.com blog every Monday for slimmed-down celebrity recipes and more.

Trisha Yearwood is a shining example of a star who knows her way around the kitchen. Sure, she's a Grammy winner and multi-platinum-selling recording artist. But she's also the host of Trisha's Southern Kitchen on the Food Network, for which she won an Emmy last year, and she's a two-time New York Times best-selling cookbook author.
I checked out Trisha's recipe for Southern-Style Chicken Bacon Pizza, and it looks delicious. But while I'm on board with shortcuts like using pre-made dough, a few simple tweaks could make this pie much lighter.
Instead of heavy, starchy pizza dough, I used a high-fiber pita as the base. I kept the olive oil, but reduced the amount. (You still get all the benefits, but this cuts down on unneeded fat and calories.) As for the bacon, I used pre-cooked, crumbled bacon because it's lean and convenient. And, of course, reduced-fat cheese saves some fat without sacrificing flavor.
Don't worry, Trisha — I'm sure Garth Brooks will like this lightened-up version, too!
'Til next time… Chew the right thing!
Baconed-Up Chicken Pizza
Serves 1
1 high-fiber pita
1 tsp. extra-virgin olive oil
¼ tsp. chopped garlic
3 tbsp. shredded reduced-fat Mexican-blend cheese
¼ cup sliced bell pepper
¼ cup sliced red onion
2 oz. skinless chicken breast, cooked and chopped
1 tbsp. precooked real crumbled bacon (like the kind by Oscar Mayer)
1. Preheat oven to 375 degrees. Spray a baking sheet with nonstick spray.
2. Lay pita on the baking sheet, drizzle with olive oil and sprinkle with garlic, leaving a ½-inch border. Top with 2 tbsp. cheese, bell pepper, onion, chicken and bacon. Sprinkle with remaining 1 tbsp. cheese.
3. Bake until hot and lightly browned, 10-12 minutes. Enjoy!
In 1 serving (entire recipe): 341 calories, 12.5g fat, 783mg sodium, 33.5g carbs, 7g fiber, 3g sugars, 30g protein