Follow Aziz Ansari On His West Coast Pasta Quest — and Make a Recipe at Home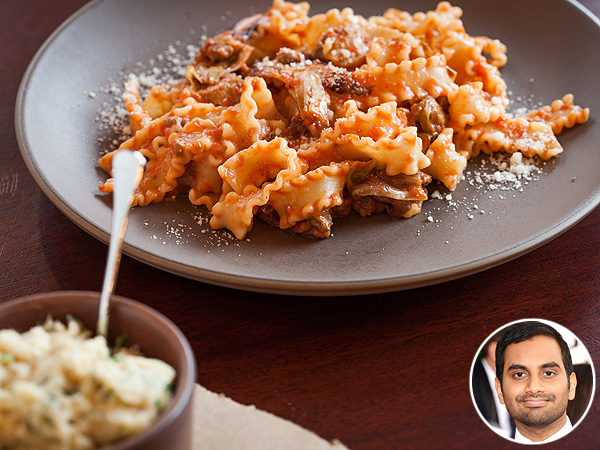 Courtesy Ava Gene's; Inset: Jason Merritt/Getty
Does Aziz Ansari have a serious weakness for fresh pasta?

Judging by the photos the Parks and Recreation actor is taking as he restaurant hops throughout the Pacific Northwest, it seems like he loves carbs as much as we do!
He posted this shot Tuesday of cacio e pepe (cheese and pepper) pasta from Il Corvo in Seattle, one of the cities on his Modern Romance stand-up tour. (Also, major props to him for coining our new favorite hashtag: #freshpastalife.)
And last week, he Instagrammed a photo of a delicious-looking array of artisanal pastas like rabbit agnolotti and nettle linguine from his table at Ava Gene's, a rising restaurant star from Stumptown coffee founder Duane Sorenson that opened last summer in Portland, Ore.
"What pasta do we want? ALL THE PASTA. Ava Gene's in Portland. So good," Ansari wrote in the caption.

All the pasta sounds great — but so does just one! Ava Gene's chef Joshua McFadden handed over the recipe for the sagna riccia (long, flat noodles) with sausage ragu that's pictured in the foreground of Ansari's shot.
McFadden imports his sagna riccia from a small pasta company in Italy called Masciarelli. "If you can't find sagna riccia, try using a larger long noodle like fettuccine or pappardelle. It also works very well with short noodles like rigatoni or macaroni," he tells PEOPLE.
At Ava Gene's all of the pork sausage and meatballs are made in-house, so McFadden suggests skipping packaged products in favor of getting sweet or spicy sausage from your butcher. The better the meat, the closer this will taste to the restaurant's version.
Ansari has proved his prowess in the kitchen before — we wonder if he'll try this recipe at home. If so, we know a few other stars who may be down for a noodle-making session. Pasta party!
Sagna Riccia (Sunday Sausage Ragu)
Serves 4-6
12 oz. sagna riccia pasta
2 tbsp. extra virgin olive oil, divided
4 garlic cloves, smashed
3 tbsp. tomato paste
6 oz. pork sausage (uncased)
8 oz. meatballs
1½ cups of crushed tomatoes in their liquid, divided
1 handful parsley, roughly chopped
½ cup parmigiano reggiano, grated
1. Bring a large pot of water to a boil and add salt to taste (add enough so it tastes like salty seawater).
2. While you are waiting for the water to boil, heat a large sauté pan over medium heat. Add 1 tbsp. of oil and the smashed garlic, cooking until garlic cloves brown.
3. Add the tomato paste, and cook until brown. Add the sausage and cook until exterior is brown and crispy. Crush up sausage with the back of a fork.
4. Add 1 cup of the crushed tomato and the meatballs. Simmer on low 4-5 minutes and crush the meatballs into quarters. Remove from heat.
5. Once the water has reached a boil and you have salted it, add the pasta and cook one minute short of what the package time says.
6. Drain pasta and add it to the pan with the sauce. Add ½ cup of the pasta water and the rest of the tomato liquid to the pan and cook on medium heat, tossing and twirling the pasta.
7. Remove from heat and add the chopped parsley, grated parmigiano reggiano, and the last tablespoon of oil and toss well.
—Lexi Dwyer