Get a Taste of Nathan Fillion's 'Death by Chocolate' Birthday Cake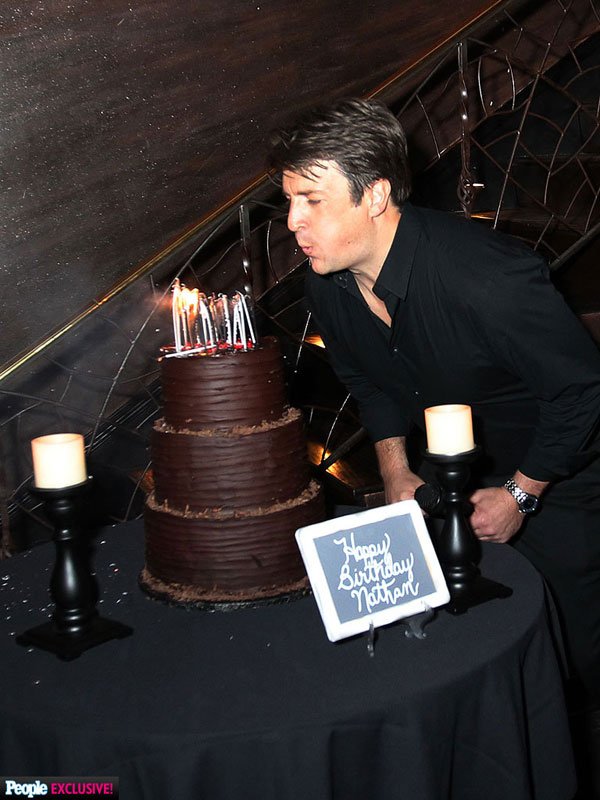 Derek Shook
Nathan Fillion: What are you wishing for as you blow out those candles?

Not for a better birthday cake, that's for sure. The towering confection at the Castle star's 43rd birthday bash in West Hollywood had more chocolate than you'd find at Willy Wonka's factory: three tiers of devil's food cake layered with bittersweet chocolate mousse and crunchy Valrhona chocolate pearls, all covered in a ganache made from two types of chocolate and garnished with bittersweet chocolate shavings.
"He is a chocolate fiend," says Linda Chen, owner of Bittersweet Treats Bakery in L.A., of Fillion. She and her team made the 50-pound cake for the actor, plus put together a buffet of smaller sweets. "The whole thing was death by chocolate."
On the dessert table were bittersweet truffles made from dark chocolate and rolled in cocoa powder from France, devil's food cupcakes topped with toasted meringue, chocolate whoopie pies and two types of Barreos, the bakery's signature riff on Oreo cookies. "One with our vanilla bean filling and the other with our espresso cinnamon filling made with Lamill coffee," Chen says.
But the Chocolate Crunch cake — the most popular at the bakery — stole the show, even before Fillion blew out the candles. And you may recognize it: It was the cake that won Chen's former partner, Danielle Keene, the wedding challenge on the first season Top Chef: Just Desserts.
Which was sweeter: the desserts or the birthday boy? Chen couldn't stop raving about how "delightful" Fillion was as a customer.
"I have to say that he and his staff are some of the nicest people I've ever worked with," Chen says. "There was no pretentiousness about him. He was just so down to earth and so sweet."
Seems fitting.
—Marissa Conrad