Take a Cue from Questlove: Eat Your Ice Cream Sundae in a Hot Dog Bun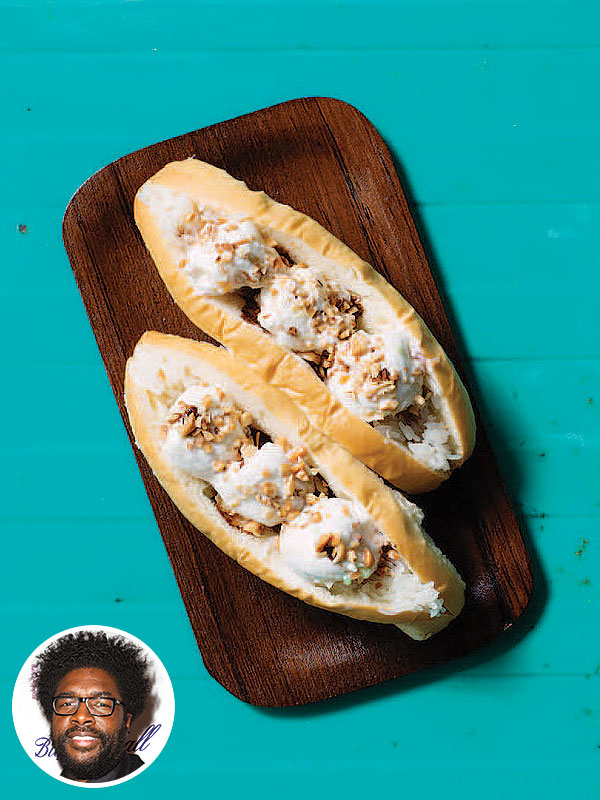 Austin Bush; Inset: Celebrity Monitor/Pacific Coast
Truth: Cookies were pretty much made for getting heaping scoops of ice cream into our mouths without the bother of a spoon (Kristin Cavallari knows what's up). But what if you took the "sandwich" part of "ice cream sandwich" a little more literally?

That's the case in Thailand, where ice cream sammies come on squishy white rolls similar to hot dog buns — and in New York at Thai restaurant Pok Pok, where The Roots drummer and joint frontman Questlove recently dug into the khanom pang ai tiim, or Thai-style ice cream sandwich.
"Wow: #PokPokNY literally gave me an Ice Cream Sandwich," he captioned this Instagram photo:
Here's why the bread idea is golden: Putting the ice cream inside a roll creates a pouch that will hold fun toppings, such as chocolate syrup, condensed milk and crushed peanuts. Also, bread does a nice job of cutting the sweetness of the coconut ice cream and the scoop of sweet sticky rice, making every bite balanced.
Chef Andy Ricker shares the recipe in his first cookbook, Pok Pok. If you don't have an ice cream maker, try it with your favorite pint and his recommended toppings  — either way, this nutty dessert may have you swearing off cookie sandwiches for good.
Thai-Style Ice Cream Sandwiches
Makes 4
12-16 small scoops coconut ice cream with jackfruit (recipe below)
4 split-top hot dog buns, at room temperature
½ cup sweet sticky rice, warm (recipe below)
Chocolate syrup, for drizzling
Sweetened condensed milk, for drizzling
¼ cup coarsely crushed unsalted roasted peanuts
1. Just before you plan to serve them, pull open the buns and spread a generous 2 tablespoons of the sticky rice on each one.
2. Top each bun with 3 or 4 small scoops of the ice cream, then lightly drizzle the ice cream with chocolate syrup and condensed milk, then sprinkle on the peanuts. Don't be shy: pick it up and eat it like a sandwich.
Coconut Ice Cream with Jackfruit
Makes 1½ quarts
1 cup granulated sugar
½ cup water
4 cups unsweetened coconut cream (preferably boxed)
8 oz. defrosted mature or "yellow" (not young or green), ripe jackfruit flesh
1. In a small pot over medium heat, combine the sugar and the water. Let it come to a simmer, stirring occasionally. Keep cooking until the sugar fully dissolves and the mixture registers 230°F to 235°F on a candy thermometer.
2. Take the pot off the heat and let the mixture come to room temperature. The mixture will harden slightly as it cools.
3. In a mixing bowl, combine the mixture and the coconut cream. Cover and refrigerate the mixture, stirring occasionally, until it's fully chilled, at least 1 hour.
4. Meanwhile, cut the jackfruit flesh into approximately 1/4-inch chunks. Once the mixture has fully chilled, stir in the jackfruit.
5. Pour the mixture into an ice cream maker and churn according to the manufacturer's instructions. (The specifics of the process vary from machine to machine.)
6. Transfer the mixture to containers and freeze until fully frozen, at least 4 hours; it will keep up to 1 week.
Sweet Sticky Rice
2½ cups uncooked Thai sticky rice (also called glutinous or sweet rice), soaked for 2 hours in tepid water
1 cup unsweetened coconut cream (preferably boxed)
½ cup granulated sugar
1 tbsp. kosher salt
1 fresh or frozen pandan leaf, tied in a knot
1. Pour water off the rice and put in a fine-mesh strainer set inside a large bowl. Fill bowl with enough cool tap water to cover the rice by an inch or two; gently stir rice with your hand, then lift the strainer from the bowl. Empty the water and repeat process until the water remains clear.
2. Pour water into a sticky rice steamer pot to a 2-inch depth and bring it to a boil over high heat. Line the steamer basket with two layers of damp cheesecloth and dump the rice in. Fold the cheesecloth so it covers the rice, cover with a lid or clean, damp kitchen cloth tucked around the bundle.
3. Decrease heat slightly and set basket into the pot. Cook until sticky rice is fully tender but slightly underdone, about 12 minutes.
4. Meanwhile, in a medium pot, combine coconut cream, sugar and salt. Add the pandant leave and bring to a simmer over high heat (don't let it boil).
5. Cook, stirring, just until the sugar has fully dissolved, about 1 minute. Turn off the heat, cover the pot and let sit 5 minutes.
6. Remove and discard the pandan leaf, and let the cream mixture cool until it's warm but no longer hot.
7. Add the cooked sticky rice to the pot and gently stir and fold it until it's evenly coated in the cream mixture. Cover the pot and let it sit for 10 minutes. The rice will get more tender and absorb the coconut mixture.
*Chef's note: Rice will keep covered in the fridge for up to 24 hours. To reheat, cover with plastic wrap and microwave on low until the rice is warm (but not hot) through.