Make & Shake: 4 Surprising Ways to Use a Cocktail Shaker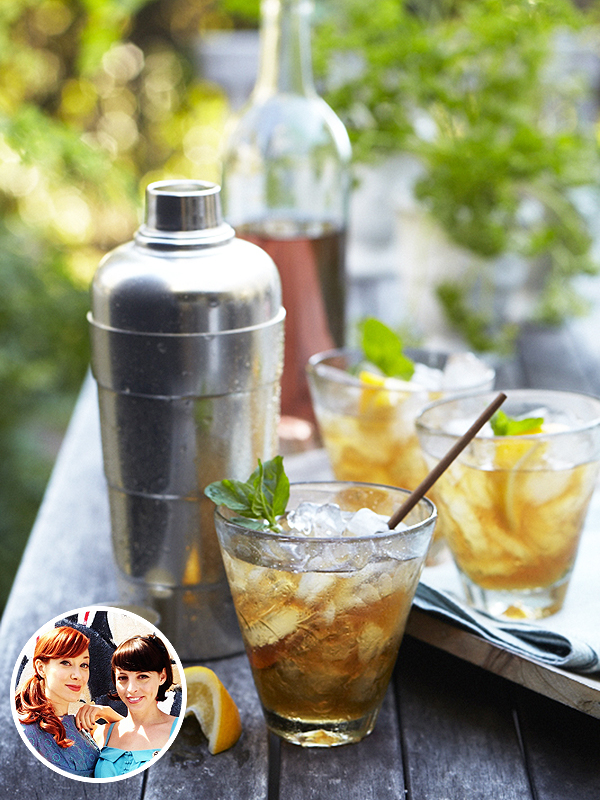 Iain Bagwell/Getty; Inset: Courtesy Alie & Georgia
Alie Ward and Georgia Hardstark, a.k.a. Alie & Georgia, host Cooking Channel food-travel series Tripping Out with Alie & Georgia. Visit PEOPLE.com every Thursday for their playful spins on celebrity recipes, cocktails, entertaining ideas—and, of course, lots of laughs!

Drooling over our favorite home design blogs or celebrity spreads in, say, PEOPLE, it's not uncommon to notice a cocktail shaker, sleek and shiny, casually hanging out on a rustic kitchen shelf or gleaming on a sleek credenza. (P.S.: What exactly is a credenza?)
We're sure your first thoughts are: Cool, but that's for making James Bond-y cocktails or whipping up a batch of Cosmos for my ladyfriends who never come over because we're all too busy. What does a cocktail shaker have to do with my daily life?
Besides the obvious reason — to make yourself a good drink, ladyfriends in the house or not — we have four surprising ways your cocktail shaker can stop collecting dust on that dang credenza.
1. Lattes
Coffee is our lifeblood. And as L.A. denizens, an iced latte is the driving force behind us getting out of our beds in the morning. But you can up your iced coffee game at home by using your cocktail shaker: no booze necessary. Toss a bunch of ice, cooled coffee and your favorite cream and sweetener in your shaker, dance around like a lunatic with it and pour it into a tall cup. You now have chilled, frothy, non-watery iced coffee. One of our favorite cafes in L.A., Proof in Atwater Village, uses cocktail shakers for all of their iced beverages and that is why they own our soul. Get hip to this.
2. Lemonade
Now that spring has sprung, it's time to start sipping sunny drinks — and the best lemonade is fresh, homemade and shaken up. Take the juice of one lemon, ice, 8-10 oz. water, 1 tbsp. (give or take) of simple syrup and shake it all together, then pour into a glass. Best. Lemonade. Ever. It's also great to throw some fresh mint into the shaker or even a few frozen berries, which will break up and add a pop of color and flavor. No booze, yet instantly addictive.
3. Iced Tea
Same thing goes for iced tea. As soon as you realize that you can throw room temperature brewed tea plus ice plus any fresh herbs or fruit into a shaker and come out with something you've never tasted before, you'll be a maniac for new iced tea experiments. You're about to become obsessed.
4. Wellness Shot
Let's do shots! For immunity! Our health nut friends turned us on to the combo of lemon juice, cayenne pepper and ginger for a high dose of vitamin C in one little sipper. We took it a step further and made it a wellness mocktail. Just muddle a chopped 1-inch ginger coin in the bottom of your new BFF (your cocktail shaker), add the juice of one lemon, a dash of cayenne pepper, a few tablespoons of water and a teaspoon or two of maple syrup. Shake that sucker up, and pour over ice. You'll have a sweet, sour, spicy drink that gives your body a boost.
As for types of shakers, we think cobbler shakers are great for home use. They're the metal ones with a top and a little cap that comes off for straining out the ice. Some of these drinks you can take the whole lid off and pour the drink and the ice into a glass and sip, so experiment with what you prefer.
So with that, happy shaking! Leave a comment and let us know which of these drinks you try first — and whether or not you danced around your house with your shaker in hand. (We swear this makes everything taste better.)
Shk-shk-shk-dance,
Alie & Georgia