Amanda Seyfried and Justin Long's Milkshake Date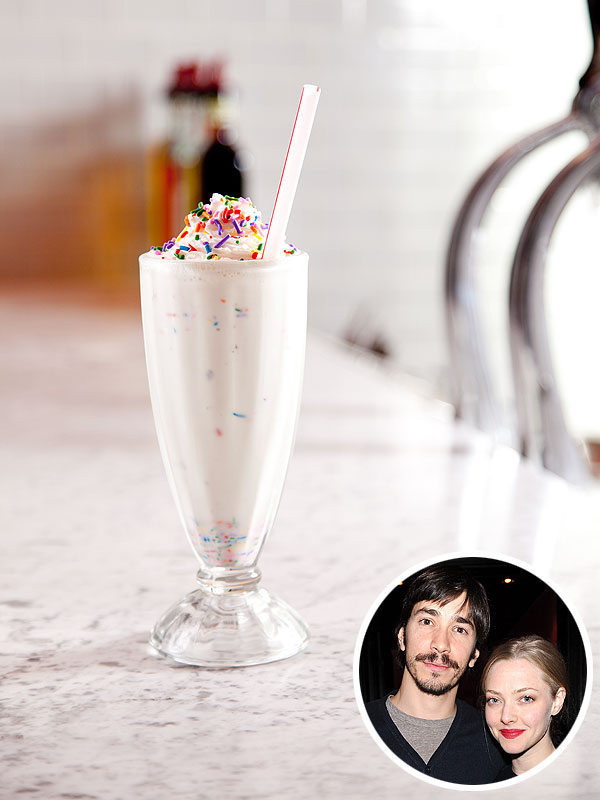 Courtesy The Milk Shake Factory; Inset:Dimitrios K
Someone's got a sweet tooth!
Amanda Seyfried and boyfriend Justin Long enjoyed a super sweet outing on Tuesday afternoon, stopping by Pittsburgh's Milk Shake Factory for a frozen snack and a few decadent treats.

"#lactosetoleranttuesday," the actress wrote on Instagram while sharing a photo (with Australian shepherd Finn) outside the South Side's century-old establishment.
The pair shared the shop's Piece of Cake milkshake (made with cake batter ice cream and sprinkles!), before taking photos with fellow patrons and employees.
In town to film her new movie Fathers and Daughters, Seyfried also picked up a variety of chocolate treats (early Easter shopping, perhaps?), including peanut butter eggs, chocolate bunnies and a variety of bulk chocolate.
Have a hankering for a shake of your own? Don't worry, with the recipe below, it'll be a "piece of cake"!
Piece of Cake Milkshake
Makes 1
1½ cups cake batter ice cream
⅔ cup whole milk, divided
Whipped cream, sprinkles, and/or your favorite birthday cake ingredients, like chocolate syrup, caramel, cookies, etc.
1. In a blender, combine ice cream, ½ cup milk and any extra ingredients.
2. While blending, add remaining milk slowly and continue until smooth.
3. Pour into a tall glass and top with whipped cream, chocolate syrup and sprinkles. Serve immediately.
—Karen J. Quan