Are Cereal Cartoon Characters Manipulating Your Kids with Their Eyes?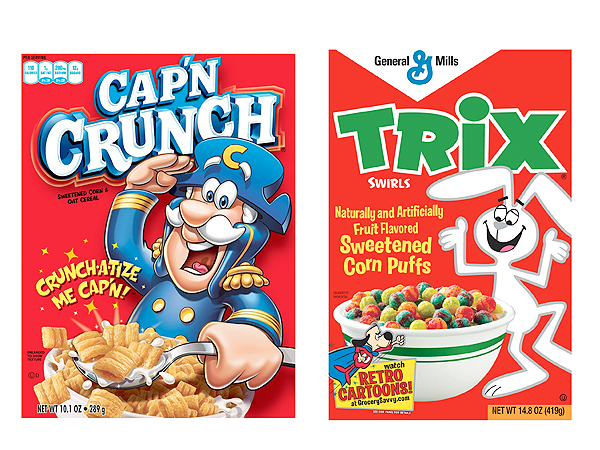 General Mills; Pepsico
Staring is rude but for certain cereal manufacturers, it's also lucrative.

A new Cornell University study of 65 cereals found that the gaze of characters on cereal boxes marketed to children, including Cap'n Crunch and the Trix rabbit, is downward whereas spokes-characters on adult cereal look almost straight ahead. The result: The characters are staring into the eyes of young children.
You know what happens next.
"If you have eye contact with something, even with somebody on a box, it looks more trustworthy and increases your likelihood of purchasing things," explained Dr. Brian Wansink, one of the researchers from the university's Food and Brand Lab.
Ka-ching!
The study even measured those staring eyes: On adult cereal boxes, the average shelf height of the spokes-characters' gaze was 53.99 inches; on kids' cereals, it was 20.21.
A second key item in the study found that boxes featuring cartoon mascots are purposely positioned half as high on supermarket shelves as adult cereals — 23 inches for kids cereal verses 48 inches for adult cereal.
Researchers concluded that parents could take a detour around the cereal aisle if Junior's with you at the grocery store and you don't want him influencing your purchases. They also gave a shout-out to healthy cereal brands to draw some "eyes" on their boxes to increase loyalty and sales!
If only baby-carrot manufacturers could put eyes on their packaging, too.
—Nancy Mattia