Avoid Licking the Screen: Bakerella's Fully-Loaded, Monster Cookie Bars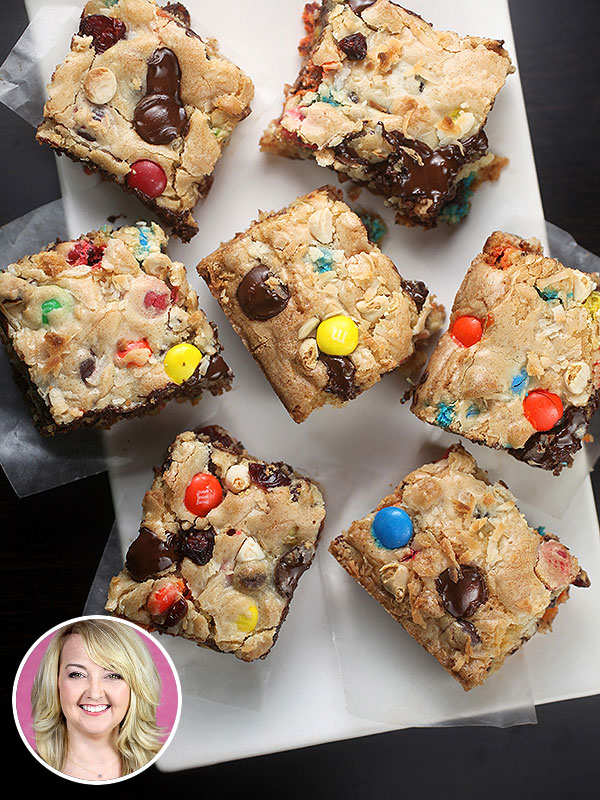 Courtesy Bakerella
Angie Dudley, a.k.a Bakerella, is the author of the New York Times best-selling book Cake Pops and creator of Bakerella.com. Visit PEOPLE.com on Fridays for her sweet spin on celebrity recipes and more.

How do you like your chocolate chip cookies? Most of the time I'm perfectly happy with plain old milk chocolate chips. But sometimes it's fun to throw in a bunch of mix-ins and build up the cookies into ooey, gooey cookie bars.
In fact, NCIS star and Donna Bell's Bake Shop co-owner Pauley Perrette's Magic Bars have just the right toppings for a mean cookie bar: white chocolate chips, dark chocolate chips, dried cranberries and coconut. I added a cookie dough batter, and some M&Ms for good measure, to make a little magic of my own.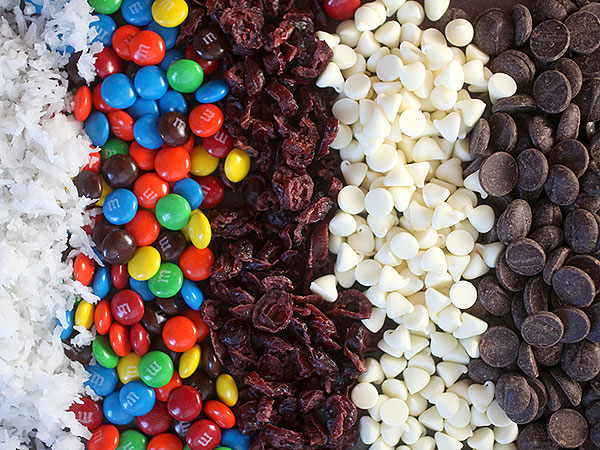 Courtesy Bakerella
Here's what to start with. You could even throw in some chopped nuts if you like, too. Add any of your favorite mix-ins, because these bars will bake up tall enough handle it.
And now, I'm off to find a very tall glass of milk. Don't eat these all in one sitting!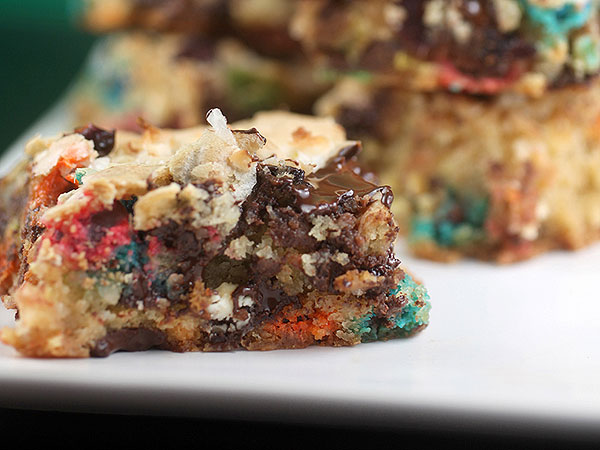 Courtesy Bakerella
Monster Cookie Bars
Makes 20
2⅔ cups flour
2 tsp. baking powder
½ tsp. salt
⅔ cup butter, softened
1½ cups light brown sugar
3 eggs
2 tsp. vanilla
1 cup dark chocolate morsels
1 cup white chocolate morsels
1 cup M&M's
½ cup dried cranberries
½ cup sweetened shredded coconut
1. Preheat oven to 350 degrees and coat a 9×13-inch baking dish with non-stick spray.
2. In a medium bowl, use a wire whisk to mix flour, baking powder and salt. Set aside.
3. Using a mixer, cream butter and sugar together until blended. Add eggs one at a time and mix until incorporated. Then add vanilla and mix.
4. Slowly add the flour and mix until combined. Stir in dark and white chocolate morsels, M&M's, dried cranberries and coconut.
5. Spread into prepared pan and bake for 45 minutes until done. If the top starts to get too brown, you can cover the top with a sheet of aluminum foil for the last 10 minutes of baking.
6. Once cool, cut into 20 bars.