Alex Guarnaschelli: How I Got My Daughter to Eat — and Like! — Broccoli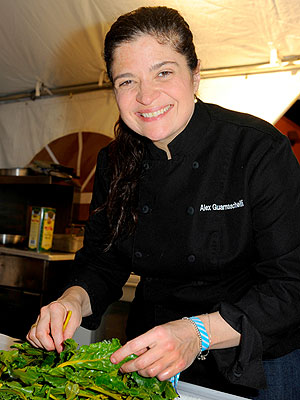 Sergi Alexander/Getty
Alex Guarnaschelli is an Iron Chef, Food Network celebrity chef and the executive chef at New York City's Butter restaurants. Read her PEOPLE.com blog every Tuesday to get her professional cooking tips, family-favorite recipes and personal stories of working in front of the camera and behind the kitchen doors. Follow her on Twitter at @guarnaschelli.
I spend the majority of my time cooking or thinking about food. Running a restaurant can be challenging and stressful, and while I love that my hobby and profession are one in the same, I have to carve out ways and times to cook for pure pleasure.

After I had my daughter, Ava, I thought that creating her homemade meals would be a relaxing way to enjoy my love of cooking. And I wasn't entirely wrong. But I wasn't entirely right, either. I never expected to hear "I don't like this, Mommy" or "This doesn't taste good!" after investing so much of my time and energy on her food.
My 6-year-old daughter is a voracious eater but like any kid, also has her distinct likes and dislikes. She loves pizza but hates cheese in most other contexts. She loves tomato sauce but won't touch a raw tomato. So I find myself, after years of dreaming up hundreds of creative restaurant menus, wondering what I should cook at home.
I wondered, how do I walk the line between sharing new ingredients and staying in my kid's comfort zone?
After lots of trial and error, I'm ready to offer some suggestions. First, I think chicken fingers and mac and cheese should be part of every parent's repertoire. But I also believe that we shouldn't limit ourselves. I remember being a kid and whatever my mom or dad made, that was that. No other choices. No sauce on the side. No "liver with onions, hold the liver."
I don't think we need to go back to being this strict, but I also think that you shouldn't be so quick to dismiss a food as something your child doesn't like. A nutrition experts once told me a kid might need to see a new ingredient 16 to 24 times before they decide to even try it, let alone eat it regularly.

LEFT: Broccoli comes in so many forms; RIGHT: This is portrait my daughter painted of herself (Courtesy Alex Guarnaschelli)
I conducted my own broccoli test to examine this theory. I steamed some florets and seasoned them with salt and lemon juice. When the broccoli hit the table, my daughter's nose wrinkled in distaste. I ate the broccoli with gusto as she watched silently. I did it again a few nights later.
You're probably wondering, is this the part of the story where she began happily devouring broccoli? Has she moved on to kale shakes and hummus burgers since? Of course not. She watched me do this many, many times over several weeks. Yes, I went through a lot of broccoli.
I had given up all hope until about round 12, when she took a piece of broccoli and nibbled it hesitantly. She ate a few pieces and didn't say anything. Neither did I. (Acting like you aren't invested in what your kids eat, to prevent battles for control, is another tip.) I will admit I went to the bedroom after dinner and did a secret broccoli-victory-dance before returning to do the dishes.
She now eats broccoli from time to time, and sometimes even asks for it. To continue my discreet PR campaign on behalf of fresh produce, I take her to the supermarket and greenmarket to wander around. She'll grab and apple and bite into it with gusto. She'll marvel at how tomatoes come in so many colors. I think there is something to the idea of showing children that food is beautiful, whether you're browsing at your local grocery store or strolling through a packed farmers' market during the middle of summer.
Of course, there are some fruits and vegetables that my daughter finds beautiful but she won't dare eat. But I like to think she is building a file of food information in her brain to reference as she gets older. As I build simple, reverent dishes to draw her in, I'm reminded of things I used to love as well. I forgot how good an artichoke can be if you just roast it with olive oil and chili flakes. And how sour cream can set off a baked potato beautifully. She would still prefer french fries any day but with patience I never knew I had, I've made progress with green vegetables.
Like those earlier complaints, "Mom, can you cook some broccoli?" are dinnertime words I never expected, either.