RECIPE: Graham Cracker Cones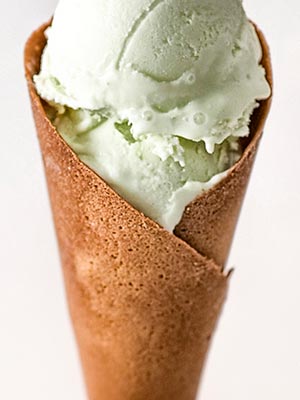 Courtesy Garrett Kern
Graham Cracker Cones
Makes 8
2 large egg whites
7 tbsp. granulated sugar
Pinch salt
½ cup graham cracker crumbs
3 tbsp. rice flour
¼ tsp. cinnamon
2 tbsp. butter, melted
1. In a large bowl, whip egg whites until slightly frothy. Add sugar and salt and stir to incorporate.
2. Add half of the graham cracker crumbs and half of the rice flour and mix to incorporate. Slowly whisk in butter.
3. Whisk in the rest of the crumbs and rice flour. Stir in cinnamon and allow batter to rest for 10 minutes.
4. Using a 6 inch circle template, spread 1½ tbsp. of the batter evenly onto a sheet pan lined with parchment. Bake the cookies at 350 degrees until golden brown, about 6 minutes.
5. Quickly remove the cookies and roll on a cone mold (you can use few pieces of paper rolled into a rigid cone). If the cookies become too rigid, place back in the oven for 15 seconds to make them pliable.