Doris Day's 90th Birthday Cake Celebrates the Star's Life — In Fondant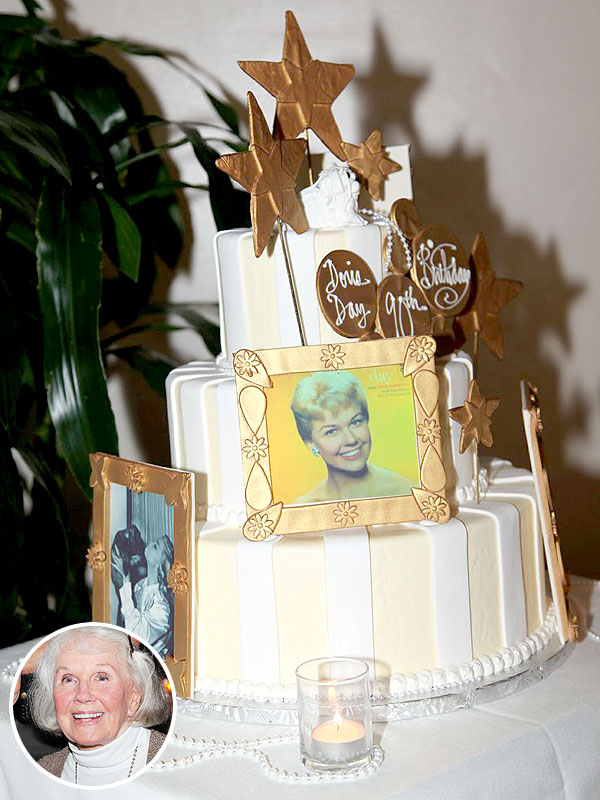 CW3PR
One rule about 90th birthdays: You don't have to share the cake if you don't want to!

But when you're talking about a three-tiered beauty like this one, there's plenty to go around. The gorgeous cake made its appearance at Doris Day's 90th birthday bash on April 4, where the Hollywood icon also made her first public appearance in more than two decades.
The dessert embodied Day's glamorous personality, and the staff at Layers Sensational Cakes in Monterey, Calif. made sure it meshed with the event's theme.
"[The party planners] were doing an Old Hollywood feel, with soft yellows, whites and golds," Layers owner Hazel Nuovo tells PEOPLE. "So we did lemon butter [cake] with poured white chocolate."
The cake, which had layers of fresh lemon curd, was decorated with fondant gold stars and white fondant pearls, a reflection of Day's signature style. Edible photos (printed on sugar!) of the actress from when she graced the silver screen were surrounded by beautiful fondant gold frames.
Bakers worked on the dessert for about a week, Nuovo says, since some of the more detailed decorative pieces took longer to prepare. But the actual cake was baked and assembled the day before the party, so it would be fresh.
The cake even paid tribute to Day's love of four-legged friends (at the party, she asked for donations to her Doris Day Animal Foundation instead of gifts): a tiny white dog sat upon the top layer.
"She has a little Maltese," says Nuovo. "They sent us a picture and we put one on the cake. I thought he was darling. He was made out of fondant, so you could eat him."
—Emma Tyler