Fried Chicken and Caviar: Wylie Dufresne's Epic Surprise Dinner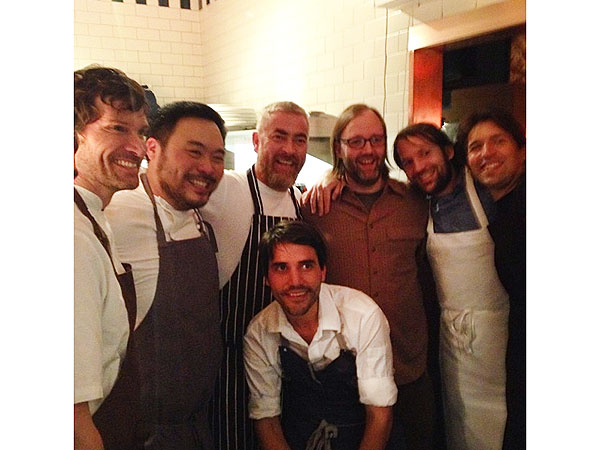 Courtesy Instagram/xtinem
Happy anniversary, Wylie Dufresne!

To celebrate the 11th year of his avant-garde N.Y.C. restaurant WD-50, the pioneering chef got quite the shock when 30 of his comrades from around the world — including chefs David Chang, Christina Tosi, René Redzepi and Alex Atala — surprised him with an elaborate party on Tuesday.
The fete was the work of Gelinaz!, a food-meets-performance art collective of big-name chefs who go to great lengths to put on culinary spectacles.
Like a flash mob, you never know where this group might pop up. But there can be clues: Prior to the event, chefs like Prune's Gabrielle Hamilton released a series of mysterious video teasers. The food world knew something was brewing…
In the hush-hush days leading up to the big event, the chefs behind it all camped out in Brooklyn, while each crafted a twist on Dufresne's signature gastronomic feats. All was revealed to guests (who had been kept in the dark — literally) and the man of honor Tuesday night when the crème de la culinary world took over WD-50 for a ten-course celebratory dinner.
Of course, the presentation was playful: Guests Instagrammed dishes like buckets of fried chicken (branded with Dufresne's face) paired with caviar, and apples filled with caviar, creme fraiche and chicken liver.
Chefs Daniel Boulud and Danny Bowien did a take on Dufresne's shrimp noodles, which Bowien described as "a very nice uptown French dish came downtown and got beat up by a Chinese restaurant," Eater reports.
Watch the video of the surprise:
—Brooke Showell