Alie & Georgia: When Life Gives You Lemons, Make a Cocktail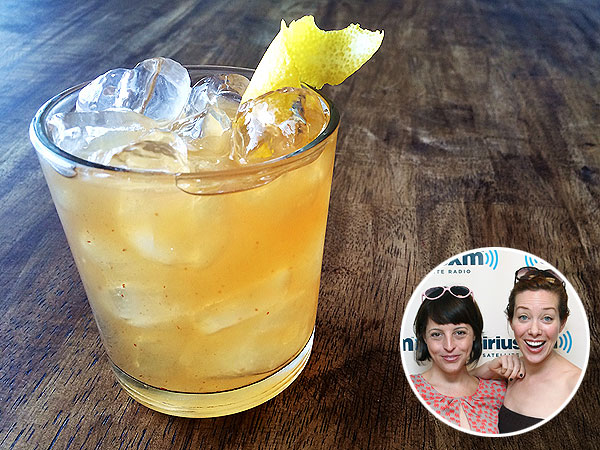 Courtesy Ava Gene's; Inset: Jason Merritt/Getty
Alie Ward and Georgia Hardstark, a.k.a. Alie & Georgia, host Cooking Channel food-travel series Tripping Out with Alie & Georgia. Visit PEOPLE.com every Thursday for their playful spins on celebrity recipes, cocktails, entertaining ideas—and, of course, lots of laughs!

Margarita enthusiasts. Gimlet lovers. Mojito connaisseurs. You have our condolences. See, a lime shortage is in effect. Now, you're welcome to revel in limedom while you still can with glorious cocktails like this one — but as we always say, when life hands you no limes, make lemon things instead.
So to celebrate the lemon we made a twist on a Gold Rush cocktail, which calls for bourbon, honey and lemon. But get this: We made it spicy.
Honey-Sriracha simple syrup is so easy to make (it's called "simple" for a reason) and, trust us, you'll want to put it in all of your cocktails this summer. And maybe even into winter. It's sweet, a little smokey, tart and then tiny flecks of chili and a little heat hit your tongue.
We tested this drink out at a dinner party and our guests were quickly obsessed. Limes, schmimes: Let's have a lemon party. (That said, if someone at a cocktail party asks if you're famliar with the lemon party and tries to lead you anywhere near a computer or web-enabled mobile device, just say no. You've been warned.)
Spiced Whiskey Lemonade
Makes 1
2 oz. bourbon
¾ oz. freshly squeezed lemon juice
¾ oz. honey-Sriracha simple syrup (recipe below)
Dash bitters (recommended: Peychaud's)
Lemon rind, for garnish
Add all ingredients to a cocktail shaker with ice. Shake and strain into a lowball glass or a tumbler filled with ice. Garnish with lemon rind and hold on to your collective hats.
Honey-Sriracha Simple Syrup
½ cup honey
½ cup warm water
½ tsp. Sriracha sauce
In a medium bowl, stir all ingredients until honey is dissolved. Store extra syrup in a refrigerated jar for up to one week.