A Taste of Coachella: Carne Asada Nachos and Blueberry Pie Bars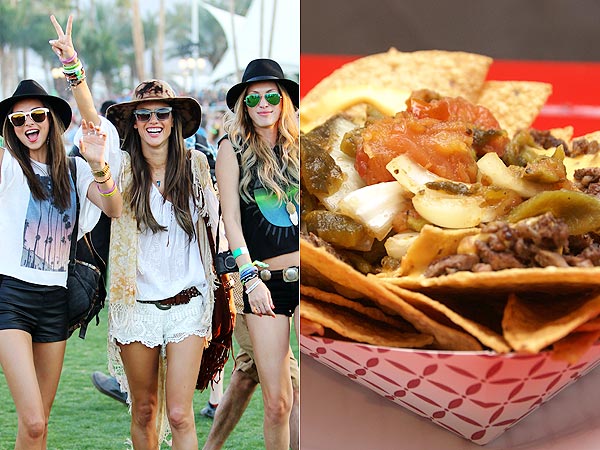 Left: Xposurephotos; Right: Paul Yoo/Mexicali Taco & Co.
"Food desert" takes on a new meaning at Coachella, the indie music festival held in the desert town of Indio, Calif, about two hours outside L.A.

The dining options at this year's fest, April 11-13 and 18-20, are bigger and better than ever, with pop-up restaurants, artisanal bakeries and cocktail bars joining in on the action. (Obviously, the crop-top body you worked so hard on leading up to the event is shot. But: nachos!)
Don't have tickets this year? No problem. Pop on a Coachella playlist and whip up these two recipes straight from the oasis of festival eats.
Chef Esdras Ochoa of L.A.'s Mexicali Taco & Co. shares a home cook's version of the carne asada nachos he'll be dishing out, featuring a spicy homemade salsa. The batch serves 12, so invite some friends!
Then, sweeten the party with baking duo The Fancy Boyz' blueberry pie bars with a tangy lemon cookie crust. Part of the secret to these stellar bars is top-notch ingredients, like butter with 85% fat. "We use organic and as local [ingredients] as possible," says Richard Rainbolt, who owns the company with husband Christopher Dibble. "It makes a huge difference."
With food like this, who needs the bands?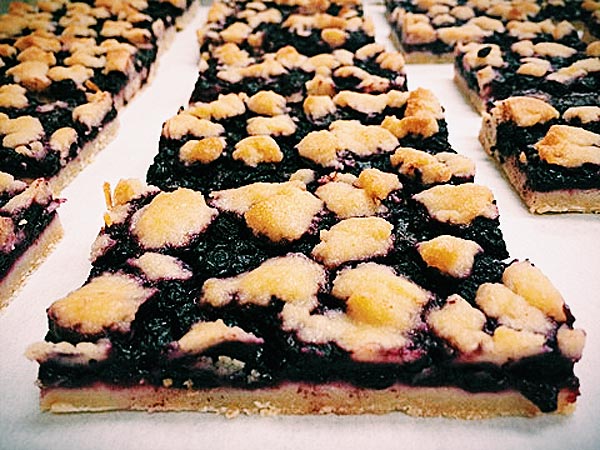 Nat J Thompson/@icanalwayseat
Blueberry Pie Bars
Crust & Topping
1 stick butter, softened (recommended: high fat (85%) butter)
1¼ cups + 1 tbsp. cane sugar (we use evaporated cane juice, or raw sugar)
1 tbsp. wildflower honey
1 egg
2 cups flour
½ tsp. salt
½ tsp. baking powder
Zest of one lemon
Filling
1½ cups blueberries (recommended: fresh from the farmers' market)
¼ cup cane sugar
1½ tsp. corn starch
Juice of one lemon
1. Preheat your oven to 350 degrees and prepare an 8- x 8-inch pan with foil or parchment, having it go up the sides for easy clean up and easy removal of the bars.
2. In a large bowl, cream the butter and sugar together until the mixture is very light in color and fluffy, 5-10 minutes. (If you didn't have time to soften the butter, paddle the butter before adding the sugar.)
3. Add the honey and mix well to incorporate. Add the egg and mix well to incorporate
4. In another bowl, sift together the flour, salt and baking powder. Whisk in the zest. Add the flour mixture and mix just until it's together and pulls away from the bowl cleanly.
5. Remove the dough and form into a rectangle that is about 1″ thick. Wrap tightly in plastic wrap and refrigerate for one hour or up to a few days.
6. When ready, remove the dough and roll out to 5mm (just under 1/4″). Trim the dough to fit your pan, place it in the bottom of your pan and place the pan in the refrigerator. Wrap the remaining dough in plastic and refrigerate.
7. Wash fresh blueberries and sort through to remove any bad ones; let drain. (Skip this step if using frozen blueberries.)
8. In a small bowl, mix the sugar and cornstarch. In another bowl mix the lemon juice and blueberries. Add the sugar mixture to the berries and gently stir to evenly coat the berries.
9. Remove the pan from the fridge. Pour the blueberry mixture on top of the crust and spread evenly. Pinch off pieces of the remaining crust and scatter over the top to form a crumble top.
10. Place the pan in the center of the oven and bake until bubbling, 30-45 minutes, rotating every 20 minutes if needed. (Baking until bubbling will ensure the blueberry juice has thickened). Let cool before cutting and serving.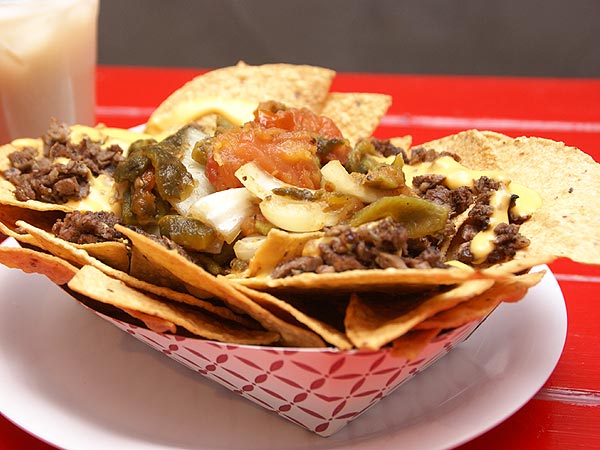 Paul Yoo/Mexicali Taco & Co.
Carne Asada Nachos 
Serves 12
Carne asada
1 lb. top sirloin, trimmed to ½-inch thickness (you can substitute chorizo, "soyrizo", or grilled chicken)
Sea salt, to taste
Black pepper, to taste
3 key limes
Salsa de rajas
4-6 Poblano chiles
Vegetable oil, for coating chiles
3-4 Roma tomatoes
1 medium white onion
3 tbsp. white wine vinegar
Sea salt, to taste
Nachos
4 cups nacho cheese
2 cups grated Monterey Jack cheese
2-3 lbs. tortilla chips (recommended: fresh from a local tortilleria or market)
1. Season one side of the steaks with sea salt and black pepper. Squeeze on lime juice and let marinate for one hour.
2. Meanwhile, clean and dry the Poblano peppers, then use a paper towel to lightly coat the outsides with vegetable oil.
3. Roast whole tomatoes under a broiler until charred, about 6 minutes. Seal them in Tupperware after cooking to steam and loosen the skin for easy peeling.
4. Bring a charcoal (preferred), gas or stove-top grill to medium heat. Cook the whole onion and Poblanos on the grill until they are charred and soft on the inside. Peel the Poblanos by rubbing them with a dry paper towel. Remove the top and stem, then remove the seeds. Cut into strips.
5. Cut the onion into small squares. Peel the tomatoes, then roughly mash them in a bowl with a fork. Combine all the salsa ingredients in a bowl, adding the vinegar and salt.
6. In a saucepan over very low heat, warm up the nacho cheese.
7. Grill the steaks over high heat to your desired doneness (about 3-4 minutes for medium), turning only once. Let rest, then chop steak into 1-inch strips.
8. Spread the tortilla chips on a serving tray, then sprinkle on the grated Monterey Jack cheese. Spread the grilled steak pieces evenly atop the chips. Pour over the nacho cheese and top with the salsa de rajas.