Recipe Redo (Guilt-Free!): Brian Boitano's Apple Panini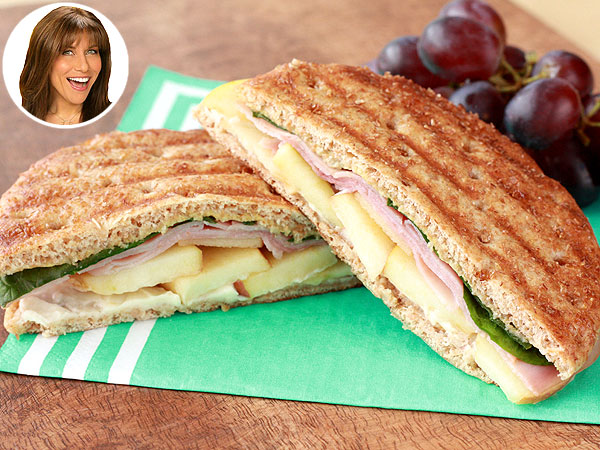 Courtesy Hungry Girl
Lisa Lillien is the author of the popular Hungry Girl website and email newsletter, featuring smart, funny advice on guilt-free eating. She is also the author of eight cookbooks, five of which debuted at number one on the New York Times Best Sellers list. Read her PEOPLE.com blog every Monday for slimmed-down celebrity recipes and more.

After two seasons on the Food Network a few years ago, Olympic gold medalist, TV personality and all-around good sport Brian Boitano has answered the question What Would Brian Boitano Make? time and time again. We know the kind of yummy eats that the figure skater is capable of drumming up.
FYI, the man just does not slow down. You may have seen him appear as a U.S. delegate during the 2014 Winter Olympics. Last year he released a cookbook. And this year he debuted a new show called The Brian Boitano Project, which followed him as he converted a 100-year-old Italian villa into a vacation getaway. There's a reason the South Park guys didn't write "What Wouldn't Brian Boitano Do" — the song would be too short!
Now I love putting apple into savory dishes, so the recipe for Boitano's Apple Panini caught my eye right away. But I knew that with a few essential swaps, I could trim tons of fat and calories and still have a great sandwich. Lean ham, light cheese and just enough light butter are some of the keys to my success.
C'mon, like Brian Boitano wouldn't try this recipe…
'Til next time… Chew the right thing!
Cheesy Apple Panini
Makes 1
1 100-calorie flat sandwich bun
1 wedge The Laughing Cow Light Cream Swiss
1 tsp. Dijon mustard, or more to taste
¼ cup thinly sliced Fuji apples
1 oz. (about 2 slices) reduced-sodium 97-98% fat-free sliced ham
¼ cup spinach leaves
2 tsp. light whipped butter or light buttery spread
1. Separate bun and lay the halves flat, cut sides up. Spread one half with cheese, and spread the other half with mustard.
2. Top cheese-covered half with apples, ham, and spinach leaves, then top with the other half of the bun. Spread the top of the sandwich with 1 tsp. butter.
3. Bring a grill pan (or skillet) sprayed with nonstick spray to medium heat. Carefully place sandwich in the skillet, buttered side down. Spread the top with remaining 1 tsp. butter.
4. Cook until lightly browned, about 2 minutes per side, pressing down with a spatula to seal.
In 1 serving (entire recipe): 220 calories, 6.5g fat, 789mg sodium, 28g carbs, 6g fiber, 7g sugars, 12g protein