EXCLUSIVE: Make Rocco DiSpirito's Sugar-Free Coconut Cake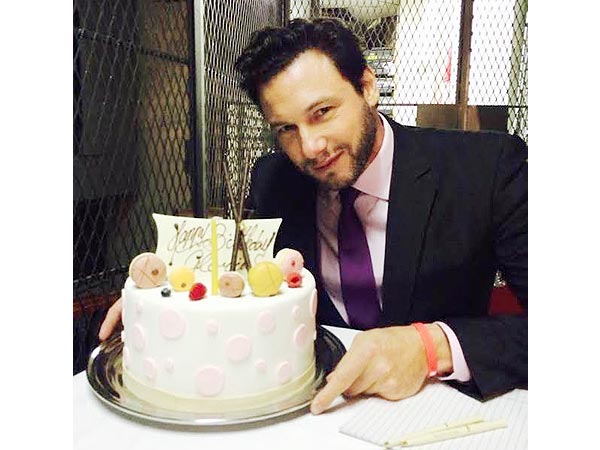 Courtesy Rocco DiSpirito
Trust a chef who lost 30 pounds by eating good food to come up with a sugar-free cake that tastes absolutely delicious!

Rocco DiSpirito recently presented activist Gloria Steinem with a sugar-free cake to celebrate her 80th birthday at a HealthCorps gala hosted by Dr. Oz. We were so intrigued by a sinful-tasting, sugar-free cake, we asked celeb chef to create an at-home version just for PEOPLE.
The gluten-free cake — flavored with agave nectar, lemon zest, coconut water, coconut manna and vanilla bean — has no added sugar and the only fat comes from the manna, which is nutrient-rich and "also happens to taste amazing!" DiSpirito says.
Even Steinem couldn't believe her cake was sugar-free: "On the way down from the stage with the cake to her table where Goldie Hawn and other luminaries waited for her to blow out the candle she teased 'I just gave a speech about the dangers of sugar in our diet and you bring me a cake!'" DiSpirito says. "I thought she must not know about my work and I assured her this cake was sugar free."
Happy 80th birthday @GloriaSteinem hope you enjoyed ur 1st sugar free bday cake another @healthcorps @droz miracle pic.twitter.com/RcBhNsTrDh

— Rocco DiSpirito (@roccodispirito) April 10, 2014
The author of The Pound a Day Diet also has kind words to say about Steinem's work. "I watched my own mother, an Italian immigrant, transform from a subservient, dutiful wife to an individuated and empowered woman who forged her own path during what were turbulent times for women in the 60s-80s," he says. "Her transformation provided her with a rich and wonderful life she could have never dreamt of if it wasn't for the likes of Ms. Steinem."
Try baking DiSpirito's cake yourself, and let us know if you taste the difference.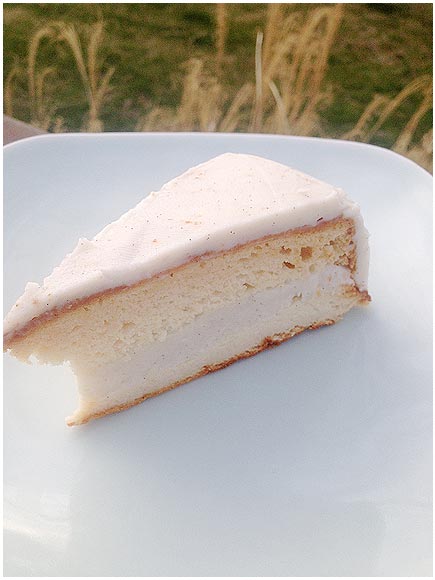 Courtesy Rocco DiSpirito
Sugar-Free, Gluten-Free Cake with Icing
Serves 10
1¾ cups freshly separated egg whites
½ cup raw agave nectar
7 tbsp. stevia baking mix, divided
1 tsp. cream of tartar
½ tsp. vanilla extract
1 cup gluten-free all-purpose baking flour
2 tsp. lemon zest
2 cups water
2 cups unsweetened coconut water, plain
1 vanilla bean
2 tbsp. erythritol (such as Wholesome Sweeteners)
2 tbsp. plus 2 tsp. no-sugar-added pectin
½ cup coconut manna
2 tbsp. organic fat-free milk powder
1. Preheat oven to 300 degrees.
2. In a large bowl, add eggs and whip until frothy with either a hand or stand mixer. Add 3 tbsp. of the stevia, the cream of tartar, agave, vanilla and a pinch of salt. Whip until soft peaks form.
3. Add a third of the gluten-free flour and the lemon zest and whip slowly to incorporate. Add the remaining flour and lemon zest and whip until smooth.
4. Pour into an 8-inch nonstick round cake pan and bake until cooked through, about 50-60 minutes. Remove, let rest until cool and cut into two layers.
5. In a medium pot, combine the water, coconut water, vanilla bean, erythritol and stevia. Heat over medium-high heat and, once mixture has come to a boil, sprinkle in the pectin while whisking vigorously.
6. Place the mixture into a food processor and process until smooth, adding the coconut manna in while running. Cool the mixture over an ice bath and then whisk in milk powder until a smooth icing forms.
7. Spread a thin layer of the icing on the cake's bottom layer, place the other half on top and ice the top. Cut into 10 slices and serve.
Tips:
1. The cake batter will fill the pan almost to the top and it will rise above the top of the pan while cooking. This is normal; don't panic! It will settle again once it has cooled.
2. If you need an icing in a hurry or want a fat-free version, try whisking together equal parts fat-free Greek yogurt and a sugar-free vanilla pudding cup (such as Jell-O).
3. You can omit the milk powder in the icing if you want a lactose-free cake as well!