Kelis Serves Up Her 'Jerk Ribs' — in Song and in Food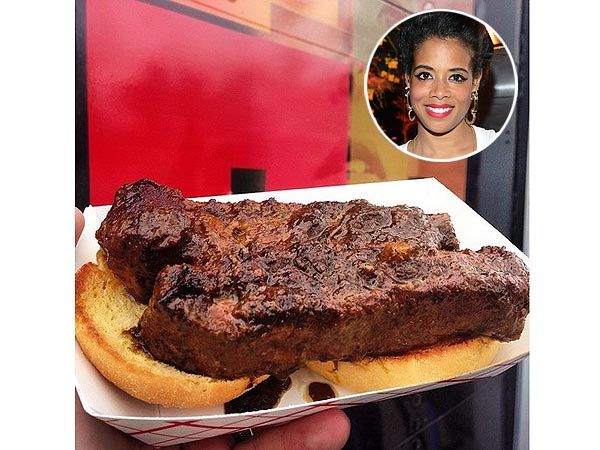 Courtesy Food is the New Rock
It's been more than 10 years since Kelis brought her milkshake to the yard — and now she's back with an even heartier meal.

Not only is she getting ready to drop her sixth studio album – appropriately titled Food – but the singer is a Le Cordon Bleu-trained chef who recently launched her own sauce company, Feast.
"I went to culinary school in 2008 and it was one of the best times of my life," she tells PEOPLE. "I took the time and effort to actually study and not just proclaim myself a chef, but actually become one."
Kelis decided to make sauce after not being able to find the perfect jerk chicken while visiting Los Angeles.
"I'm from the East Coast and I'd come out to L.A. and everybody started recommending these Jamaican restaurants to me and I was mildly let down," she says. "I realized how much I took the jerk that I grew up eating in New York for granted. I was craving it, so I really wanted to make a great jerk sauce."
Food will be out on April 18, with the single titled "Jerk Ribs." In the meantime, make the singer's signature dish with the following recipe. (And once you've mastered that, whip up her coconut cream pie for dessert!)
Kelis' Jerk Ribs
Jerk sauce:
½ cup sesame oil
1/4 cup molasses
2 tbsp. soy sauce
1½ tbsp. ground allspice
4-6 cloves garlic
1-2 Scotch bonnet or habañero peppers, seeded or whole
1 bunch scallions, coarsely chopped
1 bunch fresh thyme
Coarse ground black pepper
Ribs:
½ cup brown sugar
1 tbsp. whole caraway seeds
1 tbsp. granulated garlic
1 tbsp. kosher salt
1 tsp. cayenne pepper
4 8-to 10-ounce racks of ribs
Sprinkle smoked paprika
1. To make the sauce, combine all ingredients in a blender and blend. Transfer to a saucepan and cook until the sauce changes color, 10-15 minutes.
2. Preheat the oven to 400 degrees. In a bowl, combine the brown sugar, caraway seeds, garlic, salt and cayenne pepper. Coat the ribs evenly on both sides (reserve any remaining rub), then sprinkle with paprika.
3. Place the ribs in a hotel pan or deep baking dish and cover tightly with foil. Bake until the meat separates from the bone, about 2½ hours.
4. Coat the ribs evenly with the jerk sauce and cook, covered, for an additional 15 minutes
—Carlos Greer