Harley Pasternak: How to Avoid Packing on the Easter and Passover Pounds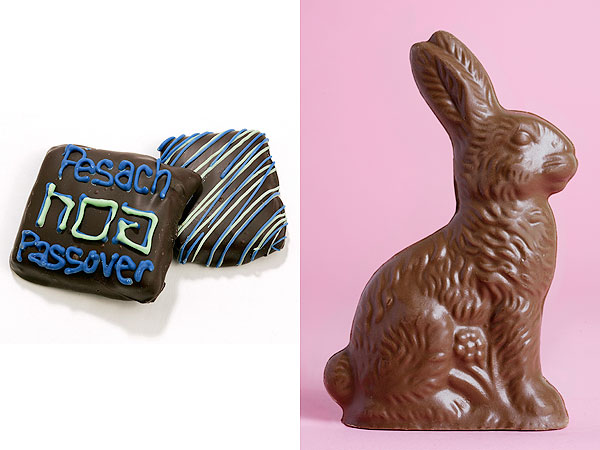 Bob Fila/Chicago Tribune/KRT/Getty; Fotosearch/Getty
Harley Pasternak is a celebrity trainer and nutrition expert who has worked with stars from Halle Berry and Lady Gaga to Robert Pattinson and Robert Downey Jr. He's also a New York Times best-selling author, with titles including The Body Reset Diet and The 5-Factor Diet. Tweet him @harleypasternak.
Easter and Passover are here, and so are chocolate bunnies and chocolate-covered matzoh. But rest assured, a large, convincing body of scientific evidence should ease the guilt we feel after indulging in (but not gorging on) these cocoa delights.
A recent report in the ACS Journal of Agricultural & Food Chemistry found that one of the flavonols in cocoa (known as oligomeric procyanidins) made mice lose a significant amount of body fat when compared to a control group. Moreover, they also found improvements in glucose tolerance, which could reduce one's risk for Type 2 diabetes.
So to celebrate the spirit of the upcoming holidays — and help you indulge without going overboard — here are two recipes to try this week. Cravings, satisfied!
Chocolate Pistachio Matzoh Bark
4 pieces salted matzoh
2 cups dark chocolate chips
⅓ cup chopped toasted pistachios
1. Preheat oven to 350ºF. Line baking sheet with parchment paper. Arrange matzoh on baking sheet, leaving no gaps. Bake 10 minutes, or until toasted to a light golden brown.
2. Fresh out of the oven, sprinkle the hot matzoh with chocolate chips. Let stand 5 minutes so the chips can melt (tip: leave them on the range on top of the still-warm oven to help them melt), then use a spatula to spread chocolate over matzoh. Sprinkle with the pistachios while the chocolate is still warm.
3. Place in refrigerator until set (about 20 minutes) and then break into bite-sized pieces and store in an airtight container, preferably refrigerated.
Note: This recipe works best with lightly salted, toasted pistachios. If you choose to roast the pistachios yourself, shell the raw pistachios and place on a baking sheet at 300ºF for 5 to 7 minutes, stirring frequently. To peel the papery case off, throw them in a covered, hard-sided container and shake vigorously. The papers should come right off. Then chop by hand or in a food processor.
Chocolate Avocado Mousse
This mousse gets its decadent creaminess from the avocado, a surprising, but perfect spin on a classic.
½ cup semisweet chocolate chips
4 very ripe Hass avocados, peeled and pitted
½ cup unsweetened cocoa powder (the best quality you can find)
½ cup agave light syrup (or honey works, too)
1 tbsp. vanilla extract
¼ tsp. sea salt
⅓ cup unsweetened almond milk
Mint sprigs or fresh raspberries, for garnish
1. Melt the chocolate chips in a small bowl placed over a saucepan of simmering water. Stir the chocolate until melted and smooth, being careful not to scorch it.
2. Place the melted chocolate, avocado, cocoa powder, agave/honey, vanilla, salt and almond milk in a blender (on its slowest setting) or food processor. Blend until smooth and creamy, stopping to scrape the sides of the container. Spoon into crack-resistant dishes (like Pyrex or ice cream glasses) and refrigerate for at least 90 minutes. Garnish with mint sprigs or raspberries just prior to serving.