Cecily Strong's Latest 'Update': Her N.Y.C. Apartment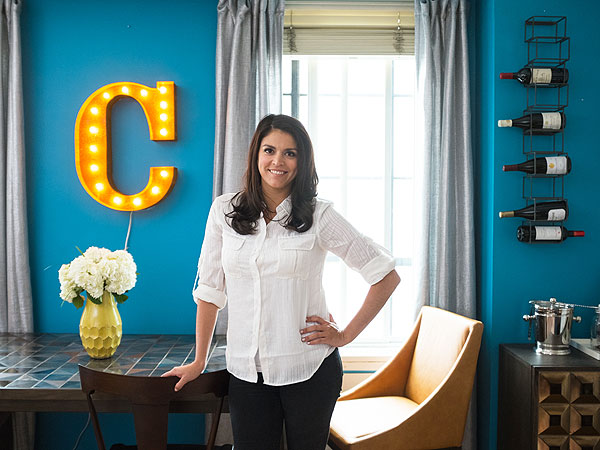 Courtesy West Elm
CECILY STRONG ROOM UPDATE
Saturday Night Live's Cecily Strong was ready for a makeover. Of her apartment, that is.

The comedian, who moved into her New York City rental already furnished with the basics, has struggled to make the room feel like her own. "The space in general I really love," said Strong in her makeover video. "Everything else, just the furniture is just so not me. It feels like I'm in a witness protection."
To "bring more Cecily into the place," she enlisted Johanna Mele, a West Elm Home Stylist, to help her redecorate. "I'm a big braggart about this place now," Strong said.
Click through our slideshow to see how the pair transformed her city pad into a place she's happy to call home.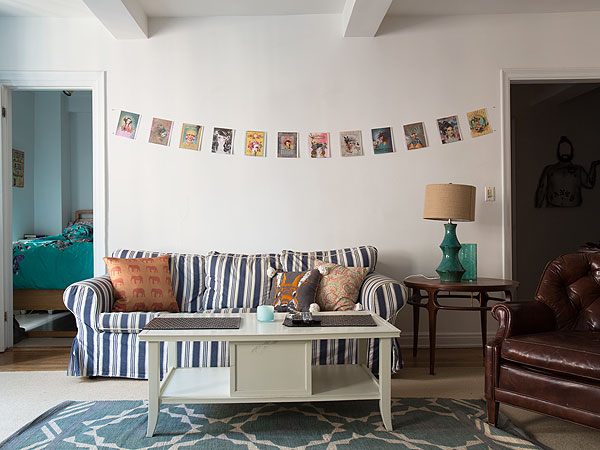 Courtesy West Elm
BEFORE: SEATING AREA
When Strong first moved into her apartment, "My landlord asked if I'd keep all the furniture," she said. "[The couch] has driven me nuts, and now it's got wine stains on it, too." Mele's goal: To anchor the space with a solid -colored couch that won't clash with her graphic pillows. Hopefully, a dark sofa will camouflage any future wine stains, too.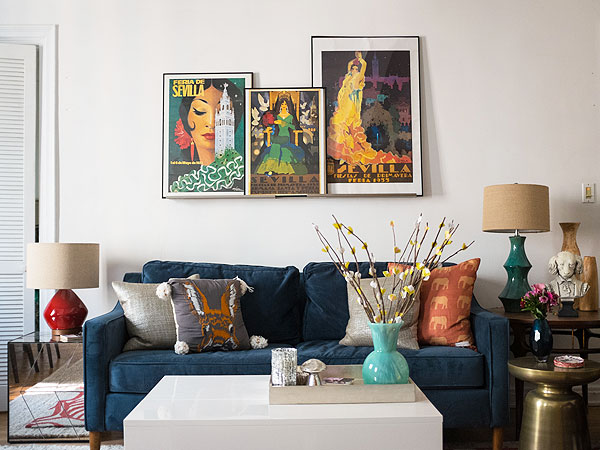 Courtesy West Elm
AFTER: SEATING AREA
Mele picked a deep navy couch to let Strong's quirky throw pillows be the stars of the seating area. She also swapped out her traditional white wood coffee table with a sleek white lacquer one, added a mirrored side table and hung some of Strong's own artwork above the couch. "All [her artwork] has got tons of energy and color to it, so I think we should keep it, work with it," said Mele.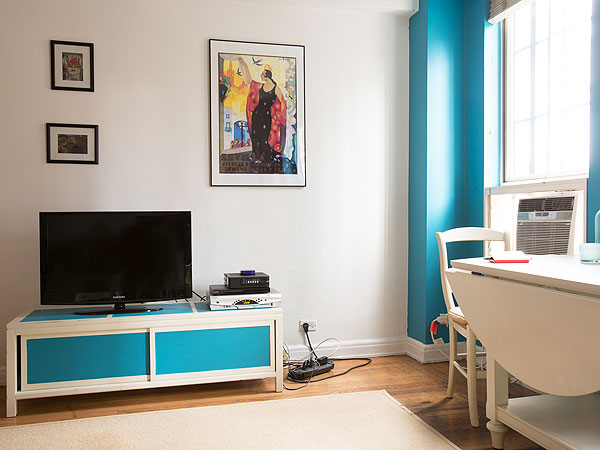 Courtesy West Elm
BEFORE: ENTERTAINMENT CENTER
One of the first things Strong wanted to address in her apartment: the color. "Before, it felt like a hospital waiting room to me with all the weird whites and light blues," she said. Rule of thumb: Matching (teal) furniture to (teal) walls is not a good design plan.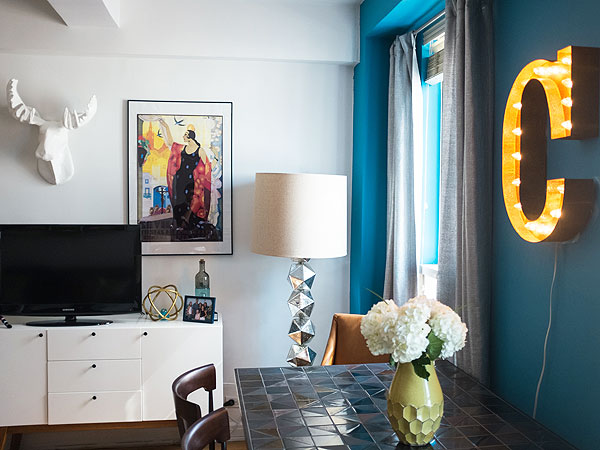 Courtesy West Elm
AFTER: ENTERTAINMENT CENTER
Goodbye, blue console; hello, modern chic! Mele replaced her old TV table with a white entertainment center, big enough to house her cable box, various electronics and all those cords. She also added an art-deco inspired floor lamp and a mounted cardboard deer head to take the focus away from the television.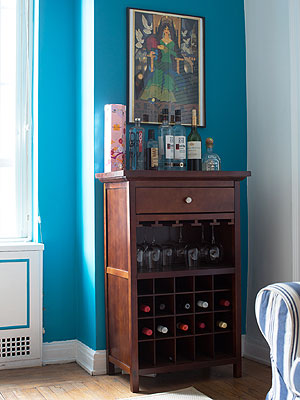 Courtesy West Elm
BEFORE: HOME BAR
"I would love to entertain more," said Strong, who used an old, bulky wine chest to hold all her wines, cocktails and accessories.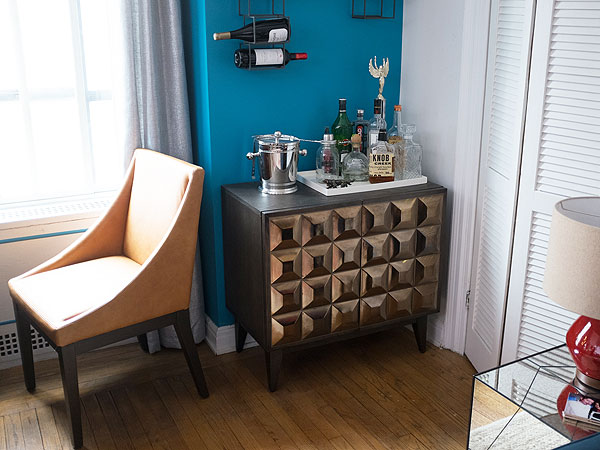 Courtesy West Elm
AFTER: HOME BAR
A compact art deco console becomes the perfect home bar. To free up even more space, Mele installed several wall wine racks to hold and display Strong's collection of bottles. "There's so much thought behind everything in here now," said Strong.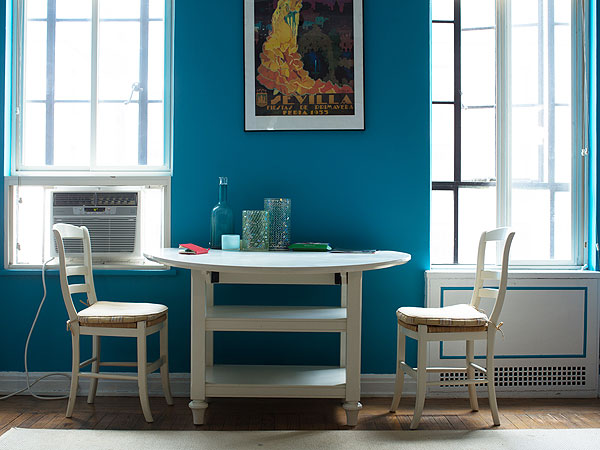 Courtesy West Elm
BEFORE: DINING AREA
Another entertaining challenge in the room: Strong could only fit two guests at her compact dinner table.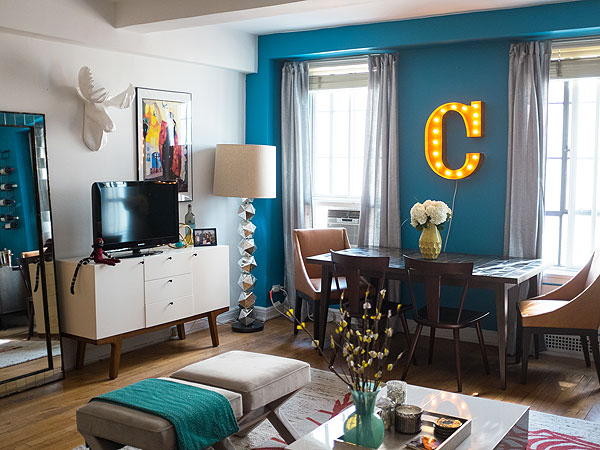 Courtesy West Elm
AFTER: DINING AREA
"Rules are made to be broken," Mele told Strong about the different styles of dining table chairs she chose. The combo of soft leather and sturdy wood chairs add dimension to her apartment-sized eating area. Plus, the Vintage Marquee Light "C" puts Cecily's stamp on the space.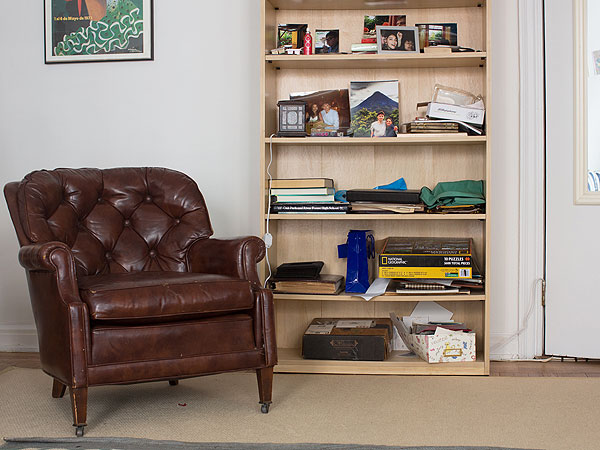 Courtesy West Elm
BEFORE: LOUNGING NOOK
"I'm such a private person, and this is all my insanity all on display," said Strong, of her open shelves. "I don't know how many crazy things am I allowed to have."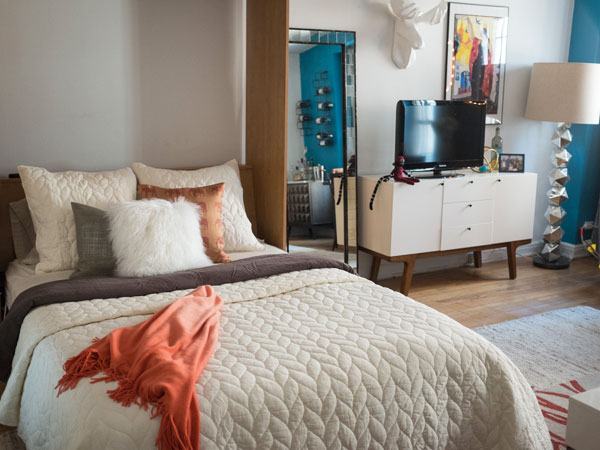 Courtesy West Elm
AFTER: LOUNGING NOOK
"I get to show off the dumb little things I have that you know I want to show off," said Strong of her new space designed by West Elm, which offers free design services to all customers. "It feels like way cooler than I am. This is like how cool I'd like to be."
— Catherine Kast and Sonal Dutt