My Restaurant Crush: Brooklyn Decker's 'Unbelievable, Incredible' Austin Spot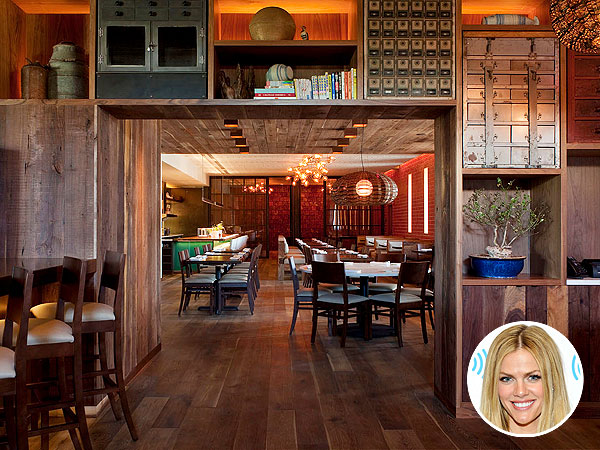 Courtesy Uchiko; Ben Gabbe/Getty
If you think the only food on offer in Austin, Texas is barbecue and tacos, Brooklyn Decker wants to let you in on a little secret.

The star of CBS's new Friends With Better Lives told PEOPLE about Uchiko, her regular sushi spot that she adores so much, she and husband Andy Roddick typically go there two or three times a week when they're in town.
"It's more than a crush, it's a scary obsession, I love it so much," she says in the exclusive video below.
Decker raved about chef Tyson Cole's imaginative Japanese farmhouse cooking style: He mixes high quality fish with locally sourced ingredients like goat cheese and kale. "It's a really cool hybrid of new American and rustic farm food and sushi. It sounds crazy, sushi in Texas, but it's unbelievable," she says.
If you can't get to Austin anytime soon, you can still rock the farmhouse sushi trend right in your kitchen. We snagged the recipe for the Yokai Berry, one of Decker's favorite dishes. It's a satisfying mix of kale, pear, salmon sushi and a dressing made with yuzu (a citrusy Japanese dressing) and green tea oil.
Cole typically fries some of the kale to give it an addictive flavor and texture, but if you'd rather not deal with a pan full of hot oil for a simple dinner, you can either saute it on the stovetop or make oven-baked kale chips.
We love that Decker isn't the type to try and keep her favorite local spot a secret: In fact, at the end of our chat she pretty much ordered us to go there. "I'm telling you, go to Uchiko, it's unbelievable, you will thank me later," she says.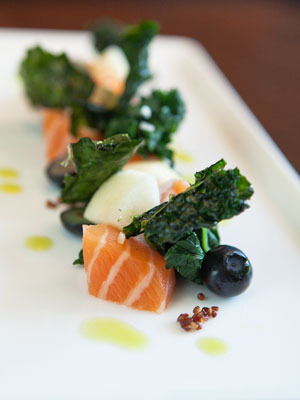 Erica Wilkins
Yokai Berry
Serves 1
3 ½ cups Yuzu vinegar or juice (or orange juice)
1 oz. hon dashi (or one fish stock bouillon cube, such as Knorr)
1 cup sugar
1 cup water
¼ cup red quinoa
2 cups simple syrup
1 tbsp. vegetable oil
salt, to taste
1 cup kale, washed and with stems removed, divided into two equal portions
2 oz. sashimi-grade salmon, diced into cubes
½ cup Asian (or regular) pear, diced into cubes
1 cup dry green tea leaves
2 cups soybean oil
2 cups plus 1 tbsp. extra virgin olive oil
1½ tsp. garlic, minced
¼ cup blueberries
1. In a medium bowl, whisk yuzu vinegar, hon dashi and sugar until combined to make yuzu dashi. Refrigerate.
2. Put water in a small saucepan and bring to a boil. Add quinoa and cook until it is soft, about 12 to 15 minutes.
3. Drain quinoa and mix in simple syrup. Simmer mixture for about 30 minutes and strain and rinse.
4. Heat vegetable oil in a saute pan and saute quinoa for about five minutes, until golden and crisp. Season with salt.
5. Warm soybean oil over low heat in a saucepan (do not allow it to smoke or bubble).
6. Add green tea to warmed oil and transfer mixture to a quart-size container (such as a Pyrex dish). Allow mixture to steep for one hour before adding one cup of olive oil to mixture.
7. Heat 1 tbsp. of olive oil in a saute pan and saute one portion of kale for about seven minutes, until it's tender but still crisp. (Alternatively, you may make kale chips by tossing kale with olive oil and baking on a cookie sheet covered with aluminium foil at 350F for about 15 minutes, until edges are slightly browned.)
8. Blanch the other portion of kale by adding it to boiling water for two minutes and transferring it to a bowl of ice water. Pat dry with paper towels.
9. Toss salmon-pear mixture with green tea oil, garlic and yuzu dashi. (Set aside unused portions of oil and yuzu dashi.) Then toss the blanched kale with the remaining yuzu dashi.
10. Place the salmon-pear mixture on a plate and layer with blanched kale and blueberries. Drizzle with extra green tea oil and garnish with sauteed kale or kale chips.
—Lexi Dwyer