Jimmy Kimmel Makes Fresh Mozzarella for Dinner with Howard Stern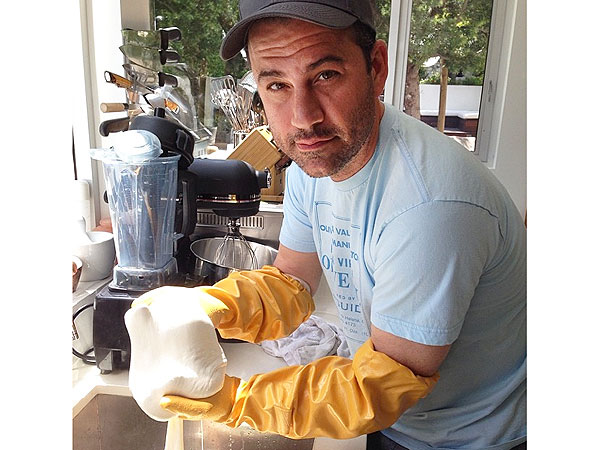 Courtesy Jimmy Kimmel
Jimmy Kimmel proved once again that comedy isn't his only forte.

The food-loving funnyman and prolific cook prepared a feast — that included as assortment of grilled vegetables and mozzarella from scratch — over the weekend for dinner guests Howard Stern and wife Beth Stern.
In an Instagram he posted Saturday, Kimmel — who famously made pizza for Jon Hamm and threw Oprah a private pizza party — holds a hunk of the freshly-pulled cheese while wearing protective gloves and a serious expression.
We could practically taste the cheese's melt-in-your-mouth goodness and the fresh flavor that oozes from every bite.
We weren't surprised that happy dinner guest Beth Stern posted a photo of her patting the baby bump of Kimmel's wife, Molly McNearney, and describing the visit as "the best night with best friends."
Since we weren't on the guest list at Kimmel's Kitchen, we decided to make our own using a recipe from Food Network's Cat Cora.
It's not difficult: You basically pour lots of hot salt water over cheese curd, pound it a bit to remove lumps then shape it into balls.
One bite and you'll never look at packaged mozzarella the same way again!
Fresh Mozzarella
Makes 5 balls
3 quarts water
½ pound, plus ½ cup salt (divided)
½ pound mozzarella curd (available at supermarkets, farmers markets, even online retailers like Amazon).
1. In a large pot, bring 1 quart water and 1Ž2 pound of salt to a boil. Once the salt is dissolved, remove pot from heat, and set aside to cool completely.
2. In another large pot, bring 1 quart of water to a boil. Add 1Ž2 cup of salt, and stir until dissolved.
3. Slice the curd as thinly as possible and place in a large mixing bowl. Pour the hot salted water over the curd until it reaches about 1-inch over the curd.
4. With a wooden spoon, begin stirring the curd until it begins to melt. While wearing heat-resistant gloves, drain out the hot water and begin lifting the curd with your hands and pulling it gently to remove any fibers or bumps.
5. Once the curd is smooth, begin shaping it into balls. Place the balls in the reserved cooled salt water for 5 minutes. After 5 minutes remove the curd and place in 1 quart of fresh water. Serve immediately.
Keep at room temperature until finished using. Refrigerate the rest. Lasts up to 1 week.
—Nancy Mattia