Alex Guarnaschelli: My Surprising Path to Becoming a Chef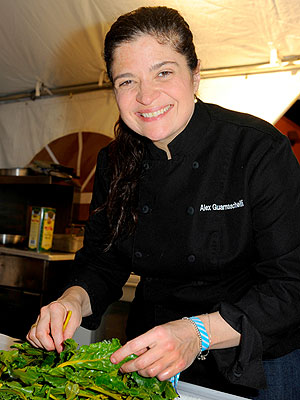 Alex Guarnaschelli
Alex Guarnaschelli is an Iron Chef, Food Network celebrity chef and the executive chef at New York City's Butter restaurants. Read her PEOPLE.com blog every Tuesday to get her professional cooking tips, family-favorite recipes and personal stories of working in front of the camera and behind the kitchen doors. Follow her on Twitter at @guarnaschelli.
I was an average kid in high school (and that may even be exaggerating a bit) who did a lot of cooking with her mom and dad and generally enjoyed eating.

We ate a lot of varied ingredients at home because my parents always valued that. Tomatoes and watermelon as soon as summer hit, apples, turnips and fennel in the winter months. I felt a sense of the seasons when I was growing up based on what my father brought home from the supermarket. My mom was "that mom" (a.k.a. supremely embarrassing) who bought peanut butter at the health food store where the peanuts separate from the oil and super grain cereals in boxes with pictures of people smiling, toting backpacks, at the base of Alpine mountain tops. (That's her pictured below.)
But while most things were homemade, I also enjoyed some premade foods that still make me smile when I see them in the supermarket. Pepperidge Farm Tahiti cookies, for example, were always allowed. The taste of the coconut and tiny layer of dark chocolate in between the two cookies takes me straight back to childhood. And this whole assembly of foods comprises the flavors of my childhood that I find myself gravitating to in my cooking at the restaurant.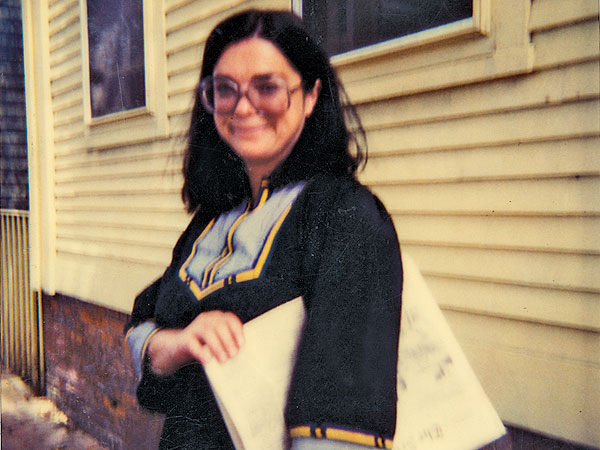 Alex Guarnaschelli
But I never had any organized thought about becoming a chef. I just knew that I hoped to do something I love.
I meet 11 year-olds and teenagers alike that tell me they know already that they want to become chefs. Can you imagine being that organized at 11? I feel some sense of obligation, when approached by kids, to share my understanding of their career choice and that I too, just like them, played with various whisks and bowls at the tender age of 8 or 10 and sealed my fate somewhere between an Easy Bake oven and some water mixed with rocks that would become a soup or stew served lovingly to my parents in small bowls during a mock dinner service. No such luck.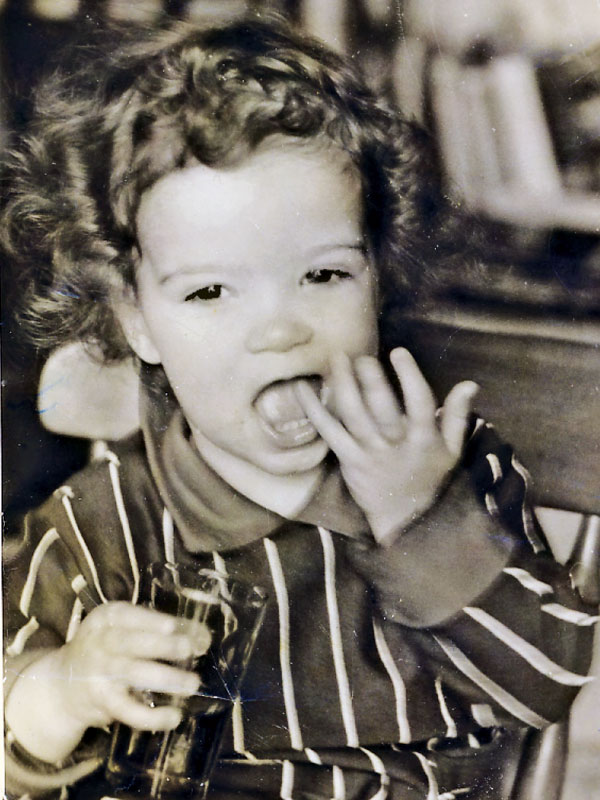 Alex Guarnaschelli
I was a kid who dreamed about becoming a Rockette to join that long line of dancing legs at Radio City Music Hall. I also really wanted to be a marine biologist who located and hauled in that giant squid. I watched every program about sharks, from Thresher sharks and the power of their tails to Nurse sharks that napped on the sandy ocean floor. I never imagined that I would, instead, end up cutting a lot of their compatriots (and snack food) in the basement of a kitchen in Paris in order to make lunch for the guests. Things definitely don't turn out the way you might think.
When I got to college, the important concept of affordable bulk cooking became a part of my life. I made lasagna in large metal containers that felt like it weighed 10 pounds when I wrestled it from the oven. I made eggplant parmigiana for my entire dormitory floor. I baked cakes (sometimes from mixes, I won't lie) for my friends' birthdays. I often baked coconut cakes, frosting them with melted dark chocolate mixed with a splash of heavy cream. It was my way of honoring that Tahiti cookie.
Sometimes the cakes were lopsided. Sometimes they were over baked. My friends smiled (sometimes politely if the cake was overly dry) and ate their way through them. Those are my first memories of making food and witnessing the pleasure it brought people as it was devoured. It also felt a little strange to work hard (sometimes for hours) to cook something only to have it disappear in a few minutes.

Alex Guarnaschelli
When I worked in my first kitchen, Larry Forgione's An American Place on 32nd Street off Park Avenue in Manhattan, I was astounded at how much joy I got from working in the kitchen. I made every mistake in the book. Often more than once. Overcooking custards, over baking breads, overdressing greens, overcooking broccoli. I dropped a flat of eggs on the chef's suede (and tassled!) loafers my second day there. If it had potential to be screwed up, chances are I would try my hand at that. I would go in the early morning, often riding the bus down 7th avenue with a mug of tea. (Would you believe that even in Manhattan, I got to know the bus driver? He would nod his head at me as I boarded, surveying my chef's jacket and flour-coated sneakers with curiosity) and leave at any point in the evening.
I remember walking out one afternoon and realizing the rug store down the block looked different. Then I realized what it was: I had never seen the store when it was open for business. Only closed in the morning and closed by the time I walked out at night. But the smells and the compelling pull of the stove were far more powerful than any other thing. I wonder if connecting with ingredients and cooking for pleasure for all those teenage and college years didn't help me build up a tolerance for long hours and a big learning curve.
Whatever the case, when I slice watermelon or open a bag of cookies, I am taken straight back to years ago, when a love affair with food was in its fledgling stages. I love it still.