Country Cookout: Florida Georgia Line's Spicy Pepper Burgers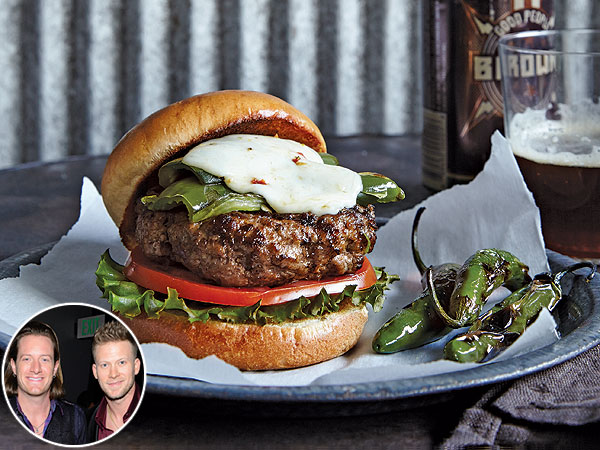 Ashley Hylbert; Inset: Getty
Country duo Tyler Hubbard and Brian Kelley of Florida Georgia Line don't just top the charts — they also host one heck of a private cookout.

Southern Living and CMT's new cookbook, Country Music's Greatest Eats (out on May 6), chronicles artists' rocking recipes and riffs from the road and reveals Hubbard and Kelley's hidden talent: cooking! Fittingly, it was the "Country Throwdown Tour" in 2012 when the guys really learned how to throw down at the grill.
It's the ultimate backstage pass: After the shows, the singers barbecued tasty treats for the crew and fellow performers at stops along the way. The biggest hit of all was a Serrano Pepper Burger, courtesy of the group's songwriter friend Craig Wiseman, who developed the recipe after sampling a similar version in Austin.
Here's to the good times: Put a Florida-Georgia twist on your next barbecue with this spicy blend.
Serrano Pepper Cheeseburgers
Makes 12 servings

1 lb. serrano peppers
2 tbsp. olive oil
Sea salt
3 lbs. ground chuck
Freshly ground black pepper
1 lb. pepper Jack cheese, sliced in 1⁄4-inch slices
Butter
12 hamburger buns
Toppings: mustard, mayonnaise, ketchup, lettuce, tomato slices
1. Preheat one side of a grill to 350° to 400° (medium-high); leave other side unlit. Brush peppers with olive oil. Arrange peppers in a grill basket or on an aluminum foil tray over unlit side of grill, and grill, covered with grill lid, 10 to 15 minutes or until peppers begin to shrivel. Transfer peppers to lit side of grill, and grill, covered with grill lid, 8 to 10 minutes on each side or until lightly charred.
2. Remove peppers to a wire rack; cool to room temperature. Remove stems, slice in half lengthwise, and sprinkle with coarse salt.
3. Preheat unlit side of grill to 350° to 400° (medium-high). Shape meat evenly into 12 patties; sprinkle with salt and pepper. Grill patties 4 to 5 minutes on each side or until desired degree of doneness. Place 2 to 3 pepper halves over each patty; top evenly with cheese slices. Grill 1 to 2 minutes or until cheese melts.
4. Butter buns, and toast on grill. Serve patties on toasted buns with desired toppings—and get ready to enjoy a great burger!
—Brooke Showell