Harley Pasternak: 8 (Annoying) Mistakes People Make at the Gym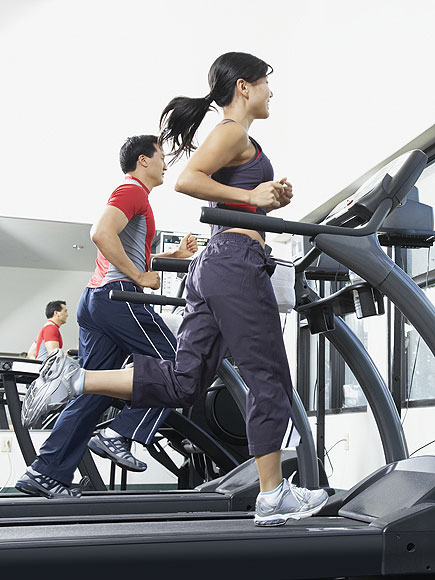 Blend Images/Shalom Ormsby/Getty
Harley Pasternak is a celebrity trainer and nutrition expert who has worked with stars from Halle Berry and Lady Gaga to Robert Pattinson and Robert Downey Jr. He's also a New York Times best-selling author, with titles including The Body Reset Diet and The 5-Factor Diet. Tweet him @harleypasternak.
We've all seen them. They're everywhere, from big cities to small towns. You know who we're talking about — inconsiderate gym-goers. The people who make your uplifting workout a letdown thanks to their bad behavior. There's only so much we can do about them — but we can make sure we don't become them, too. Here, a list of eight dirty little habits some people have at the gym:

Doing the same workouts over and over again
Not only does doing the same workout over and over again lead to boredom, it can lead to a plateau in results, or worse, repetitive stress injuries like tendonitis, bursitis or synovitis. Make sure you keep changing the exercises, sets, reps and resistance you do to keep your body guessing.
Obsessing over your phone during the whole workout
Yesterday I was at an Equinox gym in New York and watched a guy do a lackluster set of lat pull-downs, then text on his phone for five minutes, then do another half-assed set, then text, etc., etc. Forty minutes later, he'd done more texting than sweating, and it was obvious his cell phone got a better workout than his muscles.
Put your phone away while you're working out. You have the rest of the day to text, call, e-mail and tweet. Focus on fitness while you're in the gym.
On top of that, he was being inconsiderate to the people that were waiting to use the equipment after him, which brings me to …
Not Sharing Equipment
I remember when my wife and I encountered a "machine hog" at a gym a couple of years ago. She sat on the only hamstring machine in the gym, and (even though she was literally reading a magazine and not working out) she snarled at anyone who asked to use it. Okay, maybe snarl is a little much, but she didn't know how to play nice and share with others.
Stretching during and before exercises
All the static stretching (holding one stretch) in the world does not reduce the prevalence of injury. Moreover, scientific studies show that stretching before and during exercise can actually increase the chance of injury and diminish physical performance. [1] A good dynamic warm-up is far more important than a mid-workout stretch.
Overtraining the wrong muscles
I've written about this several times in my blogs, but we tend to focus too much on our "mirror muscles." Men over-train their pecs and biceps, women over-train the front of the thigh and front of the abs. Both of these imbalances lead to poor posture, increased chance of injury, and create the illusion of a shorter, stockier body.
Instead, you should train your body in a balanced way, working all muscle groups evenly to ensure good posture.
Eating right before (or even during) your workout
There is nothing worse than the guy who brings his Tupperware bowl of canned tuna and rice cakes onto the gym floor to start his workout. Gross!
There is no need to eat just before (or during) your workout. Unless you're running a marathon, you're not going to run out of fuel during your 45 minutes at the gym. Also, it's unsanitary. Instead, focus on staying well hydrated (Smartwater, Vitaminwater Zero, Powerade Zero), and make sure you don't skip any meals during the day.
Listening to your music without headphones
It's okay if you revere the music of Justin Bieber, just don't make the rest of us at the gym have to hear it. Earbuds are not expensive. Please buy a set. This goes for your phone conversations, too.
Sweating all over the equipment (and not wiping it down)
Gross! Just gross! Not only is it rude, it's unsanitary, too.
What are your gym-goer pet peeves?
[1] J Strength Cond Res. 2013 Apr;27(4):973-7. doi: 10.1519/JSC.0b013e318260b7ce.