Cook from the Book: Chili Lobster from Marc Forgione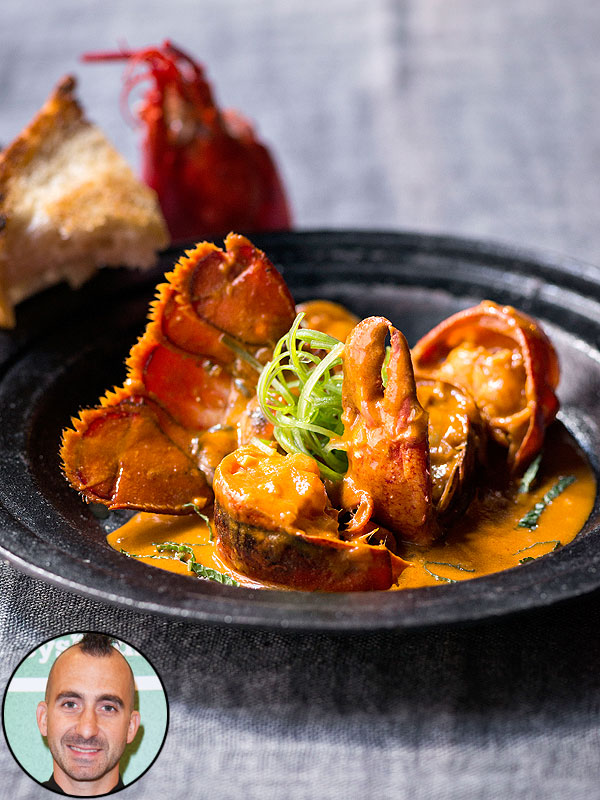 Evan Sung; Inset: Getty
The sweetest part of Marc Forgione's new cookbook: a page written by his mom, Julie Forgione, who tried her hand at most of the recipes before the book went to print.

So what does the Iron Chef's own mother think of Marc Forgione: Recipes and Stories from the Acclaimed Chef and Restaurant? That even when a recipe looks hard, it isn't.
"You realize that you can make changes if you need to," she writes, adding that "the feeling of accomplishment when you get a dish done is just amazing."
We're with you, Julie! Forgione's cookbook — 417 pages of photography, entertaining stories, blurbs on techniques such as clarifying butter and preserving lemons, and recipes such as red beet ravioli and salt-crusted rack of lamb — looks a little intimidating at first glance. But try a recipe like his chili lobster and you'll realize that you can make it, and you'll also have fun doing it.
The dish, a favorite at Restaurant Marc Forgione (New York Times dining critic Sam Sifton dedicated an entire paragraph to it in his review!), is spiced up with Sriracha and served with a hefty slice of Texas toast. And the recipe below, adapted by Forgione for PEOPLE, is even easier than the one in the cookbook.
Try it, and maybe you'll be inspired to pick up the book for the other 169 recipes, spanning everything from fish to pasta to poultry to red meat. Be sure to turn to the back for 13 pages of cocktails — after a night of cooking, you deserve a drink!
Chili Lobster with Texas Toast
Serves 4
4 half-pound cull lobsters, claws removed
2 tbsp. canola oil
1 tbsp. ginger, chopped
1 tbsp. garlic, chopped
1 cup lobster stock
2 tbsp. Sriracha
3 tbsp. unsalted butter
1 tbsp. light soy sauce
1 lime
1 tbsp. mint leaves, chopped
4 thick slices sourdough bread
1. Preheat the oven to 350 degrees.
2. Place the claws on a baking sheet and bake for 5 minutes. Let cool to room temperature. Remove meat from claws and knuckles and set aside.
3. Cut tails, leaving shells on, into 1-inch pieces.
4. In a wok or large sauté pan over high heat, add canola oil until smoking. Add lobster tails and cook for 1 minute. Add ginger and garlic, then deglaze the pan with lobster stock. Remove lobster and arrange on 4 plates.
5. Reduce stock by half, then add Sriracha and whisk butter into the wok piece by piece. Add soy sauce, squeeze of a lime, and salt and pepper to taste. Add lobster claws and knuckle meat, then add mint. Let cook for about 2 minutes.
6. Place one claw and one knuckle on each plate. Spoon sauce onto plated lobster.
7. Toast the bread in a toaster oven until golden brown. Garnish each plate with a slice.