Alie & Georgia: The Salad You'll Want to Eat All Summer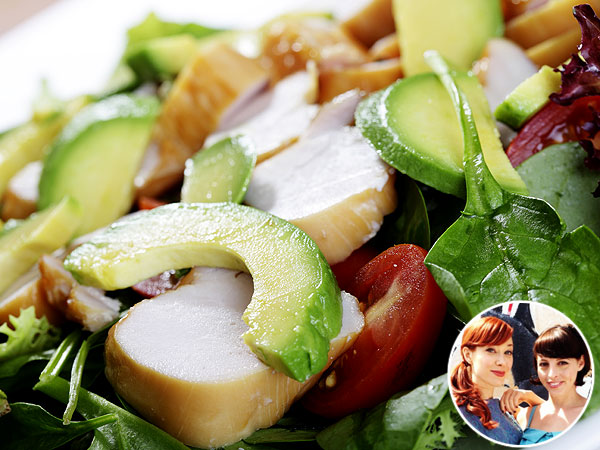 Getty; Inset: Courtesy Alie & Georgia
Alie Ward and Georgia Hardstark, a.k.a. Alie & Georgia, host Cooking Channel food-travel series Tripping Out with Alie & Georgia. Visit PEOPLE.com every Thursday for their playful spins on celebrity recipes, cocktails, entertaining ideas—and, of course, lots of laughs!

Rick Bayless is a true Top Chef. He knows all the tricks and hacks to make his recipes stellar. Meaning: We want to steal all of his flavor combinations.
In our Bayless-Based Chicken Salad, we take all the wonderful tastes of his Grilled Chicken Tacos and, as the name suggests, turn the dish into an easy, healthy salad.
His chicken marinade inspired us to create a bright, summer-friendly vinaigrette using ingredients you probably already have in the pantry. We also suggest saving time and the pain of slaving away in front of a hot grill by purchasing a fully-cooked rotisserie chicken from the grocery store and hand-shredding it.
So simple, yet still so boldly flavored and stellar, just like Sir Bayless' original dish! Congrats — you're basically a master chef now.
Alie & Georgia's Bayless-Based Chicken Salad
For the vinaigrette:
½ cup olive oil
⅓ cup apple cider vinegar
1 tbsp. honey
¼ tsp Chinese five spice
1 pinch oregano
1 tbsp minced garlic
Salt and pepper, to taste
For the salad:
1 8-oz. package of your favorite salad mix
3 radishes, thinly sliced
3 green onions, thinly sliced
½ cup grape tomatoes, halved
1 large avocado, diced
1 pre-cooked, store-bought rotisserie chicken, shredded
1. Add the vinaigrette ingredients to a tightly lidded mason jar and shake like crazy until they're well combined.
2. In a large serving bowl, combine the salad mix, radishes, green onions, grape tomatoes and avocado. Top with shredded chicken.
3. Pour the vinaigrette over the salad and toss to coat.