RECIPE: Chilled Vegetable Gazpacho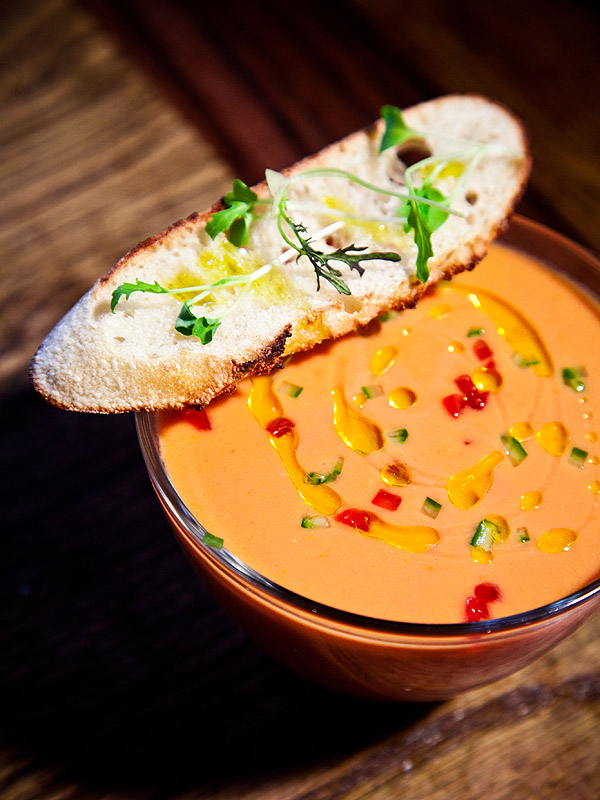 Peter Frank Edwards 
Chef Katie Button
Cúrate
Asheville, NC
Chilled Vegetable Gazpacho
Makes 6 servings
1 cucumber, peeled
2.5 cups chopped tomatoes
2 small cloves of garlic
1 green bell pepper, seeded
⅓ cup firmly packed cubed white bread such as baguette, crust removed
2 tbsp. sherry vinegar
¼ cup sherry wine
1 cup water
½ cup olive oil
Salt to taste
1. In a food processor or blender, combine half of the cucumber, tomatoes, green bell pepper, bread, sherry vinegar, sherry wine, garlic, and water and blend in batches until smooth, drizzling in some of the olive oil a little bit at a time to create an emulsion.
2. When thoroughly blended, pass through a fine mesh strainer, and salt to taste. Set aside in refrigerator to chill thoroughly.
3. Pour chilled soup into bowls and garnish with a very small quantity of chopped cucumber, green pepper, tomato, and a drizzle of extra virgin olive oil.