RECIPE: Kale Chips with Truffle and Rye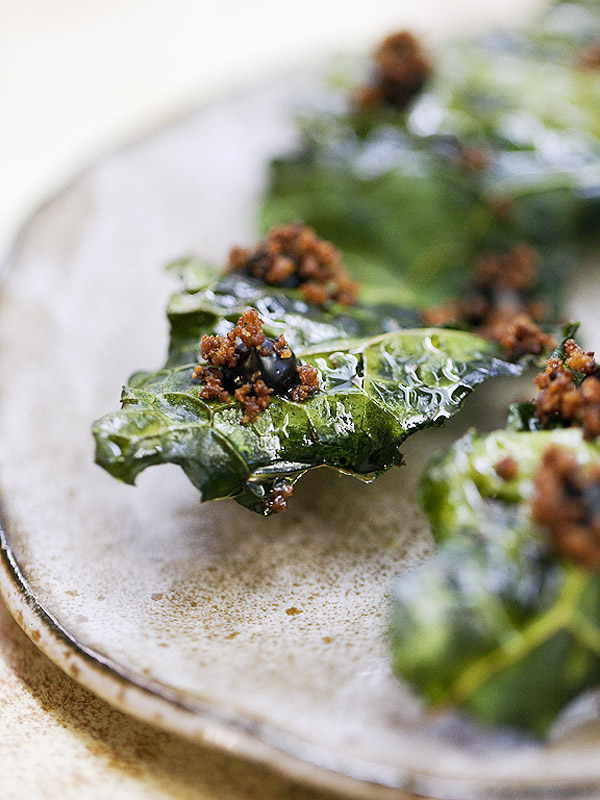 Blaine Weitzel
"These kale chips set the menu off each night as one of the first taste our guests enjoy," says chef Blaine Wetzel. "They set just the right fresh farmed feeling that we look for here at the Willows Inn."
Chef Blaine Wetzel
The Willows Inn on Lummi Island
Lummi Island, WA
Kale Chips With Truffle and Rye
Serves 4
2 wide, tender leaves of kale
1 tbsp. canola oil
2 tbsp. butter
1 slice of rye bread
4 tbsp. chicken stock
1 1/2 tbsp. oil
4 tbsp. grapeseed oil
Apple cider vinegar
Salt
1. Preheat the oven to 350F.
2. Tear the kale leaves from their stems and drizzle lightly with canola oil.
3. Place the leaves on a baking sheet, and cook for 5 minutes.
4. Rough chop the rye bread then pulse in a food processor to a course crumb. In a medium sauté pan, melt 1 tbsp. of butter, and toast the crumbs until brown and crisp.
5. In a small saucepan, boil the chicken stock until it reduces by about half. Let cool.
6. In a blender, combine the truffle oil, grapeseed oil and chicken stock until it is smooth like mayonnaise. Season to taste with apple cider vinegar and salt.
7. Dot the crispy kale leaves with a small amount of the truffle puree and a dollop of rye crumbs.