RECIPE: Grilled Asparagus Salad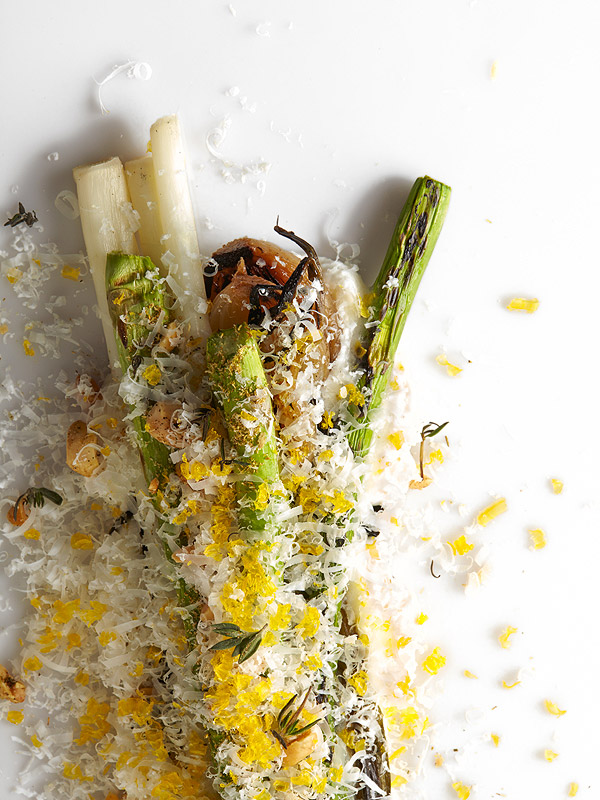 Christian Seel
David Posey
Blackbird
Chicago
Grilled Asparagus Salad with Spring Onions, Goat Cheese, Egg & Chamomile Peanuts
Serves 6 as an appetizer
Asparagus
1 lb. green asparagus
1 lb. white asparagus
2 tbsp. peanut oil
Salt to taste
Break green and white asparagus by bending both ends, letting the asparagus break at woody end. Lightly coat the asparagus in peanut oil, season with salt and grill until tender, about 2 minutes.
Charred spring onions
½ lb spring onions
1 tbsp. sugar
Salt to taste
Cut onions in half lengthwise, keeping the greens intact. Sprinkle the onions with a little salt and sugar, and char, cut side down, in a hot pan. Cook until lightly charred and tender.
Goat cheese mousse
4 cups heavy whipping cream, whipped to hard peaks
1½ cup soft goat cheese, at room temperature
1 tbsp. salt
½ pound firm goat cheese, set aside to be grated over the dish
In a large clean bowl, whisk cheese and salt together until smooth. Gently fold cheese and cream together, adding a 1/3 of the cream at a time, folding until well incorporated.
Hard boiled eggs
6 eggs
Bring a large pot of salted water to a boil. Gently lower the eggs into the water, reduce the heat and simmer for 12 minutes. Remove eggs from water. Crack and carefully remove shell. Chill eggs.
Fish sauce vinaigrette
1½ cups parts neutral flavored oil
1 cup champagne vinegar
1 tbsp. fish sauce
1 shallot, finely minced
3 springs of thyme, leaves pulled and chopped
1 tsp. salt
Mix all the ingredients together. The vinaigrette will keep well in the refrigerator, and is delicious on any salad or kale.
Chamomile peanuts
2 tsp. dried chamomile, ground fine
1 tsp. clove, ground
1 tsp. dried mint leaves, ground
1 tsp. salt
1 pint peanuts
2 tsp. peanut oil
Toast peanuts lightly in peanut oil until golden. Mix together chamomile, clove, mint and salt, set aside. Drain peanuts on a paper towel and while still hot, toss with spices. Cool to room temperature and chop roughly.
To serve
1. Lightly warm grilled asparagus and toss with vinaigrette to coat.
2. Dollop a spoonful of goat cheese mousse onto a plate. Place asparagus on top of the mousse and scatter peanuts on top of asparagus. Grate egg and firm goat cheese on top of the salad, covering everything. Scatter a few leaves on thyme on top.