RECIPE: Salt-Roasted Beets with Whipped Goat Cheese & Pistachio Vinaigrette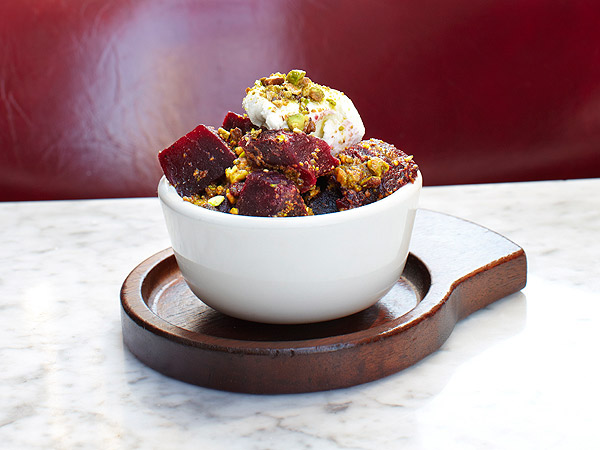 Lisa Predko 
Jimmy Bannos, Jr.
The Purple Pig
Chicago
Salt-Roasted Beets with Whipped Goat Cheese & Pistachio Vinaigrette

Serves: 2
1 lb. diced red beets
2 1/2 oz. whipped goat cheese (recipe below)
1 oz. toasted pistachios, chopped
3 cups (for roasting) plus 1 tsp. salt
1/2 tsp. pepper
2 oz. red wine vinegar
1/2 oz. extra virgin olive oil
1 tbsp. dry oregano
1. Preheat the oven to 350F.
2. In a large baking pan, make a bed of salt place the beets on top. Roast in the oven until you can pierce the center of the beet easily with a knife, about TK minutes. Remove and set aside to cool down a bit. Once cool enough to handle, peel the beets and chop. Set aside.
3. For the red wine vinaigrette, whisk together the red wine vinegar, olive oil, oregano, 1 tsp. salt 1/2 tsp. pepper in a bowl.
4. In a large bowl combine the beets, salt, pepper, vinaigrette, and olive oil. Mix and taste. Add pistachios and mix well. Smear some of the goat cheese around the inside of the serving bowl, add beet salad, and top with the remainder of the goat cheese and more toasted pistachios.
Whipped goat cheese
1 lb. goat cheese
1 tbsp. salt
1 1/2 tsp. pepper
3 oz. olive oil
In a mixer whip all ingredients together until light and airy. Be careful not to over whip.