Recipe Redo (Guilt-Free): Hugh Jackman's Ginger Fried Rice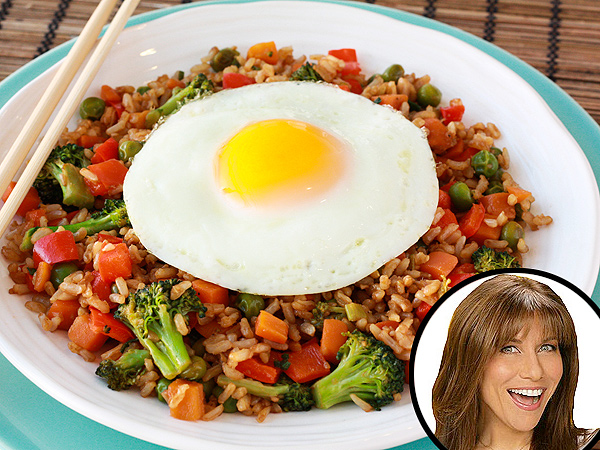 Courtesy Hungry Girl
Lisa Lillien is the author of the popular Hungry Girl website and email newsletter, featuring smart, funny advice on guilt-free eating. She is also the author of nine books, six of which debuted at number one on the New York Times Best Sellers list. Read her PEOPLE.com blog every Monday for slimmed-down celebrity recipes and more.

You know those people who are so talented, it just doesn't seem fair? Yeah, that's Hugh Jackman. He's good at acting, singing, dancing, and… well, looking like Hugh Jackman. He's WOLVERINE, people! And it turns out he's also got pretty good taste in food.
One of his favorites? This ginger fried rice, made by his real-life neighbor and renowned chef Jean-Georges Vongerichten.
Jackman apparently digs how satisfying the dish is — but I know I can make an equally satisfying, totally flavorful rice bowl with a lot fewer calories and fat grams.
The 8 tbsp. oil called for in the original? Unnecessary. And the brown rice I use has more fill-you-up fiber than the white stuff. That said, the egg on top can totally stay (yay, protein!).
Perhaps that other fried rice will only be Jackman's favorite in the days of future past…
'Til next time… Chew the right thing!
HG's Egg-Topped Not-Quite-Fried Rice
Serves 4
1½ tbsp. minced ginger
1 tbsp. minced garlic
1 packet (about 1 oz.) fried rice seasoning mix
1 tbsp. reduced-sodium soy sauce
2 cups frozen diced carrots and peas
1 cup chopped red bell pepper
1 cup chopped broccoli
2 cups cooked brown rice, chilled
¼ cup chopped scallions
4 large eggs
Optional seasonings: chili powder, salt and/or black pepper, to toast
1. Bring a large skillet sprayed with nonstick spray to medium heat. Cook ginger and garlic until fragrant and lightly browned, about 2 minutes, stirring the whole time. Transfer to a medium bowl.
2. To the bowl, add seasoning mix, soy sauce and 3 tbsp. hot water. Stir until seasoning mix has dissolved.
3. Remove skillet from heat and clean, if needed. Re-spray and return to medium heat. Add all veggies except scallions. Cook and stir until frozen veggies have thawed and fresh veggies have slightly softened, 5-7 minutes.
4. Add ginger-garlic sauce and rice to the skillet. Cook and stir until veggies have mostly softened, rice is hot and liquid has evaporated, about 2 minutes. Stir in scallions, transfer to a large bowl, and cover to keep warm.
5. Remove skillet from heat and clean. Re-spray, and return to medium heat. Cook eggs per your preference (I like mine over medium, about 2 minutes), cooking in batches as needed. (HG Tip! When cooking eggs, lightly spray your spatula with nonstick spray to make flipping them easier and prevent yolks from breaking.) Serve each portion of rice topped with an egg.
In 1 serving (about 1 cup rice with 1 egg): 266 calories, 5.5g fat, 800mg sodium, 40.5g carbs, 5.5g fiber, 6g sugars, 12g protein