Alex Guarnaschelli: How to Find Food Inspiration Everywhere You Go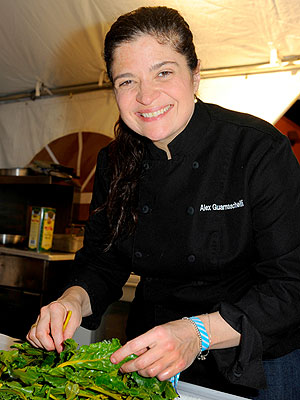 Alex Guarnaschelli
Alex Guarnaschelli is an Iron Chef, Food Network celebrity chef and the executive chef at New York City's Butter restaurants. Read her PEOPLE.com blog every Tuesday to get her professional cooking tips, family-favorite recipes and personal stories of working in front of the camera and behind the kitchen doors. Follow her on Twitter at @guarnaschelli.
I'm often asked: What are my favorite places to search for recipe ideas and food inspiration?

I know you imagine I'm going to say the farmers' market. And you wouldn't be wrong. I love the greenmarket, specifically the Union Square market in Manhattan — it's like a personal sanctuary. The smell of soil and potato skins and strawberries can be dizzyingly good.
Another one of my favorite places? Hands down: the supermarket.
While it can be a chore to wade through the 30,000 products and brave the crowds, it's also a place of food history for all of us. For me, I have two distinct shopping strategies learned from my parents.
Shopping with my dad? He bought (and still buys) like a true meal planner. A steak or chicken. Vegetables. Just enough. Every purchase was taken very seriously, especially when it came to buying fruit. He sniffed melons until he found one he felt had that critical floral hint of sweetness. I sometimes remember sniffing a dozen cantaloupes before getting a hint of anything — can you imagine what kind of looks he and I got from other shoppers as we sniffed our way through a bin of melons until we found one he was satisfied with?
He also waited until the watermelon was firm and ruby-colored (and the right price!). There is something to be said for anticipation of ingredients marked at a certain point in the year or season. That watermelon, those cantaloupes were never so juicy and tasty as then. Can anticipation make food taste better? I think so.
My father definitely made me feel there is a right time to buy seasonal ingredients and enjoy different ones as the year goes on. That carries over into my cooking and ingredient choices at the restaurant. The first moments of spring mean parsnips, watercress, miner's lettuce and baby carrots. Summer means juicy tomatoes, basil and watermelon. I often end up pairing these ingredients, too. I can remember eating a tomato salad and then a wedge of ice cold watermelon from the fridge at home. My dad's carefully curated simplicity.
Why not repeat that refreshing scene at the restaurant?
My mom is a true whim shopper, who could fall prey to buying anything good. My mom is the kind of supermarket shopper who sets out to buy some orange juice and a loaf of bread and ends up leaving the store with a 24-pound turkey, a bag of unshelled hazelnuts and a sack of some exotic type of tangerine. And she won't have picked up the orange juice or the bread she intended to get in the first place. I have that buying streak as well.
I know some people obsessively buy shoes and purses and cake. My problem is impulse shopping for produce. I will also buy produce like I buy clothes. A scarf here. A shirt there. It's only later when I look at it all together that I can see it as a whole. Food can be like that too. I also love buying varied things and then actually tasting them together to see what works best. But that an mean work of with less of a plan. Sometimes I just like to scramble an egg and not think about it.
My mom also had a knack for sourcing and buying the most expensive Christmas trees possible. In Manhattan, trees are sold from bundles off a truck. Not terribly romantic but my mom would find that "one" unique Blue Spruce descended somehow from the queen of England's private stock of trees or a pine tree from The White House lawn. I exaggerate but you get my point. And there is definitely a moment where if there is an ingredient that is pricey that you will enjoy as much as my mom enjoyed those Christmas tress beyond our price range, then it's worth the splurge.
I met a mother of four the other day who stopped me and said: "I made your pork chop with apples and mustard recipe the other day! I substituted potatoes for the apples, balsamic vinegar for the mustard and steak for the pork." It took me a minute to realize that her final dish had little (if anything) to do with my recipe. And it totally didn't matter. She had used my recipe like training wheels for her bike and created a meal that brought her family great pleasure. Sometimes it doesn't matter so much how you get to a good dinner or recipe but the pleasure that comes from the choices you make.