Harley Pasternak: The Truth About Fruit Juice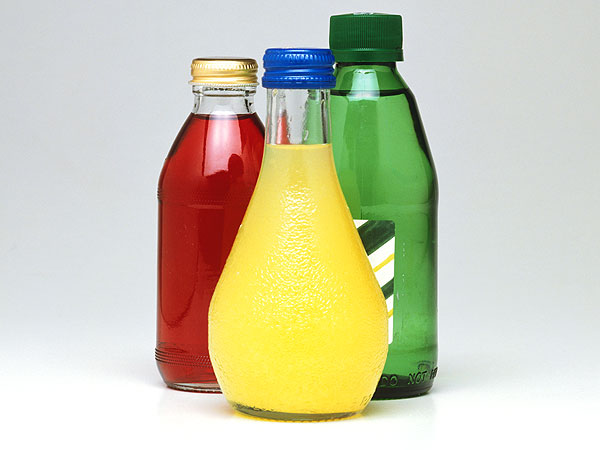 Getty
Harley Pasternak is a celebrity trainer and nutrition expert who has worked with stars from Halle Berry and Lady Gaga to Robert Pattinson and Robert Downey Jr. He's also a New York Times best-selling author, with titles including The Body Reset Diet and The 5-Factor Diet. Tweet him @harleypasternak.
While food science is, well, a science, the way food is packaged, presented and promoted is closer to an art. Some food companies hire creative teams, think tanks and lawyers to help them mold and shape the words on a package to make you want to buy it — while avoiding being sued for making certain claims.
This week, I'm focusing on beverages. There are a lot of claims about what your beverage can do for you (Hours of energy! Better sleep! Cancer preventing!) but how do we really know if companies are telling the truth? And when it comes to our health, don't we deserve to know? All of us careful consumers out there say a resounding "yes".
Well, the Food and Drug Administration (FDA) seems to be on the same page, because in recent years it's been making conspicuous moves toward enforcing more honest labeling. In late 2009, FDA chairman Margaret Hamburg, M.D. issued a statement warning food companies against using false or misleading claims, and showed she meant business when in 2010, her agency cracked down on more than 12 food manufacturers — including big names like Gerber and Diamond Foods — for using misleading claims on their labels. [1][2]
Perhaps most notably, juice manufacturer POM Wonderful has found itself at odds and even in court with both the FDA and the Federal Trade Commission since 2010 regarding alleged false health claims made about the juice product. [3][4][5]
So what can we do to ensure we're getting what we think we are when it comes to beverages? One way is to be a smart consumer; if it sounds too good to be true, it probably is. The other is to watch out for some key words that are famously misleading, like:
Juice vs. "Drink," "Beverage" or "Cocktail"
According to FDA regulations, only beverages that are 100 percent juice can be called just "juice." [6] When you see a word like "beverage" or "drink" after "juice" is when you should be wary of how much juice it really contains. Generally if something is labeled "orange drink" or "grape drink" it should not be confused with juice. Most "drinks" or "cocktails" are loaded with added sugars and often, artificial coloring and artificial flavors. [5]
Nectar
How good does "nectar" sound? You can just see the natural beauty of a ripe peach bursting with color, flavor and taste, right? Now, open your eyes, and consider that according to the FDA, nectar is generally "a diluted juice beverage that contains fruit juice or purée, water and may contain sweeteners." [7] In other words … not fully juice.
Flavored
Believe it or not, "naturally flavored" doesn't mean as much as you may think it does. A fascinating report on artificial vs. natural flavorings in Scientific American explains that there is actually "little substantive difference in the chemical compositions of natural and artificial flavorings. They are both made in a laboratory by a trained professional, a 'flavorist,' who blends appropriate chemicals together in the right proportions. The flavorist uses 'natural' chemicals to make natural flavorings and 'synthetic' chemicals to make artificial flavorings." [8] So in essence, even our "natural flavorings" largely come from labs.
I discovered from the same article that that "natural coconut flavoring" is not even from an actual coconut, but from the bark of a tree in Southeast Asia. I found yet another interesting story in Popular Science that revealed many "natural" flavors like strawberry start as "plant or bacteria byproducts." [9] Delicious!
Sugar-Free
While sugar-free mainly means something is "free of sucrose," it does not preclude beverages (or foods) from including other sugar alcohols. Sugar alcohols are easy to spot as they generally end with an "-ol" (think sorbitol, mannitol, xylitol, glycerol) and are commonly used because they generally have fewer calories (about 50 to 75 percent as many as regular sugar) and don't cause the same spikes in blood sugar as regular sugars. [10] These sweeteners do have calories and, in high amounts, can contribute to digestive issues. [11][10]
Sources:
[1] Understanding Front-of-Package Violations: Why Warning Letters Are Sent to Industry
[2] FDA Calls on Food Companies to Correct Labeling Violations
[3] http://www.fda.gov/iceci/enforcementactions/warningletters/ucm202785.htm
[4] POM Wonderful pushes back against FTC
[5] FTC Complaint Charges Deceptive Advertising by POM Wonderful
[6] Guidance for Industry: A Food Labeling Guide
[7] Guidance for Industry: The Juice HACCP Regulation – Questions and Answers
[8] What is the difference between artificial and natural flavors?
[9] What's the Difference Between Artificial and Natural Flavors?
[10] http://www.ynhh.org/about-us/sugar_alcohol.aspx
[11] http://www.diabetes.org/food-and-fitness/food/what-can-i-eat/understanding-carbohydrates/sugar-alcohols.html