Blake Lively's Met Gala After-Party: Frozen Hot Chocolate For Two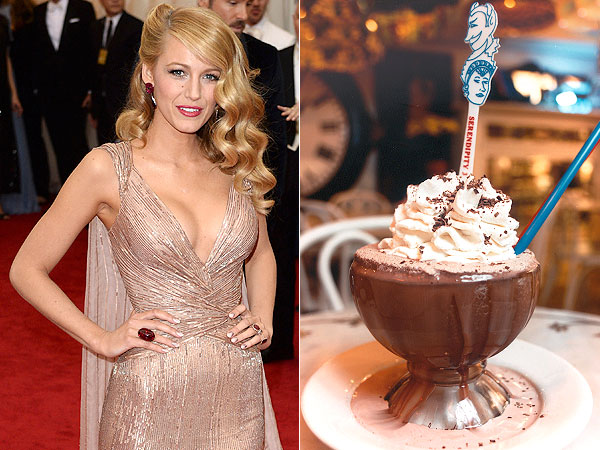 Karwai Tang/FilmMagic; Courtesy Serendipity 3
Sometimes a Monday evening after the Met Gala turns into a sundae evening.

At least it did for Blake Lively and husband Ryan Reynolds, who skipped the exclusive event's post-parties in favor of a calorie fest at N.Y.C. restaurant and dessert parlor Serendipity 3.
"I ate hot fudge sundaes," the star told ExtraTV. "That's what I look forward to [after the gala], because you're just in a corseted gown all night. Just give me a hot fudge sundae. I went to Serendipity. Frozen hot chocolate, extra peanut butter sauce on the side. I closed that place down!"

The Frrrozen Hot Chocolate, Serendipity's signature dessert, is basically what you'd get if a hot chocolate and a hot fudge sundae had babies. The chilly treat is made with milk, ice, sugar and a secret blend of 14 types of cocoa, and is sipped through a straw burrowed into a heaping layer of whipped cream.
And, of course, if you're Lively, you need a little peanut butter sauce on the side — an order we'll definitely be stealing. We're just impressed she managed to keep the whipped cream off of her Gucci Première gown.
Indulge with this at-home version of the famous dessert, given to PEOPLE by Serendipity's chef.
Serendipity 3's Frrrozen Hot Chocolate
Makes 1
⅓ cup evaporated instant dry milk
⅓ cup granulated sugar
4 tbsp. finest cocoas of your choice
1 cup milk
3 cups ice
Whipped cream, for topping
Shaved chocolate, for topping
1. In a medium bowl, mix dry milk, sugar and cocoa.
2. To a blender, in this order, add milk, the dry ingredients mix and ice.
3. Blend for 20-30 seconds until mixture is a smooth, daiquiri-like texture.
4. Pour into a large glass and top with whipped cream and shaved chocolate.