Cue the Awwws: Curtis Stone Makes Pizza with His Toddler Son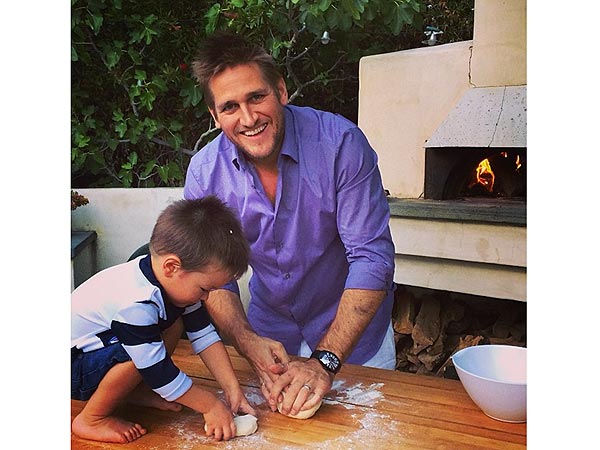 Courtesy Lindsay Price
Is Lindsay Price having pregnancy pizza cravings?

Last week the actress and her husband, celebrity chef Curtis Stone, announced that they were expecting baby number two. And on Monday, Price posted this adorable shot of her husband with their son Hudson, age 2½, prepping dough in front of the wood-fired oven at their Los Angeles home.
"Homemade pizzas tonight in the woodfire oven. Chef @curtisstone and sous chef Hudson serving it up! Summer nights in spring! #yum" the actress wrote as the caption.
In this video, the host of the upcoming Top Chef Duels shares a few essential pizza-making tips, like never mixing salt and yeast. "Sugar is yeast's friend, but the salt is its enemy, it will actually kill it," he says.
For the home cook who doesn't have a fancy backyard oven, Stone is a fan of pizza recipes that call for baking the dough for short period of time (about 10 minutes) at a very high temperature (at least 400F), which he says will best replicate the wood-fired experience. We're also planning to steal his flavor-boosting method of mixing chopped garlic cloves with the olive oil before adding it to the pie.
Appointing little Hudson as his assistant means that Stone certainly knows how to multitask, which will prepare him well for life with two kids: Making homemade pizza not only produces a tasty meal, it's a fun way to keep your toddler busy while you make dinner.
Curtis Stone's Homemade Pizza Dough
Serves 4
1¼ cups lukewarm water (110° to 115°F)
2 tsp. sugar
1 packet (2¼ tsp.) active dry yeast
3 cups unbleached all purpose flour, plus more for dusting
1 tsp. fine sea salt
1 tbsp. olive oil
1. In a small bowl or a 2-cup measuring cup whisk the warm water, honey, and yeast to blend. Set aside for about 5 minutes, or until foamy. Stir to dissolve the yeast.
2. In a food processor, pulse the flour and salt to combine. With the machine running, pour in the yeast mixture and olive oil and process until the dough forms a ball. Transfer the dough to a work surface and knead for about 3 minutes, or until it is smooth and elastic. Do not add too much flour. The dough will be tacky but should release cleanly from your hands.
3. Divide the dough in half and gently form each half into a ball. Place on a floured rimmed baking sheet and dust the tops with flour. Cover with plastic wrap. Let stand in a warm, draft-free place for about 45 minutes, or until the dough doubles in volume.
—Lexi Dwyer