PHOTOS: 6 Restaurant Tattoos You Won't Believe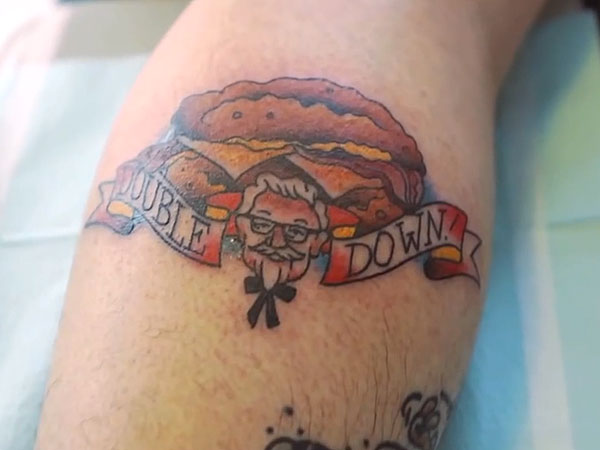 Courtesy KFC
THESE TATTOOS ARE MAKING US HUNGRY
Can you imagine loving a restaurant so much that you want its logo — or in one case, your receipt for a burger and shake — inked on your body?

Recent news that a man in Louisville got KFC's Double Down sandwich tattooed on his calf got us thinking: He can't be alone in his, um, extreme fandom. And sure enough, it turns out this guy is in good company — here are 5 other people who've taken the plunge to make their favorite restaurant a permanent part of them.
(As far as the Double Down, it's only on KFC's menu through May 25, but we suppose this is one way to keep it around forever…)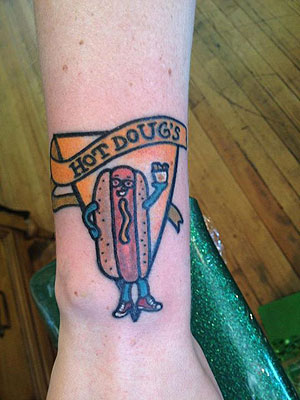 Courtesy Hot Doug's
HOT DOG!
Chicago cult favorite Hot Doug's — home to hot dogs made of alligator, rattlesnake and more — gives free meals for life to anyone sporting a tat of this smiling hot dog man. Unfortunately, the establishment just announced it's closing in October. Don't worry: At least one laser center in Chicago is offering a 50% discount on removal of Hot Doug's tattoos.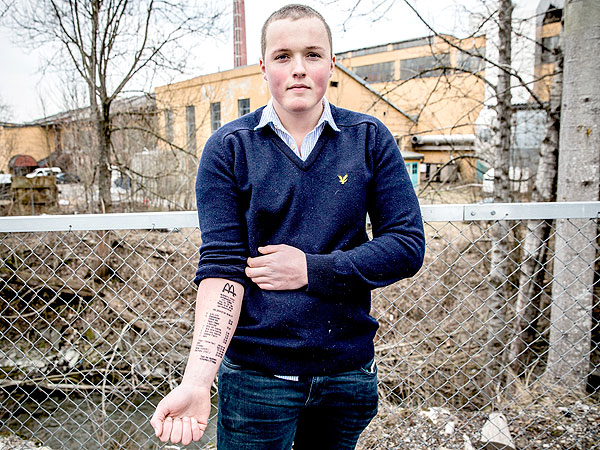 Stian Lysberg Solum/NTB Scanpix/Sipa USA
DO YOU WANT FRIES WITH THAT?
This Norwegian teen caved to peer pressure and got the receipt from one of his McDonald's meals tattooed on his arm — extra burger toppings and all. Apparently, his friends told him it was either the receipt on his arm or a Barbie tattoo on his butt. For some reason, he listened.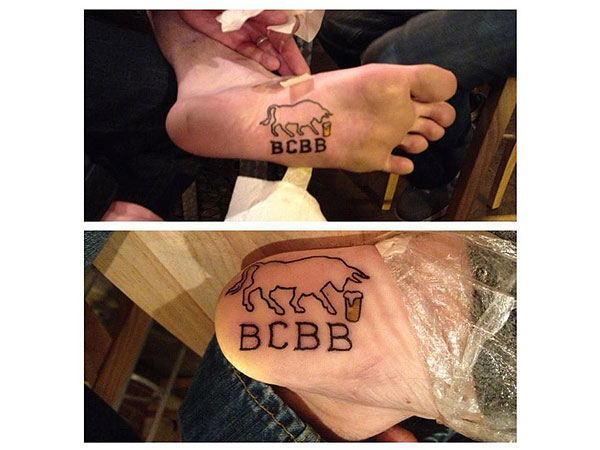 Courtesy Bull City Burger
BULL MARKET
Bull City Brewery in Durham, North Carolina is strict with its customers seeking a Bull City tattoo (and corresponding 26% discount on food): There are only three approved designs, and they prefer you to get your ink done at Durham's Dogstar Tattoo Company. If you're feeling artsy, you can submit a rogue design to the tattoo arbiters at the restaurant to see if it meets their approval to score the discount.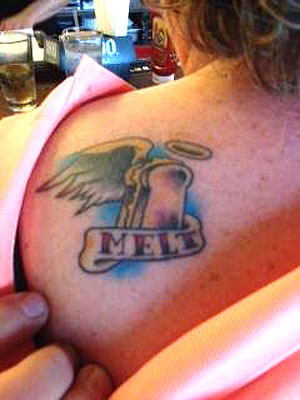 Courtesy Melt Bar & Grilled
SAY CHEESE!
Joining the Melt Tattoo Family at grilled cheese restaurant Melt Bar & Grilled in Cleveland comes with a membership card, ID number and guarantee of 25% off your bill for life. The initiation requirements: Incorporate one of the restaurant's three approved logos into a creative tat (owners are happy to look at your designs before you take the plunge — "remember, this is permanent!" they warn on their website), and come in to Melt to get a photo taken of your new body art.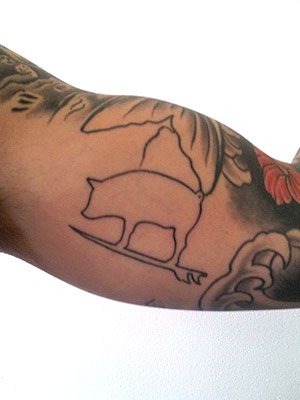 Courtesy Kono's
HOG WILD
The real question: Why wouldn't you want a tattoo of a surfing pig? Especially when it gets you 25% off every bill, forever, at Kono's Restaurant in Hawaii. Not just any surfing pig will do — it has to be this exact guy above — but you can add any other flourishes as long as you don't alter the swine. Then, congrats: You're an official member of the restaurant's Tattoo Crew.