Harley Pasternak: When Natural Foods Aren't Natural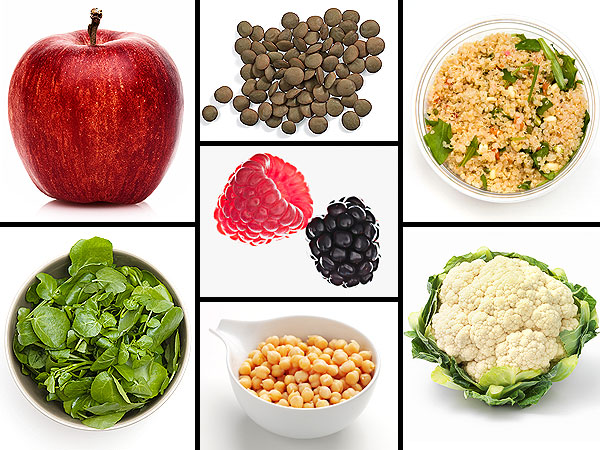 Getty
Harley Pasternak is a celebrity trainer and nutrition expert who has worked with stars from Halle Berry and Lady Gaga to Robert Pattinson and Robert Downey Jr. He's also a New York Times best-selling author, with titles including The Body Reset Diet and The 5-Factor Diet. Tweet him @harleypasternak.
Last week I wrote about some misleading language to watch out for on beverage labels. This week, I'll do the same for food:
"Good Source of Fiber"
Many foods in their natural states are good sources of dietary fiber. Fruits with edible skins and seeds (blackberries, raspberries, apples), veggies (spinach, cauliflower), whole grains (oats, quinoa) and legumes (chickpeas, lentils) are packed full of fiber.
However, many heavily processed foods today are void of fiber and often supplemented with secondary sources of fiber like inulin and polydextrose. These "added" sources may not necessarily have the same benefits of the naturally occurring fiber found in fruits, vegetables and beans.
"Spread"
Last week, my wife brought home Laura Scudder's "Reduced Fat" Peanut Butter Spread. Normally, I'm a big fan of Scudder's 100% Pure Smooth Peanut Butter. However, upon close examination of the label, I discovered it was far from 100 percent peanuts. It was in fact a blend of no fewer than five ingredients with maltodextrin being the second-most abundant. Moreover, it had twice the carbohydrates of their 100 percent pure peanut version.
When something is called a spread, that generally means it is not 100-percent derived from its main ingredient. So make sure you take a close look at the ingredients to see if there is anything in there you don't want. [1] This includes fruit spread (usually a sugar-laden fruit jam substitute), butter spread and cheese spread. (Fact: To qualify as cheese spread, a product really only needs to be 51 percent cheese. [2])
"Cholesterol-Free"
Dietary cholesterol is only found in foods derived from animal sources. Any product that is not derived from an animal source is cholesterol-free. [3] During the "fat-free" fad of the 1990s, people shunned anything with fat, especially cholesterol. However, we now know that dietary cholesterol is not the primary reason people get high cholesterol.
For one, it's saturated fats, not dietary cholesterol, that are the main dietary cause of increased "bad" cholesterol. More importantly, about 75 percent of the cholesterol in our body is actually made in our own body and not derived from dietary cholesterol. [4] Being overweight or sedentary, and your genes, can increase the levels of cholesterol our bodies make. The fact that a product is "cholesterol-free" is relatively unimportant when it comes to your health.
"Fat-Free"
I'll never forget my first time grocery shopping in the U.S., when I saw a "fat-free" label on a can of PAM cooking spray. How can that possibly be? Cooking spray is fat. It's basically only fat.
Well, it turns out that PAM needs to be sprayed for one-quarter of a second to be fat-free. [5] I repeat, one-quarter of a second! Then I noticed the servings per container section said 571! Has a can of cooking spray ever lasted you 571 uses? I think not. So, while it's not actually fat free, the amount that comes out in one-quarter of a second (the serving size) is below the FDA threshold at which it recognizes fat.
"Natural"
The term natural is meant to convey the idea of minimally processed foods with little to no manufactured ingredients. The truth is, the term is vague and has no legal definition in the United States (though it does in many other countries). [6]
Several lawsuits have popped up regarding the questionable use of the term "natural" to sell products. Of particular interest are three notable cases that are arguing whether the terms "natural" and "100% natural" can be used when GMOs (genetically modified organisms) are present in the ingredients. [7] As of now, the FDA has announced that it will steer clear of these proceedings, as its policy on the terms has not yet been defined. [8]
Sources:
[1] Food Standard Innovations: Peanut Butter's Sticky Standard
[2] CFR – Code of Federal Regulations Title 21
[3] Cholesterol Content of Foods
[4] American Heart Association: About Cholesterol
[5] PAM Non-Stick Cooking Spray: About
[6] What is the meaning of 'natural' on the label of food?
[7] FDA declines to define "Natural"
[8] http://www.hpm.com/pdf/blog/FDA%20Lrt%201-2014%20re%20Natural.pdf